Best Mookata Restaurants in Singapore 2023 (Updated September 2023)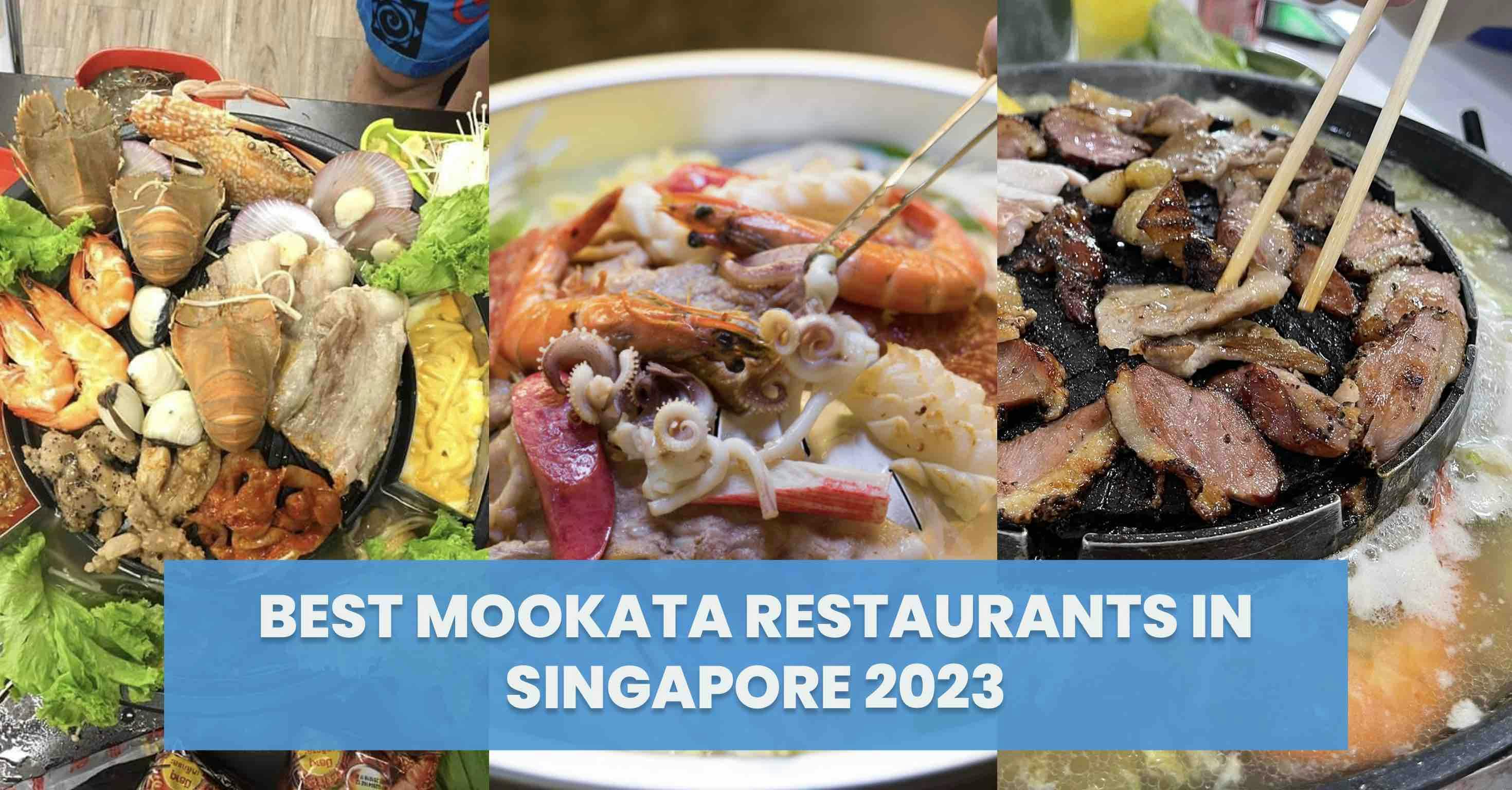 Follow us on Telegram for the best updates: https://t.me/sgdivedeals
For those who have a love for Thai cuisine, prepare to be pleasantly surprised.
Singapore's Mookata scene is a haven for food enthusiasts seeking both quality and affordability. From tender meats to fresh seafood and a myriad of flavorful sauces, the Best Mookata in Singapore have set the stage for a delightful culinary adventure.
With our guide, you can navigate through the bustling streets of Singapore to find the perfect Mookata spot that not only satisfies your taste buds but also offers incredible deals to make your dining experience even more enjoyable.
For more sizzling deals, check out the best 1-for-1 buffet promotions in Singapore.
1. Siam Square Mookata
Location: Full list of locations
"Mookata" is a term derived from the combination of "Moo," meaning Thai Pork, and "Kata," referring to a skillet. This unique culinary style originated from Northern Thailand. Among the pioneers of Mookata in Singapore, Siam Square Mookata holds a prominent position.
Diners are treated to a delectable menu of premium ingredients. From marinated pork belly and tender beef slices to fresh seafood like prawns and squid, the options are diverse and tantalizing. The restaurant also provides an array of vegetables, mushrooms, and homemade dipping sauces to enhance the flavors of each dish.
What sets Siam Square Mookata apart is that they are one of the best Mookata buffet chain for family dining. With multiple outlets islandwide, they offer both à la carte and buffet. Buffet prices start from $29.90++ for adults and $15.50++ for children.
Whether you're looking for a satisfying meal with friends or a memorable culinary adventure, this restaurant is the perfect destination for indulging in the best Mookata experience in Singapore.
2. 888 Mookata
Location:
212 Hougang Street 21, Singapore 530212
820 Tampines Street 81, Singapore 520820
504 Bishan Street 11, Singapore 570504
414 Yishun Ring Rd, #01-1871, Singapore 760414
Singapore, SG Changi Village Road, Blk 5 01-2017 Singapore 500005

888 Mookata, a gem among the Mookata restaurants in Singapore, was founded by local celebrities Chew Chor Meng (周初明) and Zhou Chongqing (周重庆). This is the restaurant to visit if you want late night supper, because they open until 2AM!
Their extensive selection of fresh meats, succulent seafood, and vibrant vegetables ensures that there's something to please every palate. From tender pork belly and marinated chicken to plump prawns and delectable squid, the options are endless.
888 Mookata offers an extensive range of set menus and individual à la carte items that are superbly priced, starting from a modest $1.80. This makes it the perfect place for anyone looking to indulge in a delectable Mookata feast without overspending.
3. Thai Hao Chi Mookata
Location: 908 Upper Thomson Rd, Singapore 787111
Thai Hao Chi Mookata is an award-winning brand that has gained a reputation for serving up some of the best Mookata dishes in town. From succulent marinated meats to a variety of fresh seafood options, their menu is a testament to the rich and vibrant flavors of Thai cuisine.
Their signature set menu "Yum Mak Mak Set' which comprises meats, seafood, vegetables and noodles cost $39.90, and diners can add on items from $1!
Thai Hao Chi Mookata provides an inviting atmosphere that is perfect for getting together with your loved ones and friends while enjoying a delicious meal. You can bond over the table while cooking your food to perfection and indulging in the truly authentic flavors of Thailand.
4. Le Thai Mookata
Location: 8 Burn Rd, Singapore 369977
Located at a coffee shop, Le Thai Mookata sets the stage for a delightful yet affordable feast.
The menu boasts an extensive range of options, including a variety of set menus such as a garlic platter for 2 at $28 and a family platter at $40. The sets include a combination of meats, seafood, and vegetables, allowing you to indulge in a well-rounded Mookata experience.
The set menus provide great value for money, allowing you to enjoy a hearty meal without straining your budget. For those who prefer to customize their meal, the à la carte sides starting from $1 offers an array of individual items to choose from.
5. Aroy Mak Mookata Thai BBQ Steamboat
Location: MacPherson Rd, 476-478, Singapore 368191

Want to enjoy mookata in a comfortable and air-conditioned restaurant? Plus enjoy Mookata buffet from only $20? Aroy Mak Mookata is the place to be.
You'll be delighted with an extensive range of flavorful ingredients, from succulent marinated meats to a delightful variety of fresh seafood such as crab and crayfish, that are certain to satisfy every taste bud.
The best part is that their buffet prices start at only $20.80 for adults! The seafood selection includes succulent prawns, tender squid, and plump mussels, offering a delightful oceanic twist to your Mookata experience.
Despite offering a high-quality dining experience, Aroy Mak Mookata keeps its prices affordable, making it a popular choice among food lovers. Their set menus offer a well-rounded Mookata experience, starting at only $38.50 for a set for 2 pax.
6. Yak Kin Mookata
Location: 91 Bencoolen St, #01-17, Singapore 189652
Yak Kin Mookata has quickly gained a reputation as the go-to destination for Mookata enthusiasts, thanks to its exceptional quality and positive word-of-mouth. Influencers from various backgrounds have raved about their dining experiences, and the restaurant boasts a loyal customer base that keeps coming back for more.
One of the standout dishes is their number one fresh Japanese oysters. Served at a reasonable price of $1.99 per piece, these succulent oysters are known for their exceptional taste and juiciness. Their Mookata selection is also affordable at $48 for a set for 2 to 3 pax.
In addition to their delectable food offerings, Yak Kin Mookata also boasts an extensive selection of drinks to complement your meal. From classic favorites to innovative concoctions, your dining experience is elevated to new heights.
7. Phuket Town Mookata
Location:
340 Ang Mo Kio Ave 1, #01-1697, Singapore 560340
1 Clover Way, Singapore 579077

Phuket Town Mookata brings the vibrant flavors of Thai street food to the heart of the city. With its warm and inviting atmosphere, this restaurant offers an authentic dining experience at a coffee shop.
Aside from Mookata, the restaurant also provides an extensive selection of traditional Thai delicacies including mama noodle and stir-fried dishes. One of their specialties is the Mega Meat Mountain available at 39.90 and Tom Yum Mama at $13.90.
With its authentic tastes, Phuket Town Mookata offers not just delicious food but an immersive culinary journey that transports diners to the bustling streets of Phuket.
8. Sedap Thai
Location: 166 Jln Besar, Singapore 208877
The FIRST and one of the best Halal Thai Barbecue in Singapore! Sedap Thai has become a go-to destination for food enthusiasts looking to indulge in the tantalizing flavors of Thai Mookata.
Located at Jalan Besar, this restaurant promises a delightful culinary journey that will leave your taste buds craving for more. From succulent meats to fresh seafood and an array of delectable side dishes, Sedap Thai Mookata offers a feast fit for any discerning palate.
One of the standout features of Sedap Thai Mookata is its affordability. Their all-you-can-eat buffet costs only $22 per pax!
With its combination of flavorful dishes and pocket-friendly prices, Sedap Thai Mookata is a win-win for both food lovers and those looking for an affordable dining experience.
9. Cheese Story Mookata
Location: 31 Ah Hood Rd, #01-07, Singapore 329979
Cheese Story Mookata is a delightful dining destination that brings together the unique flavors of Thai-style barbecue and the irresistible indulgence of melted cheese. Cheese Story offers a warm and inviting ambiance, perfect for gathering with friends and family.
Diners can savor the interactive experience of picking the items straight from a bar. The star of the show, however, is the cheese, which is melted to perfection, creating a creamy and gooey dip for the grilled delicacies.
Enjoy their buffet selection from only $29.90. Whether you're a cheese enthusiast or simply looking to embark on a culinary adventure, Cheese Story Mookata promises a memorable dining experience that will leave your taste buds satisfied.
10. Chice - The Original Chickata
Location: 2 Venture Dr, #01-47 Vision Exchange, Singapore 608526
Chice - The Original Chickata, a renowned halal family restaurant, has recently been honored with the Best Steamboat award at the Halal Awards Singapore 2022.
Known for its authentic and flavorful Thai barbecue experience, Chice is a favorite among food enthusiasts. Their menu features a wide range of high-quality ingredients, including marinated meats, fresh seafood, and a variety of vegetables.
Diners can enjoy the interactive joy of grilling their own food at the table, with a standard BBQ combo available at $23 per person, including six items. Excitingly, Chice has introduced a limited-time à la carte buffet, making it an opportunity not to be missed.
Singapore's vibrant culinary scene is renowned for its diverse and mouthwatering cuisines, and Mookata, the sizzling Thai BBQ hotpot, has taken the city by storm.
The top Mookata joints in Singapore offer not only tantalizing flavors but also irresistible deals that will leave your taste buds and wallet satisfied. Get ready to discover the perfect blend of flavors, ambiance, and value in the world of Mookata!
Check out other cuisines - Best Korean BBQs in Singapore and Japanese Food Restaurant & Deals.
For more amazing deals, head to divedeals.sg to find the latest deals.
Editor's Note: This post was originally published on 16 June, 2023 and was updated on 4 Sep, 2023 for accuracy.