5 tips of making the best of Senior Deals!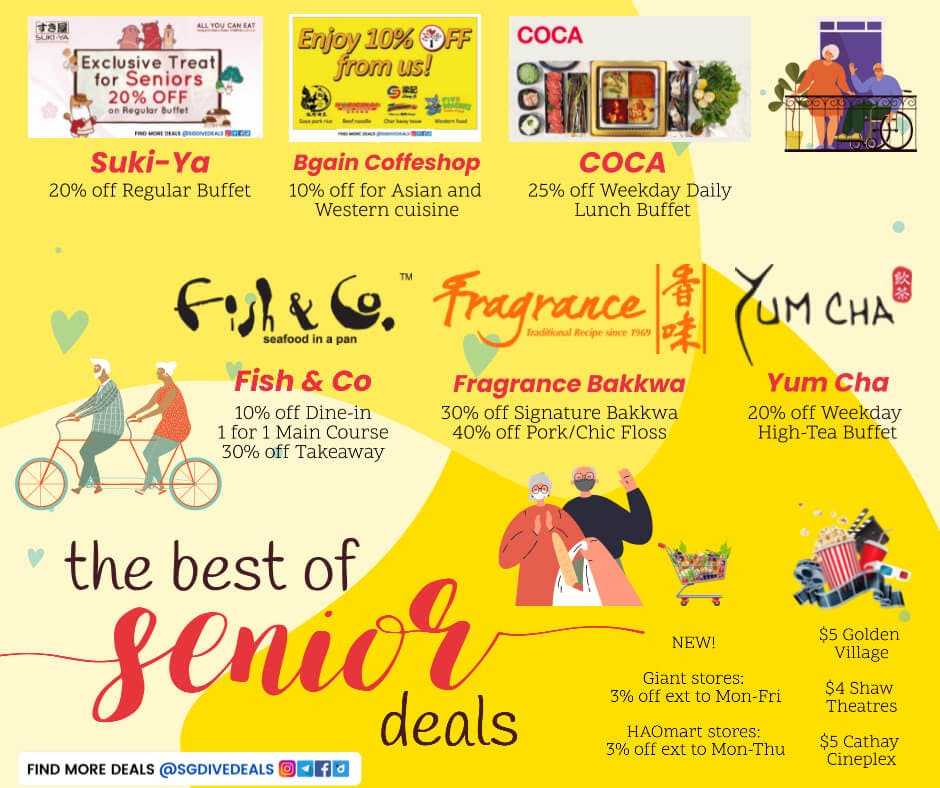 Follow us on Telegram for the best updates: https://t.me/sgdivedeals
With our government in the lead to provide financial assistance through MediSave top-up and NTUC Fair Price to extend discounts schemes, we have seen more and more retailers coming out with deals catering specially for our seniors and pioneer generation. Besides coming out with the best of senior deals in town, we are also going to share with you 5 tips on how to make the best out of each deal!
Tip #1 Plan your purchase in advance
Yes! As direct and simple as it sounds! Write a shopping list, plan the errands to run and even check the movie screening timing before heading out. All these 'homework' done ahead of time will definitely help ensure a smooth day out and avoid unnecessary disappointment.
Take for example our Suki-Ya 20% off for senior deal. You can click on the terms and conditions on the deal page and noticed that they need you to produce your ID bearing your birth date, so checklist #1 Pack your ID (item #2 would be to bring your Trace Together device out).
Also, check the calendar (ensure it's not a public holiday nor a special occasion day) and that the promotion is still valid.
If you still have dietary related questions or not sure about the current dine-in regulations, simply click on our source link button and you will be directed to the retailer's website where you can call them up personally to check or to make a reservation with them.
You may notice a pin drop of the location of the retailer. Some deals will state an address while some will state multiple. So, to know if you are near any of these participating outlet, simply click on the blue drop pin! It's that easy! After identifying the actual location, you can continue to plan your errands to run!
Bgain Coffeeshop 10% off (4 participating stores to choose from)
COCA Senior Citizens Lunch Promotion (25% off usual adult rates)
Tip #2 Know your privileges and entitlement
Don't we just love to sign up card after card with the intention of enjoying its special perks and discounts only to find ourselves keeping the card till the promotion period is over? (I am guilty of it!) And Passion Card is one of those card that offers discounts from approximately 200 different merchants — yet, how often do we make use of it?
We have run through the list of privileges for Passion Silver/ Platinum Card for you and highlighted Top 3 deals that you can benefit from!
Fish & Co
10% off total bill (Mon - Fri) OR
*1 for 1 a la carte main course (Mon - Wed, 11.30 AM - 6 PM) OR
30% off total bill (Mon - Sun) for takeaway
For more details and terms & conditions, click here.
Fragrance Bakkwa
30% off Signature Sliced Tender Bak Kwa (U.P. $58 per kg) & Chicken Bak Kwa (U.P. $58 per kg) with a minimum purchase of 500g.
40% off Pork Floss (U.P. $58 per kg) & Chicken Floss (U.P. $58 per kg) with a minimum purchase of 500g.
For more details and terms & conditions, click here.
Yum Cha
20% off Weekday High Tea Buffet from 3:00 PM - 6:00 PM (U.P. $26.80++)
For more details and terms & conditions, click here.
Other than remembering to bring our ID and Trace Together device out, we can make use of some apps like Space Out to check the crowd level for malls especially. Space Out provides hourly updates on crowd levels, allowing you to steer clear from peak hour crowds. Not only do they provide information on the mall of your choice, they also recommend nearby heartland malls as less crowded alternatives for you to check out.
This is exceptionally useful for grocery purchase where you need to flash your ID to enjoy the 3% discount! Another great news is that Giant and HAOmart have both responded to netizen's suggestion to extend it to other days of the week to reduce crowding! Hooray!
Giant Supermarket
3% off total bill (Mon - Fri) till 31 July 2021
For more details and terms & conditions, click here.
HAOmart Singapore
3% off total bill (Mon - Thu) -no end date specified
For more details and terms & conditions, click here.
Tip #4 Handy apps on-the-go to cater to last minute changes
With Covid-19 still within our midst, we must be prepared for changes to our plans. Hence, let's use some handy apps that makes us flexible to make changes on-the-go! News is a must! With push notification, we get the latest news about the Covid-19 situation and would be able to make a detour or re-route if needed.
But we still want to make our day productive and thus, Dive Deals webapp comes in handy to help us locate nearby deals or grab our essentials! Worry about our senior folks who are more familiar with Chinese or Malay? With Chrome/Edge auto-translation, Dive web-app can be translated into any language your folks prefer!
Channel News Asia (on Apple Store or Google Play)
Today Online (on Apple Store or Google Play)
Dive Deals via website, Facebook, Instagram and Telegram Channel.
Tip #5 New norm of catching a movie!
The last tip is specially dedicated to movie-goers! With $4 (Shaw) to $5 (Golden Village, Cathay) concessionary ticket price, it is just so tempting to step into the cinema theaters to catch a show and rest those tired feet. Here's a list of things to adhere to as of 21 June to mid-July 2021 (date to be announced later).
Check-in to the cinema with a TraceTogether device (Token or App)
Temperature screening (either mall or cinema)
Mask-on at all times

Safe-distancing at all times:
Purchase of tickets: Look out for floor markers at service counter (Show your ID to enjoy special rate).
Before the movie: Look out for safe-distancing logo between seats (exception for Premium Seats).
During the movie: Food & beverage is allowed for 2. Mask to be worn again when done.
After the movie: Wait for ushers to guide to exit door
Hey! That doesn't sound too complicated! Just remember it's a weekday offer (Mon-Fri) and applicable for movie screening before 6pm.
Stay safe and spend on with our 5 tips to make the best of deals!