8 Best Takeaway/Delivery Deals for the North-East (Phase 2 HA)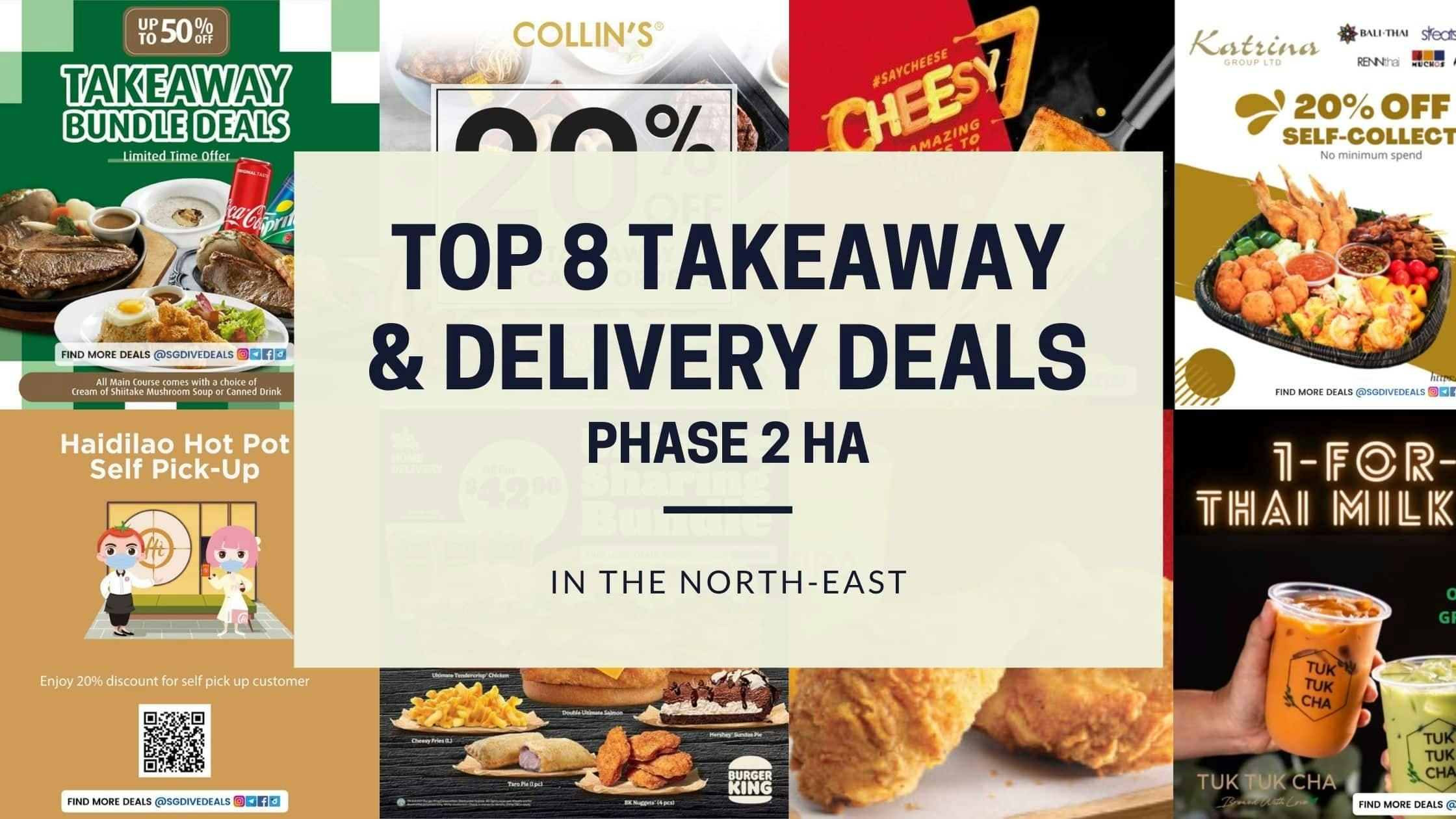 Follow us on Telegram for the best updates: https://t.me/sgdivedeals
Phase 2 HA may be back in place, but that doesn't mean that we can't enjoy good food.
In fact, we have 8 food deals for those of you living in the North East that are both delicious and affordable!
For those living in Hougang, Punggol, Seletar, Sengkang and Serangoon, keep reading for deals not to be missed out on this Phase 2 HA.
If you're looking for some good old Western food, Jack's Place is the place for you.
Get up to 50% off their Takeaway Bundles – 35% off Beef Steak Bundles and Combo Bundles, and 50% off their Fish & Chicken Bundles and Pastas, Salads or Rice.
Choose from T-Bone Steaks, Ribeye Steaks, Grilled Salmon, Mixed Grills and more!
Full details and T&C here.
Jack's Place @ Compass One
1 Sengkang Square #04-07, Singapore 545078
Jack's Place @ SAFRA Punggol
9 Sentul Crescent #01-01, Singapore 828654
For more Western alternatives, try COLLIN'S®.
To get in the National Day mood, COLLIN'S® is offering some National Day Delivery Exclusive Deals:
Get these limited-time promotions, available on GrabFood, foodpanda and deliveroo.
- - - - - - - - - - - - - - - -
For more variety of food options, COLLIN'S® is also offering 20% off all takeaway orders!
Head down to your nearest outlet and get 20% off all a la carte items; takeaway and enjoy them from the comfort of your home.
Full details and T&C here.
COLLIN'S® @ NEX
23 Serangoon Central, #B1-27 Singapore 556083
We all need to satisfy our cheese cravings at one point – how about with Pizza Hut's Cheesy 7 Pizzas?
Available in 3 flavours: Hawaiian, Original and Grilled Chicken – get them at 50% off when you:
1 Cheesy 7 Pizza for takeaway, or
Any 2 pizzas for delivery
Full details and T&C here.
Missing your hot pot fix?
Not to worry – Haidilao is offering 20% off all self-pickup orders!
Simply scan the QR code to order and head down to collect your order once it's ready.
Full details and T&C here.
海底捞 Haidilao Hot Pot @ The Seletar Mall
33 Sengkang West Ave, #03-36/37 The Seletar Mall, Singapore 797653
Get Burger King's Ultimate Sharing Bundle for 3 pax at just $42.90!
The bundle includes:
3 x Minute Maid Refresh Apple (S)
3 x Burgers (Ultimate Tendercrisp Chicken/ Double Ultimate Salmon)
1 x Cheesy Fries (L)
1 x Taro Pie
1x 4pcs BK Nuggets
Full details and T&C here.
Find your nearest outlet here.
We're ending off the list with a bubble tea deal, because who doesn't love a good Thai Milk Tea?
Get 1-FOR-1 Thai Milk Teas at Tuk Tuk Cha delivered to your doorstep via GrabFood.
Full details and T&C here.
Tuk Tuk Cha @ Waterway Point
83 Punggol Central, #B1-K8 Waterway Point, Singapore 828761
- - - - - - - - - - - - - - - -
Thank you for reading!
Have friends and relatives that live in other parts of Singapore? Check out our West, North and East edition of the Best 8 Takeaway and Delivery Deals.
Meanwhile, check out our website, Facebook, Instagram or join our Telegram Channel and make sure you stop missing out on good deals!