74 Best Deals from Sentosa Island in March 2023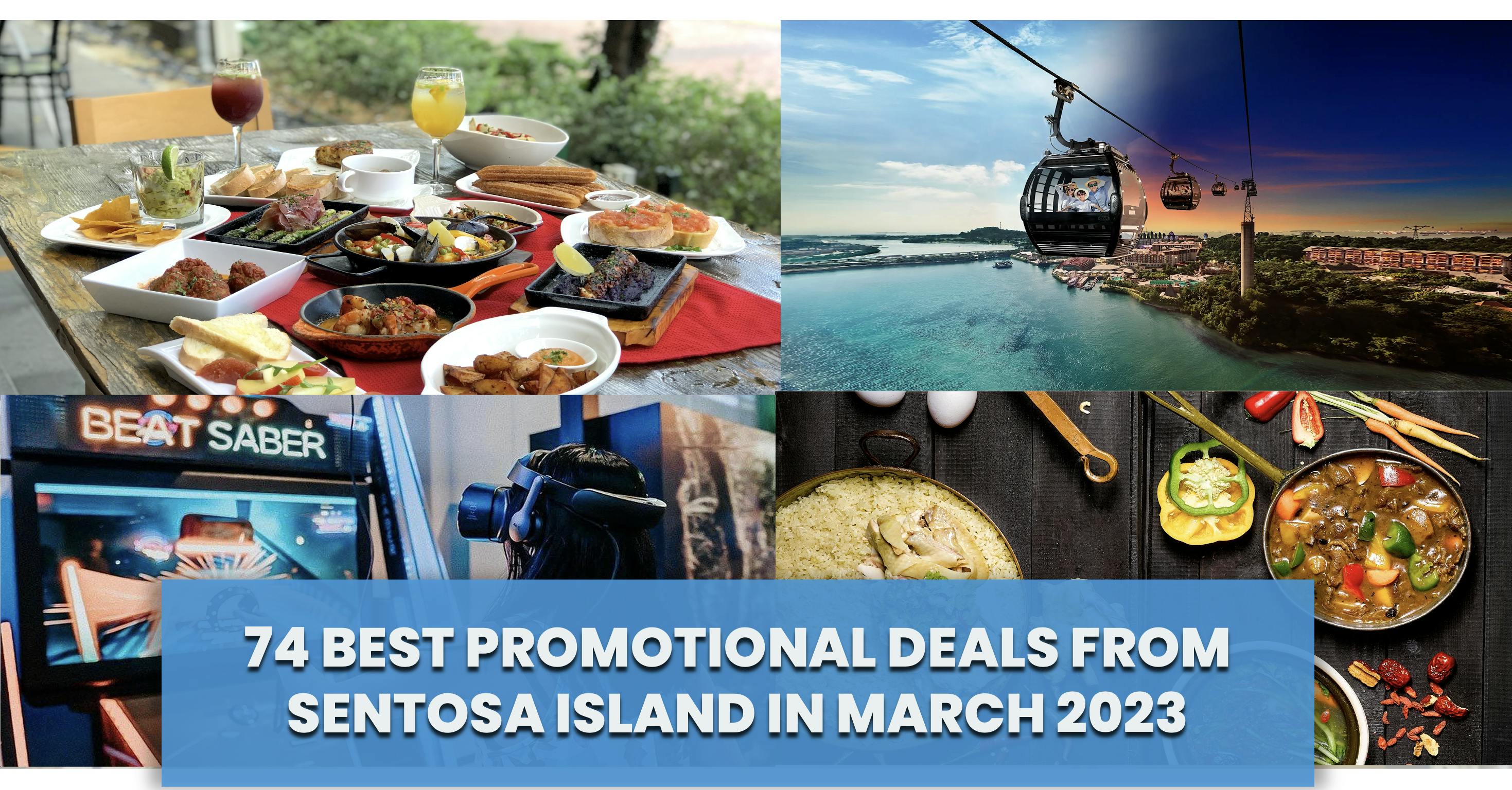 Follow us on Telegram for the best updates: https://t.me/sgdivedeals
Are you looking for the best deals from Sentosa Island this March? With so much to explore and experience, Sentosa Islanders have access to a wealth of exclusive discounts and offers that would make any visit unforgettable. From delicious dining experiences to thrilling attractions, there's something for everyone! Discover our curated list of benefits today and start saving on food, attractions, and more! Explore the beauty of an island paradise with irresistible offers available this March - let the adventure begin at Sentosa!
General Deals and Offers
For the public, you can enjoy loads of benefits with the following deals!
1. Sofitel Singapore Sentosa Dining and Spa Offers
To commemorate International Women's Day, Sofitel Singapore Sentosa is offering a Purple High Tea where you can enjoy an indulgent afternoon tea with a variety of purple-coloured pastries and savories with freshly brewed tea at $88++ for two adults and $45++ for one adult from 1pm to 5pm. Have a fun evening with Violet Icon, a refreshing and zesty lemon leaf infused vodka complements the flora flavours of organic butterfly pea and rose nectar and topped with sea salt foam. Available at $20++ per cocktail, from 12pm to 12am.
Promotional Period: 1 to 15 March 2023
You can also treat yourself to Sofitel Spa's signature Rejuvenating Facial treatment from $280++ per 105-minute treatment. Make your reservations today and relax!
Promotional Period: 1 to 31 March 2023
2. Skyline Luge Singapore - Enjoy $10 off 3 Luge & 3 Skyride Combo for 3 riders
This March school holidays, Skyline Luge Singapore will be open from 10am! Bring your family to Sentosa and enjoy $10 off when you buy 3 tickets of the 3 Ride Combo, for the 10 am time slot. Make your online booking before slots are fully booked!
Promotional Period: 11 to 19 March 2023
3. Fiamma - Kids dine for free with every paying Primo dish ordered
Have a family meal at Fiamma this March School Holiday and enjoy a complimentary 2-course meal from the kids' menu with every paying Primo dish ordered for the adult.
Promotional Period: 11 to 19 March 2023
4. Royal Albatross - Dinner Cruise with Free-Flow Beer & Wine
Escape from the ordinary experience of the weekend and enjoy a special evening aboard Asia's only luxury Tallship, the Royal Albatross. Savor fine appetizers, semi-fine dining, and free-flowing wine along with live entertainment—all under the star-studded sky! The cost is $225 (adults).
Enjoy 2.5 hours of Sunset Dinner Cruise, accompanied by a 4-Course Dinner and free flow of alcohol and soft drinks!
Promotion ends on 23 March 2023
5. Fort Siloso Night Experience
Siloso is the only coastal fort in Singapore that retains its function as a defense site. The nearby military museum contains a rich collection of artifacts, including bunkers, defenses, and tunnels dug out of the sand during World War II. An interesting interactive exhibition is open to the public on site. Enjoy 10% off your tickets today!
Promotion ends on 24 March 2023
6. 10% off Sentosa Island Bus Tour
Discover the variety and beauty of Singapore while enjoying a guided tour of an hour in an air-conditioned bus! Sentosa's only guided tour offers one of the best ways to discover the island's splendor and charm, as well as the transformation of Sentosa.
Enjoy 10% off Sentosa Island Bus Tour (U.P $25.00 Adult, $20.00 Child) when you pay with Mastercard.
Book your tickets early to enjoy the best experience!
Promotion ends on 31 March 2023
7. 10% off Skyhelix Sentosa
Experience a high-altitude getaway in Singapore's SkyHelix Sentosa, where you'll take the utmost telephoto skies and immerse yourself in a chic, glamorous ambiance while enjoying a refreshing beverage. Promotion is valid for purchase of up to 6 Cable Car, Sentosa Island Bus Tour and/or SkyHelix Sentosa tickets each per transaction.
Book your tickets early to enjoy the best experience!
Promotion ends on 31 March 2023
8. $8 off Cable Car Sky Pass
Opt for an exciting time while in Singapore, beginning with the Singapore Cable Car Sky Network from Faber Peak towards the popular Sentosa destination. Halfway through the ride, make a point to check out Sentosa's Adventure Cove, surrounded by greenery and covered in lush foliage. Enjoy $8 off Cable Car Sky Pass (Round Trip) [U.P $35 Adults, $25 Children] when using Mastercard.
Book your tickets early to enjoy the best experience!
Promotion ends on 31 March 2023
9. 10% off Sentosa Sunset Cruise
On a Sentosa Sunset Cruise, sail across Sentosa and the Southern Islands and pick up tips on sustainable fishing. Available every Thursday (excluding PH) for two sessions at 6pm - 7.30pm and 8pm - 9.30pm. Enjoy 10% off the original price of $89 as a Sentosa Islander!
Promotion ends on 30 March 2023
10. Sentosa Dining Voucher
Your next visit to your preferred restaurant is now cheaper with Sentosa Dining Vouchers with discounts up to 22% off. While stocks last! Just add the F&B vouchers of your liking to cart upon successful check out.
Sentosa Islander Exclusive Deals and Offers
Sentosa Islanders! Are you ready for a fantastic March? Enjoy these exciting Islander deals when you are a part of the Islander membership programme.
Staycation
1. Amara Sanctuary Resort Sentosa
Amara Sanctuary Resort Sentosa is a contemporary luxury resort on Singapore Island with 140 5-star rooms, suites, villas, and a house, providing relaxing contexts where time passes pleasantly. It is only a few minutes' drive from Singapore's primary shopping and business districts, Universal Studios Singapore and Sentosa's attractions.
The hotel is having an 18% off Best Flexible Rate Deluxe Room from Sunday to Thursday, and 10% off Best Flexible Rate Deluxe Room from Friday to Saturday.
2. Far East Hospitality – The Outpost Hotel Sentosa
The Outpost Hotel Sentosa by Far East Hospitality is a romantic and romantic tropical island spot for fun and the brave. The sleek black marble contrasts with fresh white decor, making The Outpost Hotel Sentosa an enticing refuge. As a recipient of the SG Clean certification, the hotel is committed towards creating a cleaner and safer environment for all guests.
The hotel is having a 1-for-1 hotel deal and offering 5% off Best Available Rates.
3. Far East Hospitality – Village Hotel Sentosa
At Village Hotel Sentosa, expect to find various recreational amenities, within a short drive of the lodging. After all, Village Hotel Sentosa is conveniently located in Sentosa, an island resort known for breathtaking tropical scenery and an array of vibrant attractions.
The hotel is having a 1-for-1 hotel deal and offering 5% off Best Available Rates.
4. ONE°15 Marina Sentosa Cove Singapore
Indulge in Singapore's most prestigious integrated oceanfront marina. A transient oasis away from the hectic city scene, enter a world of absolute privacy staying in one of the 26 rooms in the clubhouse.
Head to ONE°15 Marina Sentosa Cove for a truly memorable vacation. The hotel is having a promotion: stay for 3 nights and pay for 2 night!
5. Oasia Resort Sentosa
Revitalize, recharge, and refuel at Sentosa Oasia Resort within 15 minutes of Singapore 's central business district and located in the heart of Sentosa Island. With free unlimited fitness and wellness activities, nourishing, fresh food, it's the perfect sanctuary to refocus and reboot the mind, body, and soul.
The hotel is having a 1-for-1 hotel deal and offering 5% off Best Available Rates.
6. Shangri-La Rasa Sentosa, Singapore
Shangri-La Rasa Sentosa, Singapore, the only beachfront resort in Singapore, welcomes guests to design their ideal vacation with unique island vibes and sun-kissed experiences. Located only 15 minutes from the Singapore city centre, Shangri-La Rasa Sentosa offers 454 spacious guestrooms and suites featuring private balconies and views of the South China Sea, landscaped gardens, or the pool.
Whether guests are seeking calm or lively vacation destinations, this five-star resort presents ample activities for both kids and adults to enjoy while on the premises. The resort is offering 10% off Flexible Rates.
7. Siloso Beach Resort
Siloso Beach Resort is the only eco resort residing on the beautiful island of Sentosa. Nestled within lush foliage surrounding and overlooking the breathtaking South China Sea, Siloso Beach Resort hosts a wide range of accommodations including sea-facing rooms, family rooms, roof garden suites and uniquely-designed villas.
Enjoy amenities and facilities including a unique natural spring water swimming pool, waterfall feature, water slides, hot water spa pool.
The hotel is offering a free third night stay for Roof Garden Suite Queen.
8. Sofitel Singapore Sentosa Resort & Spa
The Sofitel Singapore Sentosa Resort & Spa is the newest French luxury 5-star lodge in Singapore's favorite island. Atop a cliff on the side of Tanjong Beach, the 215-room lodge offers luxury rooms, suites, and villas. Completing the setting for guests is a large swimming pool deck and the world's largest Sofitel SPA.
The hotel is having an 15% off Best Flexible Rate Deluxe Room from Sunday to Thursday, and 10% off Best Flexible Rate Deluxe Room from Friday to Saturday and public holidays.
9. The Barracks Hotel Sentosa
Located on Sentosa Island's storied backdrop, The Barracks Hotel Sentosa was once a British military training base, which hosted soldiers from around the world. It is today meticulously restored to offer weary travelers a glimpse of a bygone era: an era when travel was a fashionable experience, full of adventures, romance, and excitement.
The hotel is offering 5% off Best Available Rates and an Exclusive 2D1N stay in a Premier Room inclusive of daily breakfast, all-day refreshments, and $100 dining credits.
Activities
10. ForestPlay
Singapore's first nature playground offers a unique and fun experience for children to use tools to build structures and become creative problem-solvers.
This March, ForestPlay, is offering 10% off ForestPlay Single Passes.
11. HeadRock VR
A family attraction divided into two zones: The VR PLAY ZONE, for an indoor, child-friendly experience featuring 8 virtual reality (VR) rides and interactive shooting games, and the Head Rock MUSEUM, showing exhibits of historical head-and-face masks.
HeadRock VR is now offering 10% off Headrock VR Play 3/Play 5 and 10% off Hello, My Dino! (1A/1C) ticket.
12. HydroDash
There is none that offers a delightful atmosphere on Singapore's very first floating aqua park than Hydrodash. Challenge friends, family, and loved ones to an exciting race through thrilling water obstacle courses and partake in a whirlwind of family fun! We welcome people of all ages to an exciting day out.
HydroDash is offering $3 off admission ticket!
13. iFly Singapore
iFly Singapore is a state-of-the-art indoor skydiving experience that mimics free-fall conditions, without having to jump off from an airplane. It is one of the most popular indoor attractions in Singapore, and many celebrities that visit Singapore would often make a stop at iFly Singapore to give indoor skydiving a try. This is an activity that is safe for everyone.
Enjoy one FREE digital photo with any teaser/challenge package and S$5 off top up flight!
14. Madame Tussauds Singapore
Opened in London in 1884, Madame Tussauds Museum is widely recognized as one of the best wax museums due to its high-quality wax creations and its enduring novelty.
Madame Tussauds Singapore is offering $2 off for top-up of Madame Tussauds Singapore VR Racing Experience Ticket, and 1-for-1 5-in-1 ticket + Digipass.
15. Nestopia
Siloso Beach serves as a lovely setting along the Sentosa islands for a thrilling outdoor experience, full of various play equipment and netted obstacle courses. Eden until the end of this adventurous journey with three "Hunker Haunt" towers that feature connected nests and slides with an impressive 5600 feet.
Enjoy 15% off admission ticket this month!
16. Ola Beach Club
Imagine yourself on a beach in the tropics, where you can sip tropical cocktails, play water sports, or take in the cool Hawaiian Vibes. Head to Ola Beach Club for a relaxing and fun time of your life!
The club is offering 10% off Watersports!
17. Scentopia
Scentopia helps you create your personal scent based on your personality. They also offer a vast selection of aroma products, such as perfumes, EDP, reed diffusers, scented candles and kits for DIY. Anticipate 10% off all full-priced items this month.
18. SentoSights
Experience Sentosa through SentoSights tours that feature more than 11 unique tours, exploring local attractions and gaining valuable insight into the significance of sustainability and conservation.
This month, expect discounts available for various tours!
19. Sentosa 4D AdventureLand
Admiration can be yours as you admire the effects 4D technology has on live events at an eye-catching 4D AdventureLand. Ride the Haunted Mine Ride 4D, or strap into for the Extreme Log Ride. Shoot it out in Desperados, or go on a thrilling realtime treasure hunt as you get caught up in the action in Journey 2: The Mysterious Island.
The attraction is offering 20% off 4-in-1 combo - adult rate (one-time admission), 15% off 4-in-1 combo - child rate (one-time admission), and FREE ice cream with any purchase of 4-in-1 adult combo.
20. Sentosa FUN PASS™
Mix in your fun and take advantage of great savings with Fun Pass. Whether you're a thrill-seeker or prefer harmonious activities for your group, your family, or all of you, there's much adventure to be had.
Enjoy 30% off Sentosa FUN PASS™ 60 Tokens, 30% off Sentosa FUN PASS™ 90 + (5 Free) Token, and 30% off Sentosa FUN PASS™ 120 + (10 Free) Tokens.
21. Sentosa Island Bus Tour
Hop on an air-conditioned bus for a 2-hour journey to Sentosa with your Star Guide. Learn about the history and transformation of Sentosa over the course of your trip, and see some of Singapore's top points of interest, such as Resorts World Sentosa, Sentosa Cove, and more!
Enjoy 50% off at Singapore Cable Car Ticketing Counter this month!
22. SkyHelix Sentosa
SkyHelix Sentosa's highest open-air panoramic ride in Singapore offers exhilarating flights. Sit back in a gondola that glides gently upwards as it reaches heights of 79 metres above sea level. Be mesmerised by the enchanting 360 -degree views stretching from Sentosa to Keppel Bay and the Southern Islands.
Sentosa Islanders can enjoy $2 off SkyHelix Sentosa!
23. Skypark by AJ Hackett
Skypark Sentosa offers the most exciting outdoor activities in Singapore, set on the beautiful Siloso Beach. Jump from the 47m-high AJ Hackett Bungy Jump platform, experience the rush of the giant swing, or relax and take in vibrant views of Sentosa at the exclusive Summerhouse Beach Club.
Get $10 off Bungy today!
24. White Sails Yacht
White Yact is a premier-chartered vessel provider in Singapore with over 11 years of experience. The charters are 4 hours long, and can go approximately thirty minutes away from mainland Singapore to Lazarus Island, where you can enjoy the yacht's amenities and partake in its complimentary water activities.
White Sails Yacht is offering 20% off 4 Hour Private Yacht Charter to Lazarus Island onboard SunRider, 10-pax inflatable round float island (U.P. $100), and 20% off 4 Hour Yacht Charter to Lazarus Island onboard SunRider.
25. Wings of Time
The famed Award-Winning Night Show, Wings of Time, is back with even more state-of-the-art pyrotechnic effects created by Sparkular machines! When the audience sits even closer to the stage, the show will be more compelling, due to the addition of upgraded pyrotechnic effects created by Sparkular devices.
The attraction is offering 15% off Wings of Time (Standard Seat) [U.P $18.00].
Dining
26. YachtCruiseSG
Singapore's beautiful islands are the perfect thing for everyone to do with their family and friends. Join YachtCruiseSG on the island of Singapore to dive in the gorgeous emerald waters with your family and friends. Embark on a cruise from Marina at Keppel Bay to go on a private yacht to these endless islands. You will love learning about the tales behind each of these beautiful islands from the nice crew on the yacht.
Enjoy 10% off 2.5 hour yacht tour + cable car package (adult/child)!
27. 1-Altitude Coast
The place to go for a relaxing day outdoors is 1-Altitude Coast, Singapore's most iconic homegrown rooftop destination. 1-Altitude Coast's rooftop terrace, al fresco deck and infinity pool are the perfect place to get away from the heat and rest.
Sentosa Islanders can enjoy 15% off your total bill this month.
28. Arbora Hilltop Garden & Bistro
A dining spot situated on one of the mountain peaks of Sentosa, with a view over cable cars as it moves through the woods, the rainforest hillside, and the harborfront, is among one of the most renowned places to cater to those with special occasions in mind. Arbora Garden & Bistro's extensive menu features foods perfect for popular events and any celebration, as well as for everyday meals.
Enjoy 10% off with minimum spend of $50!
29. Bedrock Origin
Bedrock Origin serves up a menu inspired by the elements of the ideal ocean locale, where land and sea come together at Oasia Resort Sentosa. Bedrock Origin only serves authentic seafood, dry-aged meats including fish, and roasted harvests, along with the classics like steak. The restaurant is also pet friendly, so you can definitely bring your furkids along for a joyous meal!
This March enjoy 10% off Ala Carte menu items.
30. Bikini Bar
Sentosa's Bikini Bar invites beachside customers to partake of a variety of ice cold beers, cocktails and radio friendly sounds, all perfect for unwinding. Lounge in a setting buzzing with activity throughout the day all the way to the evening.
Enjoy 10% off dining today!
31. Boaters' Bar
Either way, take a break at the Boater's Bar here. The inviting docked bar in the middle of Sentosa Cove Marina is a great place to enjoy good food and favorite drinks. Elegant desserts and premium drinks match their surroundings, perfect for the trendy yachts and shiny cruisers surrounding them.
Boaters' Bar is offering $20 dining voucher with minimum spend of $80.
32. Coastes
Coastes is a beachside restaurant in Singapore offering a casual, laid-back ambiance on the edge of a swimming pool with a sun-lounging atmosphere and daybeds bordering the edge of the pool. At this easygoing beachside restaurant and bar, high-quality beverages, house pour spirits, and fresh seaside food are featured.
They are currently offering 10% off dining and FREE 6-pc portion of chicken wings.
33. Duckland
Duckland originated from a 'farmto fork' concept with premium ingredients from Ireland. The menu contains sells of succulent roast ducks, as well as a range of duck delicacies. Signature dishes include Roast Irish Duck, Duck Confit & Prata-Waffle, Duck Fried Rice, and Irish Duck Ramen. Non-duck dishes using first-class Irish produce are also served.
Duckland is offering 10% off Ala Carte food orders and FREE Signature Duck Fat Fries.
34. Dusk Restaurant & Bar
Atop lush rainforest, this restaurant-bar at scenic Mount Faber Peak offers breathtaking nearby sunset views. European tapas like a Parma Caesar Salad and Chorizo with Marble Potatoes can be paired with their variety of wine bottles and cocktails for a romantic evening.
Dusk Restaurant & Bar is offering 10% off with minimum spend of $80.
35. Eco Alfresco Café
The restaurant at Eco Alfresco Caf resembles a treetop conservatory, where you can relax and take in the garden view while eating. The kitchen serves both local and European cuisine, and breakfast is all the more delightful as the squirrels that wander about the restaurant hold everyone in thrall.
Sentosa Islanders can enjoy 1-for-1 coffee or tea.
36. Gin Khao Bistro
Experience Thai Watermelon Fried Rice, Gin Khao's most iconic dish! Enjoy a wide array of Thai street food that has been tailored to local palettes.
This month, the bistro is offering a Set lunch for 4 pax at $66.90 (U.P. $77.20), 20% off Lunch Set for 2, 1-for-1 fried rice, and even 15% off dining.
37. Good Old Days Food Court
Good Old Days Food Court is a place to try a wide selection of yummy nosh at a reasonable price. Its redesigned menu and concept include local and international favourites, such as wok the height of the wok hei in the stir-fried lobster hokkien noodles. The Mexican restaurant The Good Old Days Western Grill serves classic fare from a balcony, including savory meat cuts, tender chicken, and perfectly roast little potatoes.
This March Sentosa Islanders can enjoy 10% off with minimum spend of $30.
38. Hard Rock Café
Enjoy western dining at Hard Rock Café while listening to rock music. This month the restaurant is offering 15% off dining
and FREE nachos (worth $30) with a minimum spend of $60 on dining!
39. Harry's at Resorts World Sentosa
Harry's pub is both a sports and live entertainment venue with a menu of tasty meals and a huge selection of excellent beverages.
Enjoy 10% off dining and $10 discount with a min. spend of $50!
40. International Food Street
In Central Beach Bazaar, a trendy row of Kombi vans are arrayed to observe an array of international culinary creations. Driven by cuisines of cities like London and Tokyo, this is a perfect pit-stop to grab some light wispy bites and treats if you're heading to catch Singapore Musical Fountain.
Enjoy 10% off with minimum spend of $20.
41. Kwee Zeen
Allow yourself to join us in a memorable experience, whether it be a romantic one or a gourmet one. With a few seats that overlook the Sofitel Pool, you can enjoy a meal privately overlooking a vibrant scene. With an extensive selection of Asian, Western, and French dishes, we're primarily known for being a charming French brasserie.
The restaurant is offering several deals. On Magnifique Hawker Nights, prices are $128++ for 2 diners (U.P. $74++ per diner), during the Royal Maharaja Feast receive a Complimentary half pint of beer, and Sofitel Sentosa Sunday Brunch are $208++ for 2 diners (U.P. $128 per diner).
42. LeBar
Located in the heart of the resort, LeBar is an outdoor pavilion lounge where guests can relax in an airy and plush setting. Treat yourself to a range of delectable drinks and indulgent high teas while watching a breathtaking view.  LeBar is an excellent place for evening and day events and cocktail-making classes.
Enjoy 1-for-1 house pour including Red wine, White wine, Beer by the glass or Spirits, and enjoy Complimentary 2 Welcome Drinks for the Tropical High Tea and complimentary Truffle Fries with every 2 drinks purchase (limited to one time usage).
43. Le Faubourg
Located inside a classical building at Mess Hall Sentosa, conveniently located near Resorts World Sentosa, the restaurant serves up diverse dining experiences in a variety of amazing spaces. At Le Faubourg, have an alfresco meal like if you were eating at Palais Royal from a café's courtyard, or take in a classic Parisian dining atmosphere at the restaurant.
This month only, enjoy 10% off when you dine-in!
44. Market Hall Sentosa
An open-concept food hall by the waterfront, Market Hall contains multiple concepts within open surroundings for guests to enjoy eating and drinking. All dishes are handmade using fresh ingredients and cooked with passion. Brands include 4am's Pizza, Butcher Grill, and more.
Enjoy 1-for-1 Draft Craft Beer (330ml) and FREE $10 Return voucher with any spend at Market Hall.
45. Miska Café
With inspiration of the Mediterranean, the Miska Cafe business was established in a huge way with the instinct that creates a dining experience great. Experience innovative menu selections with unique ingredients and served at a comfortable ambience.
The restaurant is offering 1-for-1 mains and 10% off dining.
46. Native Kitchen
Native Kitchen offers diners a culinary journey through the city-state of Singapore with refreshing fan fare featuring local Singaporean hawker cuisine, prepared with a top-notch spin. Native Kitchen appeals to guests and diners from all around the world - visitors, family members, locals, corporate executives, and leisure seekers - wanting to soak up the comforting tropical vibes.
Enjoy 10% off Ala Carte menu items this month!
47. Ola Beach Club
Ola Beach Club is a family friendly entertainment and water sports destination at Sentosa. But if you're thinking of having a meal there, be sure to gain the best savings with 10% off dining and 20% off dining during your birthday month.
48. Royal Albatross Luxury Tall Ship
Enjoy fine dining on the tall ship that impresses and entertains its guests. This month, enjoy a free Mocktail with standard priced Royal Albatross cruises and 10% off Regular Priced Royal Albatross Dine & Sail Tickets. You won't want to miss this!
49. Sabio by the Sea
Sabio was one of the first tapas bars in Singapore. It specialized in serving a Spanish tapa to food lovers everywhere. At Sabio, every dish is prepared using the best and freshest ingredients and imported Spanish wine and beer.
The restaurant is offering 15% off ala-carte food from Monday to Thursday, and 1-for-1 glass of selected beverages.
50. Sand Bar
The next time you feel like hitting the beach, visit Sand Bar at Sentosa Island. There, you can have a drink and enjoy some scrumptious snacks while watching the sunset. After the sun sets, stick around as Sand Bar transforms into a popular nightclub, featuring exciting performances of its resident DJs and notable guest DJs.
Enjoy 10% off dining at the bar this month.
51. Silver Shell Cafe @ Dine on 3
At Silver Shell Cafe, enjoy themed buffets or enticing a la carte choices that go well with curated wine, cocktails and the sea breeze will be the perfect accompaniment to a curated selection of wines, cocktails, and the summer air. Asian favorites, Italian classics, vegetarian options, and more are offered in addition to kid-centric, all-day dining menu that the whole family can enjoy.
The cafe is offering 20% off your total bill when you're a Sentosa Islander!
52. Summerhouse Beach Club
Siloso Beach's most exciting beachfront dining spot is a coastal dining establishment, Summerhouse Beach Club. It offers refreshing drinks, beer and spectacular views of the coast. The magnificent scenery can be enjoyed by settling down and sipping a cold beverage while watching daring adventurers take the ultimate plunge off the AJ Hackett bungy.
They are currently offering 20% off dining and 1-for-1 mains this month.
53. Tanjong Beach Club
Enjoy a slice of tropical paradise and coastal cuisine. Splash into the fun at Tanjong Beach Club and enjoy the 10% discount while you're there.
54. The Straits Wine Company at Mess Hall
The Straits Wine Company at Mess Hall is a casual wine and pub in which to eat scrumptious comfort food and enticing wines. A hidden gem at the heart of a stunning historical structure, the area boasts a line of the varietals by the finest producers in the world. This place is the perfect place to relax and revel in the simple lifestyle.
This month only, enjoy 1-For-1 one glass of house wine on weekdays, a $10 welcome cash voucher for wine and food respectively!
55. The Cliff
With fresh produce and Italian flavors, The Cliff offers Cali-Italian cuisine, with an assortment of hand-crafted pizza, gnocchi and other Italian snacks, accompanied by wines.
Enjoy 1 for 1 house pour on weekdays from 12pm to 6pm, and Weekday Set Lunch a Complimentary Welcome drink!
56. Trapizza
A casual Italian-American eatery located on Siloso Beach, Trapizza is only a quick 5-minute walk from the resort. Featuring a daring menu with authentic, flavorful Italian fare including signature thin-crust pizzas, pastas, and innovative re-interpretations of classic cocktails, Trapizza promises a fun dining experience for all patrons.
Trapizza is offering 20% off your total bill.
57. TungLok Heen
TungLok Heen is an ideal dining place for those who appreciate traditional, authentic Chinese cuisine. At the Resort Worlds Sentosa outlet, Sentosa Islanders can enjoy 10% off Ala Carte food orders.
58. WOK°15 Kitchen
Named Singapore's top restaurant in Sentosa Cove and dubbed Singapore's top seafood restaurant by Wine & Dine, WOK 15 Kitchen renders dining experiences at sea by featuring live seafood.
The restaurant is offering a $20 dining voucher with minimum spend of $80.
Retail and Others
59. Cable Car Gift Shop
Looking to buy your family and friends souvenirs? The Cable Car Gift Shop has a variety of products and souvenirs. It also offers licensed Disney products.
Sentosa Islanders can enjoy 15% off retail this month.
60. Hard Rock Café (Resorts World Sentosa)
Hard Rock Café is offering 15% off retail! This is your chance to purchase souvenirs with great savings!
61. Sentosa FUN Shop
Stop at the official FUN shop at Sentosa for the fun things that you need to enjoy a day on the island. Stop there before you head to the home too for any last minute purchases.
You can enjoy 15% off retail at Beach Plaza!
62. SkyHelix Sentosa Retail Kiosk
Stop by the retail kiosk at SkyHelix Sentosa and enjoy 15% off your purchase! Don't miss this opportunity!
63. CHI, The Spa
The range of spa treatments at The Spa is both luxurious and grounded, suitable for your personal wellness and peace of mind. The skillful, intuitive therapists employ medicinal methods that revive your body and mind.
Treat yourself to a relaxing treatment this month with 15% off ala carte treatment.
64. My Queen
My Queen takes a real-world, women-centric approach to prenatal and postpartum care that incorporates together the latest healthcare knowledge with Babycare culture. My Queen 's Maternal Care service has been ingeniously tailored to appeal to her unique demands.
Enjoy FREE wine with purchase of 1 Night Staycation Service Voucher and 10% off My Queen Services Gift Voucher
March is the perfect time to head to Sentosa Island, where you can enjoy exciting attractions and activities while taking advantage of exclusive deals! All deals expire on 31 March 2023, so act fast! Make your reservations today!