Complete Guide to Birthday deals and treats in Singapore 2022 [updated]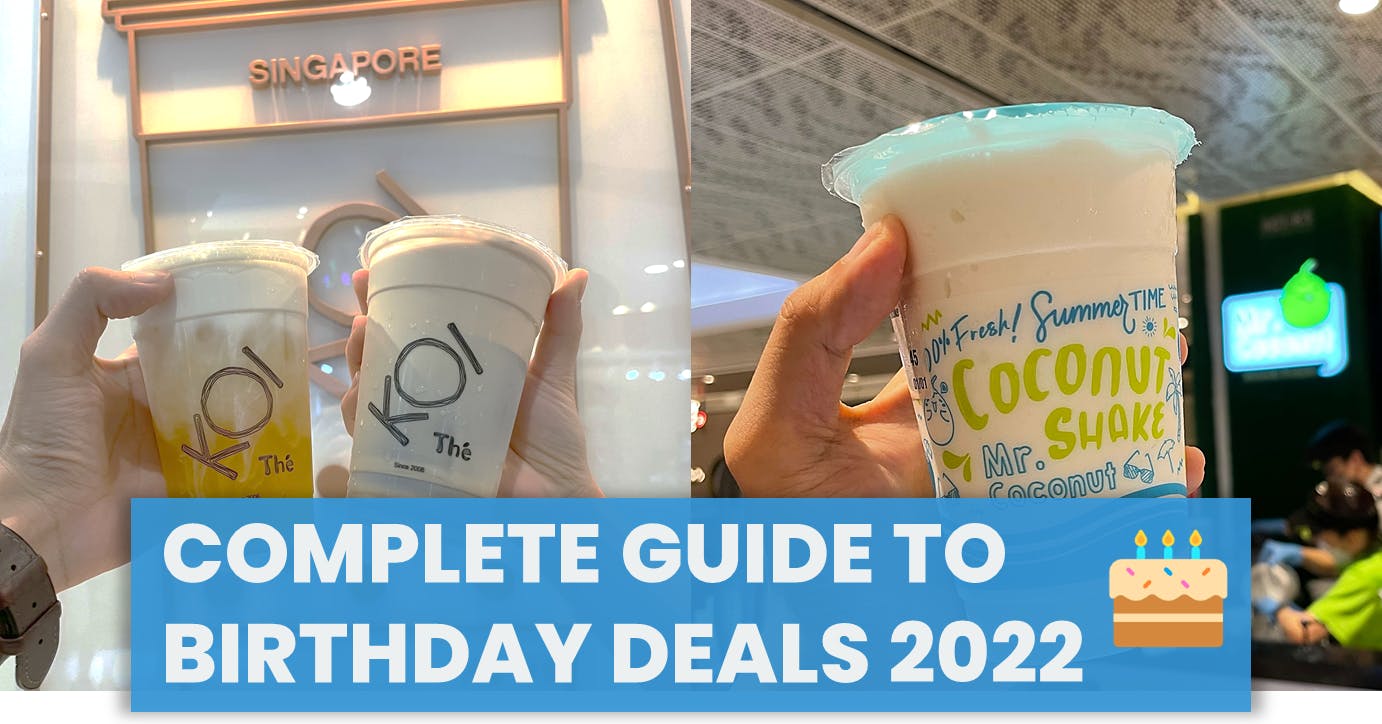 Follow us on Telegram for the best updates: https://t.me/sgdivedeals
It's your birthday after all, and so you want to treat yourself to something scrumptious, exciting or simply fun! Then you look into your bank account and realize that you don't have much of a budget. Oops. 
Fret not. 
We've compiled 47 Birthday Deals and treats for you that are still valid this 2022 - FREE buffets, discounted cakes and sooo much more! Read on and choose your favourites for a memorable birthday within your budget.
TL;DR: the greatest trick to discovering always up-to-date birthday deals is through this link at div.sg/birthday. You'll be pleasantly surprised how easy to stay current to all the birthday deals and treats without browsing through long blog post like this (we check all the deals validity)😉
1. Cat & The Fiddle Cakes - 20% off whole cakes
What better way to celebrate your birthday than with delicious cakes from Cat & The Fiddle Cakes! Simply flash a valid ID with your birthdate and enjoy 20% off all whole cakes.
2. Starbucks - Free drink upgrade, slice of cake or more
Are you a fan of Starbucks coffee? As a Starbucks member, you get to enjoy free drink upsize, a free slice of cake with any drink purchase, or both the free drink and a free slice of cake depending on your member tier. 
3. Lobby Lounge - 30% Off English afternoon tea
If you are a M1 user and prefer tea over coffee, head over to the lobby lounge instead for a whopping 30% off a soothing English Afternoon Tea. You simply got to redeem this birthday treat via the M1+ app.
4. Spizza - $20 off voucher
If you find cakes and beverages too mainstream, you can go for pizza instead! Oh wait, we meant SPIZZA. Register for Spizza's membership programme for free and get a $20 birthday voucher on your birthday month.
5. Coca - Dine for free
As a Coca member, did you know you can dine in for FREE* on your birthday month with 3 paying adults? And not to forget, it is a buffet! So you can eat all you want too.
6. Suki Suki Thai Hot Pot - Dine in for free
If dining in with 3 paying adults is too much, you can dine in for FREE with just 1 paying adult too. Time to jio your mother, father, bff or partner along so you can eat for free!
7. Common Grille by Collin's - Complimentary Main Course for Members Only 
Another birthday deal exclusively for members - enjoy a one-time complimentary selected Main Course that is redeemable during your birthday month only.  
8. Mcdonald's - FREE 20pcs Chicken McNuggets
Everyone's favourite fast food restaurant and Mcdonald's sure does love their customers as well! Enjoy 20 pieces of FREE Chicken McNuggets during your birthday month with a min. purchase of $12 in-store!
9. Hakata Ikkousha Ramen - Free Pieces of Gyozas as Your Age 
Yet another reason to rejoice that you are a year older - free pieces of Gyozas as your age! Yummy!
10. Genki Sushi - 20% off Birthday Month  
Sushi lovers rejoice! Get 20% off your bill at Genki Sushi during your birthday month if you are a club or Premium member. 
11. Shin Minori - Birthday Lunch and Dinner Treats 
Make a birthday dinner reservation at Shin Minori's Katong Square outlet and enjoy a sushi birthday cake completely free! You can get a complimentary bottle of red or white wine too. You will have to register on their website in advance.
12. Bari-Uma Ramen - Free Amount of Gyozas as Your Age 
Another store with Free Gyozas as your age - only if you order a ramen or fried rice during your birthday month. Don't forget to make a reservation at least a day in advance. 
13. Lawry's The Prime Rib - 50% off 2nd main course 
For steak lovers hungry for some succulent meat, you got to celebrate your birthday at Lawry's! For groups of 2, order 1 main course and get the 2nd for 50%* off. For larger groups, order 2 main courses to get the 3rd** for FREE!
14. Cajun on Wheels - Free lobster 
Savour the richness of 1 succulent lobster at Cajun on Wheels FREE with an Olympian bucket purchased within your birthday month. While stocks last!
15. Mr Coconut - Free Birthday drink, yogurt or Ice cream 
No membership fee, no minimum spending and just a free drink (toppings not included) to sweeten your birthday? It's true with Mr Coconut even if it sounds too good to be! Sign up as a member today!
16. Tanuki Raw - 1 Complimentary Salmon slice per year
Celebrate your birthday at Tanuki Raw Jewel Changi Airport and enjoy their special birthday salmon promotion! A complimentary slice of salmon sashimi for every year. Turning 35 years old? 35 slices of salmon sashimi free!
17. Koi The - 2 Free Medium-sized drinks 
If you are a huge fan of Bubble Tea, you can register as a KOIThélicious member to redeem 2 free Medium-Sized Drinks from KOI on your birthday month! 
18. Boost Juice - Vibe Club birthday specials 
Sign up for VIBE club (min.1 purchase) and get FREE Boost Juice for free on your birthday! (Check in-store for more details). Also, accumulate up to 10 points (1 purchase = 1 point) and get the next drink FREE! Once you have your card in hand, next you'll need to register and activate it!
19. Rocku Yakiniku - Dine free 
Want to dine in for free at Rocku Yakiniku? Time to jio 3 more of your friends to dine in with you, to enjoy this promo on your birthday month! 
20. Sheraton Towers - 1-for-1 ala carte
Are you a HSBC cardholder? Enjoy 1-for-1 ala carte food for dine in during your birthday month at Sheraton Towers Singapore – The Dining Room!
21. Paradise Group - 20% rebates
As a Paradise Gourmet Rewards (PGR) member, you earn 20% rebates on your birthday month over unlimited visits at Paradise Group.
22. The Boiler - Free lobster
The Boiler will be giving out free lobsters to birthday babies in 2022! Now available for delivery and pick up! Reserve the deal now!
23. Suki-Ya - Free buffet dining
Dine for free when you bring 3 paying adults with you on your birthday! Celebrate your birthday with your friend at Suki-Ya!
24. Peperoni Pizzeria - Complimentary birthday dessert
With any pizza/pasta or any main course ordered, enjoy a complimentary birthday dessert at Peperoni Pizzeria!
25. La Brasserie - Dine free
Bring 3 paying guests for Set Dinner Menu and 1 gets to dine free! Not only do you get to dine free, you will receive a complimentary slice of cake too!
26. The Fullerton Cake Boutique - $20 off
As a Standard Chartered cardholder, you get to enjoy $20 off your 1kg birthday cake from The Fullerton Cake Boutique!
27. Marché Mövenpick - Birthday surprise
Receive a little sweet surprise on your birthday month at Marché Mövenpick!
28. Swensen's - Complimentary Firehouse Birthday Sundae
Swensens Cool Rewards Members can enjoy a complimentary Firehouse Sundae on their birthdays! Simply dine-in on your birthday to enjoy this deal!
29. Shihlin Taiwan Street Snacks - 1 for 1 snack voucher on birthday month
Enjoy 1 for 1 ala carte snack voucher on your birthday month with Shihlin Taiwan Street Snacks! Sign up as a member now and bring a friend along!
30. Yole - 1-for-1 birthday treat
Enjoy no added sugar, healthy yogurt or ice cream? Sign up as a member at Yole to enjoy their 1-for-1 treat on your birthday month!
31. Udders Ice Cream - Free waffle
More of an ice cream and waffle person? Head to any Udders Ice Cream near you to redeem your free waffle by simply ordering a scoop of ice cream and verifying your birth date with the staff in the store!
32. Auntie Anne's - 1-for-1 birthday treat voucher
As a blue-tier member at Auntie Anne's, you can get a 1-for-1 birthday treat voucher available 10 days before your birthday (the voucher is valid for 30 days). While for gold tier members, you can redeem a free pretzel of your choice available 10 days before your birthday (the voucher is valid for 30 days).
33. Sephora - 2x Bonus Points during your Birthday month
As a Sephora member, you can get 2x bonus points on 1 purchase during your birthday month. Then, use your Sephora points to redeem exclusive rewards!
34. IKEA - Members get 3X Family points on Bday Month
If you are an IKEA member, make your first purchase on your birthday month a big one! Because members get 3x Family points for your first purchase at either the IKEA stores, IKEA online store, IKEA Restaurant, Bistro or Swedish Food Market only on your Birthday Month.
35. Smiggle - Birthday Treat for VIP Members
For kids who love birthday surprises, Smiggle is the way to go! Get a mystery birthday treat on your birthday month if you sign up as a VIP member. 
36. Orbis - 20% Off Birthday Month
Pamper yourself on your birthday with self care products from ORBIS! Members can enjoy a one-time 20% discount on regular-priced items anytime during their birthday month.  
37. Clinique - Free Birthday Gift
If you are a Clinique member, you will get an offer code mailed to you which you can use on your birthday month for a Free Birthday Gift! Just make sure you have provided your birth date in your account profile!
38. Sulwhasoo - Birthday Gift + 10% Off
You can also sign up for Sulwhasoo's membership programme and get a birthday gift, and 10% off regular priced items on your birthday month!
39. Lancome - Free Birthday Gift
Yet another membership entitling you to a free birthday gift! Collect your Lancome personal care products in any Lancome stores.
40. Laneige - 20% Birthday Discount
Sign up for Laneige's Membership Programme and enjoy birthday benefits – 20% off on your birthday month!
41. Innisfree - 20% Off During Birthday Month
You can also sign up for innisfree's membership programme and enjoy birthday treats! Premium members get to enjoy 20% discounts during their birthday months, and VIP members can enjoy 25% off discounts.
42. Etude House - Up to 20% off E-Coupons
Sign up for ETUDE Membership and enjoy up to 20% off e-coupons during your birthday month!
43. Kiehls - Up to 20% off
Sign up for Kiehl's Rewards and enjoy exclusive birthday treats – up to 20% off discounts during your birthday month!
44. The Body Shop - 20% off during BIrthday Month
Join The Body Shop's Love Your Body™ Club and enjoy 20% off during your birthday month! Simply spend $40nett in stores to qualify for this membership.
45. Kikki K - Surprise Birthday Gift
Are you a fan of elegant and stylish notebooks and pens? Be surprised on your Birthday month with a surprise birthday gift from Kikki K!
46. Far East Hospitality - Free Breakfast at Participating Hotels
By signing up as a member of Far East Insiders, you can get delicious benefits on your birthday month! Book a stay within your birthday month at Oasia Hotel Downtown, Orchard Rendezvous Hotel or Village Hotel Bugis and enjoy complimentary breakfast.
47. The Rink - Bring a friend & get a free entry 
All you need is a skating buddy to enjoy a FREE entry to The Rink as part of their Birthday Treats promotion for all the birthday babies! If you are all geared up for some super fun skating time, don't forget to write in to [email protected]therink.sg at least 3 working days in advance to make your reservations.
48. Firefly Photography - Complimentary Photography
If you are a M1 user, you can redeem your birthday treat on My M1+ App today! M1 customers can enjoy a 90 min outdoor shoot taken by a professional photographer on your birthday month.
49. Chinois Spa - up to 30% OFF
Want to relax and enjoy a good jacuzzi bath during your birthday? Visit Chinois Spa for body massage therapy or jaccuzi bath and enjoy up to 30% off!
50. Cotton On - Free Birthday Gift for Members
"Fashionistas" take note! As a cotton on member, you got to look out for an email from Cotton On for a special surprise Gift.
51. Don Don Donki
Did you know that the new DONKI mobile app lets you earn points when you shop? Using this app and your points, you can redeem exclusive coupons, enjoy birthday perks and so much more!
That's it! If you know of a friend's coming birthday, I'm sure he/she will be thrilled that you share this birthday compilations with them😀