Cake Deals To Look Out For This Father's Day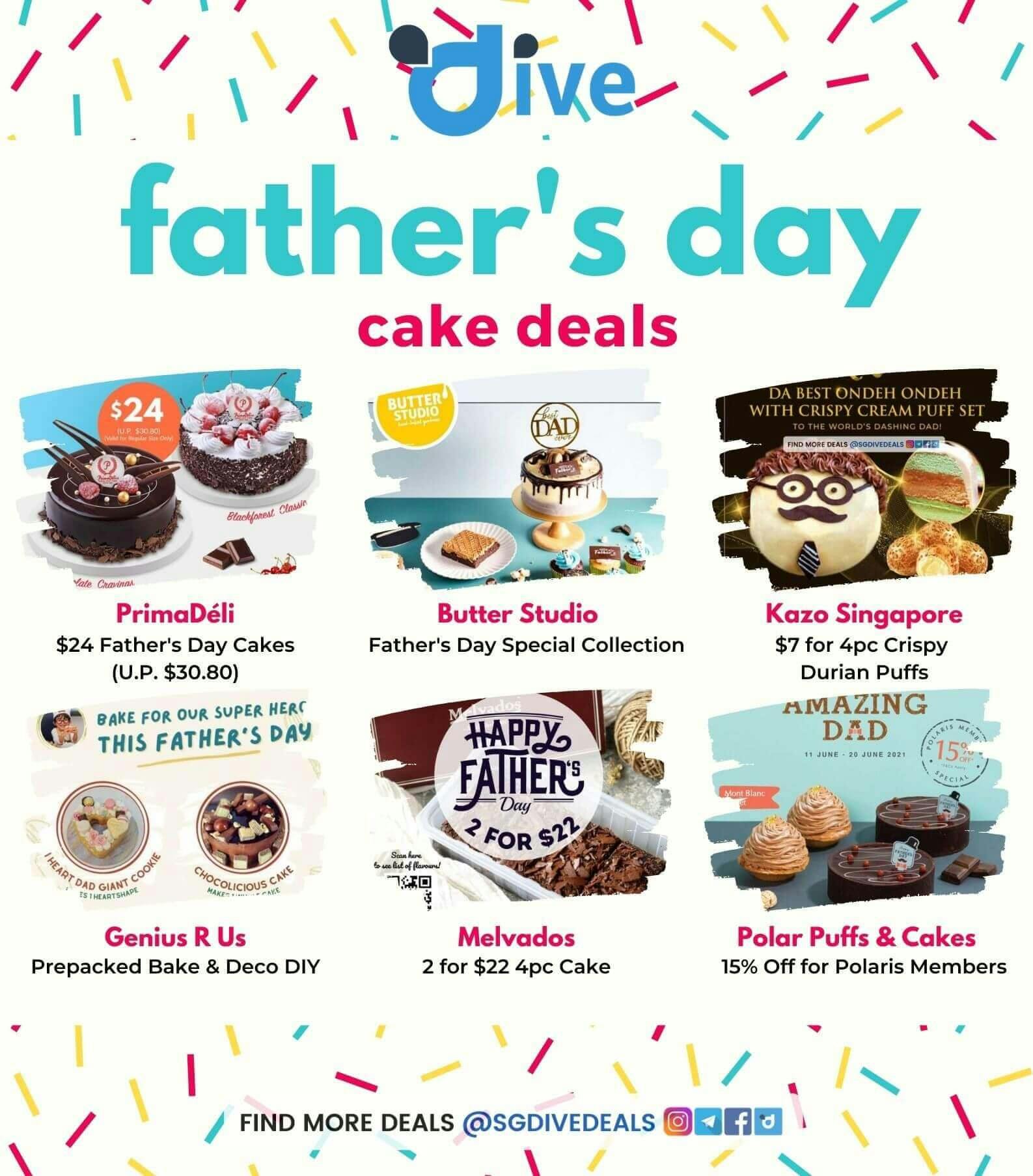 Follow us on Telegram for the best updates: https://t.me/sgdivedeals
Picking out a Father's Day gift for your dad is always tough, even when it comes to cakes.
Despite their Superhero personalities, dads can be extremely difficult when it comes to gift giving. Ask them what they'd like for Father's Day and you'll probably be met with the responses "I don't need anything" or "just get me anything, it doesn't matter".
Not to worry – for those fretting over what to get for your dads, we've compiled a list of delicious cake deals to get for your dads this Father's Day!
For those with sweet-toothed dads, PrimaDéli's Chocolate Cravings and Blackforest Classic Cakes are perfect for that chcolatey goodness.
From now till 27th June, get either of these cakes at only $24 each! (U.P. $30.80)
Full details and T&C here.
If you're looking for a bigger spread, Butter Studio's Exclusive Father's Day collection will leave you spoilt for choice!
From aptly designed handcrafted cupcakes, signature tarts, artisanal brownies and gourmet cakes, your dad will be feasting like a king this Father's Day.
Full details and T&C here.
Check out these other brands
Shake things up this Father's Day with Kazo's Ondeh Ondeh and Cream Puffs!
A wonderful gift to your dad in the form of a fluffy, pandan sponge cake layered with fragrant Gula Melaka and shaved coconut.
For the durian lovers – add just $7 more for 4 pieces of their Crispy Durian Cream Puff.
Full details and T&C here.
How about getting a little hands-on for a change?
For all the things that he's done for you, try donning the superhero apron on for a day and mock up a cake or a giant heart-shaped cookie for your dads!
Get Genius R Us' Prepacked Bake and Deco today! For the extra touch, get your family members some matching aprons and enjoy the experience as a family.
Full details and T&C here.
For those who prefer to skip the hassle of cutting cakes, get Melvados' special 4-piece Tray Cake Special!
Get 2 trays for just $22 – that's 8 slices for the whole family. Choose from over 20 flavours including Dark Chocolate Brownie, Oreo Cheesecake, Red Velvet and more.
Full details and T&C here.
Polar Puffs & Cakes provides the perfect combination of almond cream and chocolate mousse.
Get their Mont Blanc Tartlet at only $7.90, or their Midnight Chocolate Tarte at only $12.90.
What's more, Polaris members enjoy an additional 15% off!
Full details and T&C here.
Thank you for reading!
Happy Father's Day to all the superheroes out there.
Remember to show your appreciation to your loved ones and spend this special day together.
Click here for more Father's Day deals, including shopping and apparel.
For more deals, check out our website, Facebook, Instagram or join our Telegram Channel.