Top F&B Spots with Up to 50% Off Discounts this March School Holidays 2022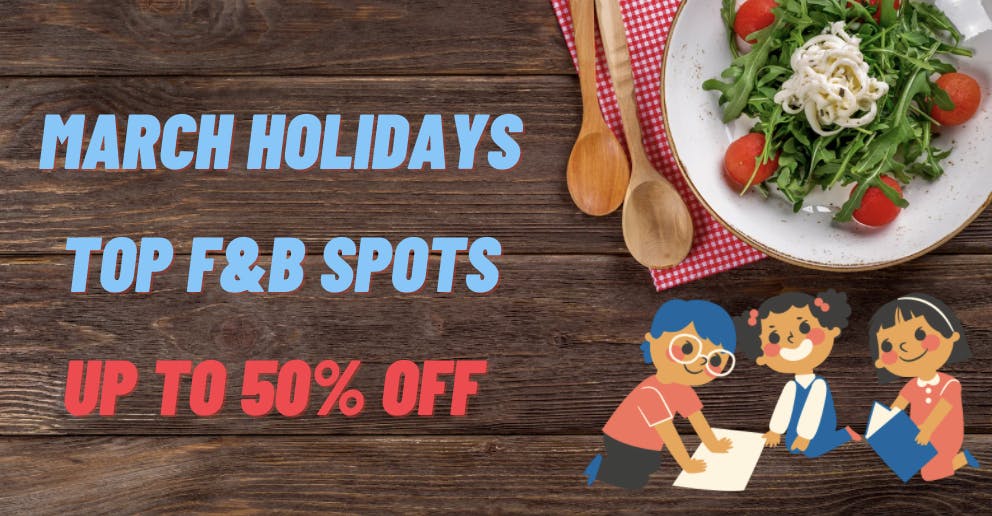 Follow us on Telegram for the best updates: https://t.me/sgdivedeals
Especially for this March holiday, we've curated a list of more than 10 exciting F&B deals that's perfect for the little ones! Not only can kids dine for free at Paradise Group of Restaurants, they can engage in fun activities like DIY their own pizzas at PizzaExpress or watch an exciting Fire Show at Menbaka Ramen that is bound to wow. For some outdoor fun, opt to bring the kids to the beach or Marina Barrage - the Picnic Bundle from Shake Shake In A Tub or Butter Bolo Buns from Joy Luck Tea House will make your picnic prep ten times easier!
Ps. in case you have not heard, you can find more deals at divedeals.sg ;)
Our dough, your go! Fancy yourself as a pizzaiolo pro? PizzaExpress has a Make Your Own Pizza DIY Kit ($21/set). Each kit comes with the necessary ingredients to make a pizza; such as their special PizzaExpress dough, tomato sauce, toppings of choice, as well as a step-by-step instructional card and link to video. Little ones get to choose exactly what they want on their pizza. On a classic 7-inch dough, they may choose 4 toppings from mozzarella cheese, cheddar cheese sauce, pineapple cubes, cherry tomatoes, pepperoni or ham, shredded chicken, corn kernels, button mushrooms or black olives to create the pizza of their imagination.
The set also comes with a choice of gelato and juice (for dine-in only). For those who prefer to spend a cosy get-together at home this year, PizzaExpress offers the Make Your Own Pizza kit for self-collection and on delivery. This is also the perfect activity for some family fun. Little ones will get to learn what goes into the food they eat, and adults will have plenty of fun too. 
Address: Holland Village, 251 Holland Avenue, Duo Galleria #01-01/02, Scotts Square #B1-08/09
For full details, click here.
Check out these other brands
From Penang Fried Kway Teow, Assam Laksa to Prawn Noodles, Penang offers a staggering variety of hawker food. While the adults feast over their favourite Penang hawker food, children are not neglected with their kids' meal sets, available at $9.90 each. Kids Meal Set A features sweet and sour fish, crispy nuggets, rice, Ribena and ice cream while Kids Meal Set B features mini-size deep fried dory fish, crispy fries, rice, Ribena and ice cream. 
Address: NEX (#B1-76), Compass One (#03-13), White Sands (#03-21), JEM (#04-27), VivoCity (#B2-23E)
For full details, check the deal out here.
Weekday Dine-in Promotion: Up to 50% off total bill
From 1 March to 22 April,  enjoy up to 50% off your total bill when you dine in at all White Restaurant and Express outlets from 2.30pm to 5pm (last order) on weekdays. Enjoy 50% off with min $60 spend, and a 25% off with min $10 spend.
Kids Meal
As a family restaurant with offerings suitable for both young and old, White Restaurant also offers three different kids' set meals. Each set comes with FREE Kids Colour Paper & Crayons to keep your child entertained during meal time!
Address: 22 Jalan Tampang (S758966), Waterway Point(#B1-12), SunPlaza (#03-12), Jewel Changi Airport (#B1-245-246), IMM (#02-24), Suntec City (#B1-131), Tampines Mall (#B1-K17)
This school holiday, Menbaka Fire Ramen has launched a NEW Fiery Express Meal for customers to enjoy the full fire experience at only $9.90, for the first time ever!
Menbaka's Fiery Express Meal is available for dine-in before 6pm, for a limited time only. Choose between the Signature Shoyu Fire Ramen or the Shiitake Mushroom Fire Ramen. Only 100 bowls daily! Get your cameras ready for this exciting, theatrical moment!
Address: 8 Grange Road, Cineleisure Orchard #05-03, Singapore 239695.
Check out the full details here.
5. Ichiban Boshi/Ichiban Sushi
The school holidays are here! From 1 March to 29 August 2022, enjoy $6.90 special set meals when you dine-in at Ichiban Boshi and Ichiban Sushi on weekdays between 2.30pm - 5pm! 4 specially curated set meals to look out for include: Tori Hiyashi Udon (Japanese chilled noodles with fried chicken, poached egg, seaweed and tempura flakes in sweet vinegar soy sauce), Ishiyaki Beef Rice (Mini hotsone rice bowl with beef, poached egg, vegetables in in-house special sauce), Ishiyaki Pork Paitan Udon (Mini hostone Japanese noodles with roast pork, poached egg and fish cake in chicken broth) and Mentai Cream Seafood Rice (Prawn and clams with teriyaki sauce, spicy cod roe, shredded egg on rice with cream sauce). Every set comes with a complimentary green tea!
Address: Valid at all Ichiban Boshi and Ichiban Sushi outlets.
For full details, click here.
It's weekday sushi madness at Sushi-GO! From 22nd Feb to 27th May 2022, 2pm to 5pm, enjoy a variety of sushi at only $2!
Look out for the Top 5 Bestsellers: Mentai Mayo Salmon Sushi, Salmon-GO, Mentai Mayo Tamago Sushi, Soft Shell Crab Handroll, and Unagi-GO, that are in the line-up, with some at almost 50% off (UP: $3.80)! 
There'll be daily promo themes, so be sure to check which days are your favourite sushi going to be at $2:
Flame On! Monday (Aburi Sushi)
Salmon Says Tuesday (Salmon Sushi)
Rollin' Wednesday (Handroll)
GO! GO! Thursday (GO-Series)
 Hurry, don't miss out on this limited weekday dine-in offer! Let's GO GO GO to Sushi-GO~
Address: Jurong Point 1 #B1-47/48
Click here for full details!
7. Paradise Group of Restaurants
School's out and Paradise Group is celebrating with the kids with free meals at every school holiday period. Starting from March's week-long school holiday (12 to 20 Mar 2022), children aged 12 and below will get to dine for free at its stable of family-friendly restaurant concepts with a minimum spend of $30. This includes Canton Paradise, Paradise Classic and Paradise Dynasty.
Address: valid for dine-in only at respective outlets
Click here for more details at Canton Paradise, Paradise Classic and Paradise Dynasty.
Head on down to Joy Luck Teahouse this March school holidays to enjoy their Lucky Weekday Set* consisting of their signature Butter Bolo Bun + Hot Drink at only $5.50 (UP: $6.50). What's more, bring a friend along and enjoy 2 sets at $9.90 (UP$13)! 
Da bao the value-for-money Lucky Weekday Set for the folks at home or have them with friends for a taste of Hong Kong!
* Choice of Butter or Luncheon Meat Bolo Bun
Address: Available at all Joy Luck Teahouse outlets islandwide
For full details, click here.
9. &JOY Japanese Food Street @ NEX
Can't travel to Japan during the school holidays? Head on down to &JOY Japanese Food Street @ NEX on weekdays between 11am - 5pm! Look out for lunch promotions starting from $9.90! 
Get a free ice cream when you order the lunch set at Shabu-GO or indulge in a slurping hot bowl of ramen at RAMEN KIOU from $9.90 or have a currylicious weekday lunch at Idaten Udon.
Valid only on Monday - Friday (excluding weekends/PH), 11am - 5pm.
Address: 23 Serangoon Central, #B1-78, Singapore 556083
Check out the deals here!
Hokkaido-Ya, a fast casual eatery will be running a March School Holiday Combo Sets promotion, from 14 March – 27 March. At just $30 (up to 30% off), each set comes with 2 main dishes, 2 side dishes and 2 canned drinks. 
Dine with a buddy with these set options:
Set A: Aburi Salmon Mentai Don & Hokkaido Butter Corn Chasyu Roman
Set B: Unagi & Tori Tamago Don & Hokkaido Butter Corn Chasyu Ramen
Set C: Aburi Salmon Mentai Don & Unagi & Tori Tamago Don
Accompanied with side dishes such as Salmon Kama Fried and Bufferfly Shrimp. Get to choose between Coca Cola or Ice Lemon Tea for the canned drinks. 
Address: VivoCity #02-153, Thomson Plaza #03-49
Click here to find out more!
Get their Beary Cute Ice Cream, where scoops of gelato ice cream are fashioned into the cutest teddy bear with chocolate eyes and biscuit ears. Have them in a glass with 3 toppings ($8) or cone1 ($6.50), they promise to be a treat as sweet on the eyes and Instagram feed as they are on the palate. Option of just the scoop in cups are also available at $5.50 per scoop.
Engage your little ones in a fun activity where they can decorate their own ice creams with their Build Your Own Bear Ice Cream Set ($8) which comes with a scoop of choice gelato ice cream and choice of 5 toppings.
Pick from fun flavours from Udder's, like Cookies & Cream, Chendol, Salted Caramel, Dark Chocolate and Coconut Sorbet. Flavours are available on a rotational basis. Toppings include marshmallows, rainbow sprinkles, cookies, M&M's chocolate candies and many more, available on a rotational basis. 
Address: 101 Geylang Road, Singapore 389211
For full details, click here!
Cheers to School Holidays! Senshi Sushi & Grill has curated a KIDS SPECIALS for all kids to enjoy. For the whole month of March, kids get a FREE CALIFORNIA MAKI DIY SET with every 1 paying adult. Dining-in is more fun now when your kids can pretend chef through this food prep activity! Additionally, kids under 6 years old dine for free! 
- Kids 7 - 12 Years Old: $25++ (Lunch) $35++ (Dinner)
- Adults: $38++ (Lunch), $48++ (Dinner)
Address: 333 New Bridge Rd, #01-01 Dorsett Singapore, Singapore 088765
Click here for more details!
From 12 to 20 March 2022, popular Spanish restaurant Pura Brasa will be giving out a complimentary glass of "School Break" smoothie for kids aged 12 and below when they dine in at the restaurant with their parents. 
The limited-time special beverage is made of fresh banana, chocolate, milk and oreo - a rewarding treat for the little ones after school!
Address: 5 Wallich Street #01-16, Guoco Tower
Click here for more details!
Take advantage of your student privileges by simply flashing your student ID to enjoy a Giant Popcorn Combo at $9.90 (U.P $$11.80)! All popcorn chicken and fries can be dusted with 10 exciting flavours, including their all-new Seaweed, Spicy Seaweed and Spicy BBQ flavours!
If you aren't a student, fret not! There's the new  Picnic Bundle (Walk In: $29.90, Delivery: $35.80), that is great for sharing with family and friends. Perfect for the beach, it comes with 12pcs of Shake Shake Chicken, Popcorn Chicken (2 flavours) and Shoestring Fries (1 flavour)! Encased snugly in a Shaker Tub (with FREE stickers!), repurpose the tub after for your sand castles. 
Address: AMK Hub (#B2-47), Bukit Panjang Plaza (#01-41), Century Square (#B1-24), Clementi Mall (#B1-K14), IMM (#01-K11), Northpoint City (#B2-139), Our Tampines Hub (#B1-44),  Suntec City (#B1-K6), 103 Beach Road (#01-03)
For full details, click here.
The holidays are here - bond with the kids over Samsui Ginger Chicken and hearty soups over at Soup Restaurant! Suitable for the palates of the young and old, the home-grown brand introduces a medley of signature dishes with their 8 Course Family Meal for 5 pax ($108, U.P $$173.75). 
Available from now to 13 April, the family meal consists of: Samsui Ginger Chicken (S), Soup of the Day(M), Chinatown Egg Fried Rice (M), Garlic Broccoli (S), Braised Pork Belly with Butterfly Buns (5pcs), Homemade Tofu with Seafood in Pumpkin Sauce, Chrysanthemum Tea (5 bottles) & Handmade Mini Longevity Buns (5pcs).
Address: All Soup Restaurant outlets
Check here for full details!
YUN NANS has specially curated a HUAT HUAT takeaway set at only $88+ (UP$131.30+), taking you right to the streets of Yunnan, China. Featuring 6 different nourishing dishes including seafood, meat, tofu and vegetables, customers can now enjoy extra savings of over 30% from the set menu without missing on the flavours.
The set comes with white rice and is available for a limited time only, from now until 28 March 2022. HUAT HUAT set is priced at $88+ for in-store takeaway and online pick-up order via Oddle. It is also available for island-wide delivery at $98+. 
Address: Jewel Changi Airport (#02-217), Westgate (#03-07), NEX (#B1-15)
Click here to find out more!
Comprising the top 4 signature roasts - Roast Duck (¼), Soya Chicken (¼), Crispy Roast Pork and BBQ Char Siu,  the Kam's Roast Platter ($68+) is suitable for 4 pax and also comes with a side of refreshing marinated cucumber. The brown, savoury sauce made from a secret recipe passed down for generations is packed separately for drizzling over the roast duck to give the extra oomph! Add on other sides at specially discounted prices just for this platter when you order via Oddle in the month of March 2022 for self-pickup or delivery.
Address: Jewel Changi Airport (#02-210)
Click here for full details!
This March holidays, double up on Tim Ho Wan's all-time favourites as they are offering 50% off 2nd item purchased for selected signatures! From now till 13 March, Tim Ho Wan is offering 50% off 2nd item purchased for its Baked BBQ Pork Buns (3pcs) and Pork Congee w/ Century & Salted Eggs, for takeaways only! 
Enjoy these Tim Ho Wan's signature items with your family and loved ones, as the double-up portions for these authentic Hong Kong dishes are perfect for sharing! 
Address: Aperia Mall (#01-01/02/03), CityLink (#B1-63/63A), Great World City (#01-139), Jewel (#02-223), Marina Bay Sands (#B2-02), Plaza Singapura (#01-29A/52), Suntec City (#02-389/390), Tai Seng (#01-36), Tampines One (#01-41), Waterway Point (#01-62/83), Westgate (#01-13/14) For full details, click here.
19. Shihlin Taiwan Street Snacks
Missing Taiwan Street Food? This March, enjoy Shihlin Taiwan Street Snacks' new Meat Zero Hero Ricebox (Meat-Zero 英雄便當)! If you're a fan of the signature braised meat box but would like to cut down on your  meat intake,  this Meat Zero Hero Ricebox has got you covered.
The Meat Zero Hero Ricebox (U.P. $7.90) will be retailing at $6.90 at all Shihlin Taiwan Street Snacks outlets except for AMK Hub and NEX from 1 March – 30 April 2022. Complete the experience with Sweet Plum Potato Fries and Freshmade Drink from their Value Set (U.P $11.50) at only $10.50. The new launch will also be available for delivery via GrabFood, Foodpanda and Deliveroo.* Click here for more details.
Conclusion
One of the perks about being a Singaporean is that there's no shortage of discounts in Singapore to pamper yourself with. 💆‍♀️ 💆‍♂️But if you're struggling to stay in the loop with the latest promotions, then us help you out! You'll be privy to the hottest deals 🔥 in town with our webapp at divedeals.sg!