12 Apps and Websites You Need to Navigate Through Phase 2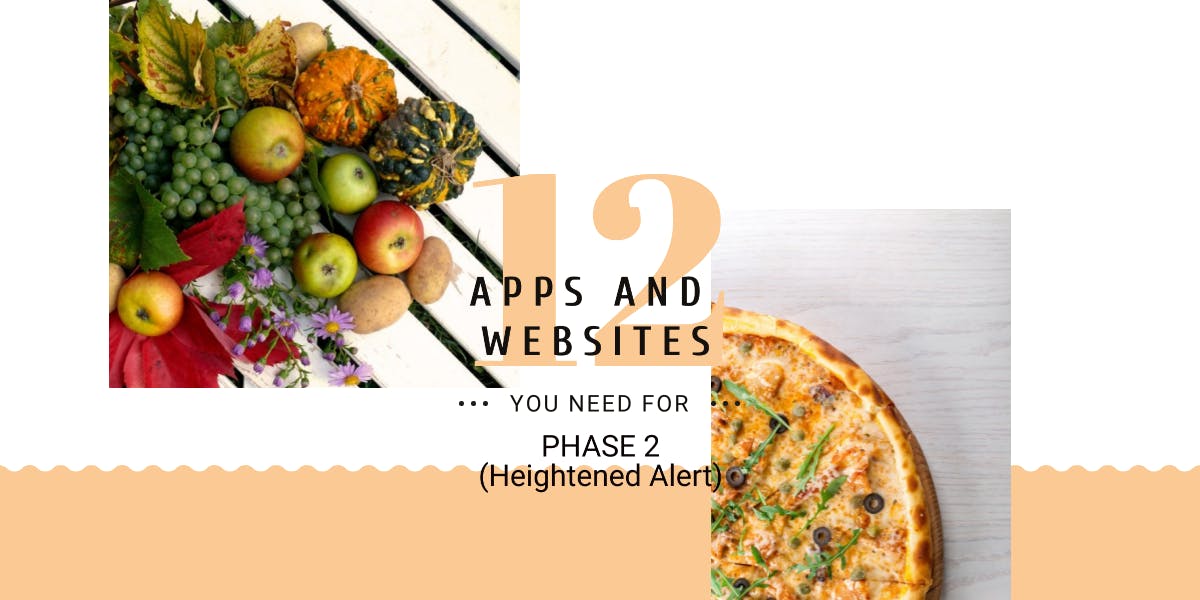 Follow us on Telegram for the best updates: https://t.me/sgdivedeals
With Phase 2 back in place, we can't help but feel a little déjà vu. 
No more meeting our friends in groups larger than two, and no more dining in... While it sounds like it's going to be an incredibly long month of takeouts and self-isolation ahead, we should all continue to do our part to reduce the spread of the virus.
Although there are additional restrictions in place, we can still enjoy good food and the occasional outing – while practising safe distancing, of course. We've compiled a list of apps and websites that you need to know to help get you through this trying time:
While dining in may be prohibited, the majority of malls remain open for those of you who wish to collect your take-away food, buy some bubble teas or get some shopping done. 
If you're planning a trip to the mall, SpaceOut is a website that allows you to check crowd levels of malls in Singapore, saving you the time of making wasted trips to malls that are packed to their maximum capacities. If you prefer to get your shopping done at less crowded malls, SpaceOut provides hourly updates on crowd levels, allowing you to steer clear from peak hour crowds.
Not only do they provide information on the mall of your choice, they also recommend nearby heartland malls as less crowded alternatives for you to check out.
Check SpaceOut out here.
Everyone needs a breath of fresh air after being cooped up at home for too long — what better to calm your senses than being surrounded by nature? 
Instead of malls, Safe Distance @ Parks lets you check how crowded parks are, and it's perfect if you want some alone time away from the crowds.
You can check the different parks in Singapore and the hours/days that they are least crowded. Don't forget to take a breather from work and visit one of the parks every now and then!
Check Safe Distance @ Parks out here.
Of course, food delivery websites and apps are essential during this period.
Delivery apps such as Foodpanda, Grab and Deliveroo have hundreds of food merchants available on their platforms and are extremely convenient and simple to use. If you're craving some hawker food, Why Q delivers from nearby hawkers to your doorstep! You don't even have to leave your house now.
If you're unsure of what to order for the day, just log onto one of these apps and you're sure to find something you like! To get the best deals from these apps, you can check out their promo codes on our Facebook page.
Instead of having to navigate through confusing grocery aisles and lugging heavy grocery bags back home, you may want to consider ordering your groceries online instead.
Order your groceries online through reputable brands such as Amazon Prime Now, Foodpanda's Pandamart, Lazada x Redmart of Fairprice to save yourself the trouble of long queues and having to squeeze with others for your groceries.
Choose from over hundreds of products all in one place in the comfort of your own home! You can find all the groceries you're looking for on these platforms, ranging from fresh fruits to household essentials. Enjoy the convenience of fast deliveries to your doorstep and avoid taking time out of your busy schedules.
TraceTogether needs no introduction. With the government disallowing the use of Singpass and other modes of SafeEntry check-ins, the Trace Together app is an essential app that all Singaporeans need. 
Unless you're using the TraceTogether token, this app is definitely one that you need on your phones.
Eating the same food every day tends to get repetitive, and ordering takeout or delivery every day can get expensive. 
If you're on the lookout for good deals and good food, Dive Deals is a platform that curates and highlights a large variety of takeaway and delivery food deals available, with relevant links on where to order from.
Enjoy promotions and discounts across over 100 merchants — you're sure to have something new to eat every day at the best possible price! 
Visit Dive Deals here now.
Thank you for reading!
We hope everyone is staying safe during this heightened alert. Remember to put on your masks and wash your hands regularly!
Check out our website, Facebook, Instagram and Telegram Channel for more deals and updates – don't forget to share this with your friends and family!