7 latest beauty products that offer youthful looking skin as well as solutions for acne-prone skin!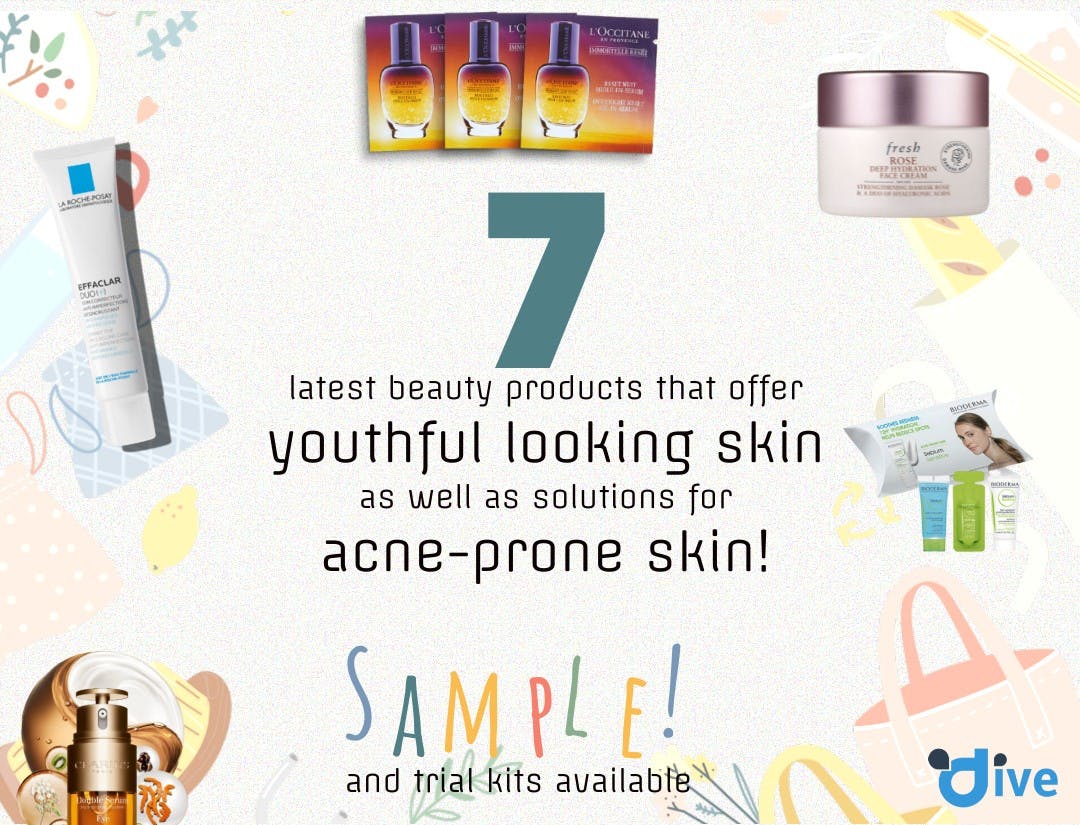 Follow us on Telegram for the best updates: https://t.me/sgdivedeals
With the advancement of technology and numerous clinical trials come solutions to our unique problems. We often look at our circle of friends or read multiple reviews to find the right product to solve our beauty problems.
But let's face it, how many of us have like 3 products at least sitting on our vanity top unused just because we have found it unsuitable after trying it? Let's try to create less waste by subscribing to FREE trial kits instead!
1. L'OCCITANE: Immortelle Reset Serum
L'Occitane en Provence, commonly known as L'Occitane, is an international retailer known for its natural cosmetics and well-being products. The Immortelle Reset Serum literally got its name from its core ingredient: Immortelle flower!
Each bottle is filled with 3,000 antioxidant-rich Immortelle bubbles that activates your skin's stress-recovery process. This essential oil from Corsica acts against the loss of firmness and elasticity of the skin. Lines and wrinkles look reduced.
Besides, it has two times the antioxidants that you find in vitamin E which makes it a powerful serum yet suitable for everyday use.
✔️Anti-ageing
✔️Natural ingredients
✔️All skin types
🧴 Details on products here
✍️ Sign up here for Immortelle Reset Serum sample kit
📅 While stocks last
2. Kiehl's: Retinol Skin-Renewing Daily Micro-Dose Serum
Check out these other brands
Kiehl's has been well known for its skin care products since 1851 and has relied strongly on free product samples together with word of mouth endorsement from existing users to build up to its brand strong presence today.
Keeping to this tradition, Kiehl's is giving out a 12-pc Retinol sample kit for anyone who is battling with acne problem (teen or mature adult) or simply looking at solutions for a radiant and more even-toned skin while having anti-ageing properties.
It's key ingredient — retinol is known for its ability to ignite skin cell regeneration by promoting elastin and collagen production.
✔️Anti-ageing
✔️Acne
✔️All skin types
🧴 Details on products here
✍️ Sign up here for 12-pc Retinol Sample Kit
📅 While stocks last
3. Bioderma: Sébium Sensitive
Bioderma is yet another French skincare manufacturer that is well known for its micellar daily cleansing water. This year, they are introducing Bioderma Sébium Sensitive that is specially catered to acne-prone yet dehydrated skin type for both teens and adults.
Help is here for those of you who have highly reactive and sensitive skin and struggling to find a gentle solution to your acne problems!
This special formulation soothes your irritation and relieves the redness from acne while keeping your skin hydrated for the next 12-hours.
✔️Acne
✔️Moisturizing
✔️Sensitive skin type
🧴 Details on products here
✍️ Sign up here for Sébium Sensitive Sampling Kit
📅 While stocks last
4. Clarins: Double Serum Eye
Clarins is known for its skincare and makeup products as well as a major player in the spa and well-being sector. With years of experience and close working relationship with its consumers, Clarins has recently introduced a Double Serum Eye following the success of its Best Selling - Double Serum.
However, this time round it is specially formulated for the eyes and it's said to bring visible effect after 7 days use!
Hence, Clarins is inviting you to try the Double Serum and Double Serem Eye- both for 7 days for free!
✔️Anti-ageing
✔️Natural ingredients
✔️All skin types
🧴 Details on products here
✍️ Sign up here for 7-Day Double Serum Trial Kit!
📅 While stocks last
5. Fresh: Rose Hydration Face Cream
Hailing from New York - Fresh is introducing its intensive 72-hour hydration that is said to address uneven skin texture issues too. Aside, it also contains rosewater, rose flower oil, angelica leaf extract, and vitamin E which helps to soothe dry skin.
✔️Hydration
✔️Uneven Skin Texture
✔️Combination, Dry, Normal, Sensitive skin type
🧴 Details on products here
✍️ Sign up here for Fresh Rose Hydration sample kit
📅 While stocks last
6. Lancôme: Advanced Génifique Serum
We need no introduction to Lancôme. They are well known for their fragrance, skincare and makeup products and have recently pioneered the Microbiome Science technology in the creation of Advanced Génifique Serum which is said to contain 30 million pre- and probiotics fractions in every drop.
What it does is it delivers a potent dose of hydration while strengthening the skin's moisture barrier to defend against environmental pollution and UV rays. It is so intensely hydrating, it is said that you will get a subtle glow after the first application!
The brand also promises healthy, younger-looking skin in 7 days after basing this on a consumer user study on 1065 Asian women over 4 weeks.
✔️Anti-ageing
✔️Protection against environmental pollution
✔️Dry, Combination, Oily skin type
🧴 Details on products here
✍️ Sign up here for Advanced Génifique Serum 7-day Trial Kit
📅 While stocks last
7. La Roche-Posay: Effaclar Duo(+)
La Roche-Posay is a dermatologist backed brand that is well known for producing simple, sensitive skin-friendly solutions. Their latest product — Effaclar Duo(+) is a moisturizer for acne-prone skin which helps to rapidly clear existing spots while preventing reappearance, thus limiting the risk of leaving marks.
Clinical studies have shown visible results in helping to reduce pimples and blackheads and also limit the post-inflammatory red and brown marks. The amazing part was that the subjects were able to maintain the result even after 1 month from last application of Effaclar Duo(+).
Effaclar Duo(+) is suitable for use on men, women, and teen acne-prone skin.
✔️Acne
✔️Moisturizing
✔️All skin types
🧴 Details on products here
✍️ Sign up here for Effaclar Duo(+) Trial Kit
📅 Ends 30 Sep 2021
Didn't manage to find the sample that you were keen to try? How about trying your luck at Sephora? Sephora offers free samples of your choice on their website! However, you do need to purchase an item or two in order to be eligible for it. More details here.
_________________________________________________________________________________________________________
Stay connected to us as we bring you more samples and free goodies! For a full listing of this edition of beauty trial kits, click here.
Meanwhile, check out our website, Facebook, Instagram or join our Telegram Channel and make sure you stop missing out on good deals!
Enjoy the deals! 💙