Back to NTU? Check out these deals around the campus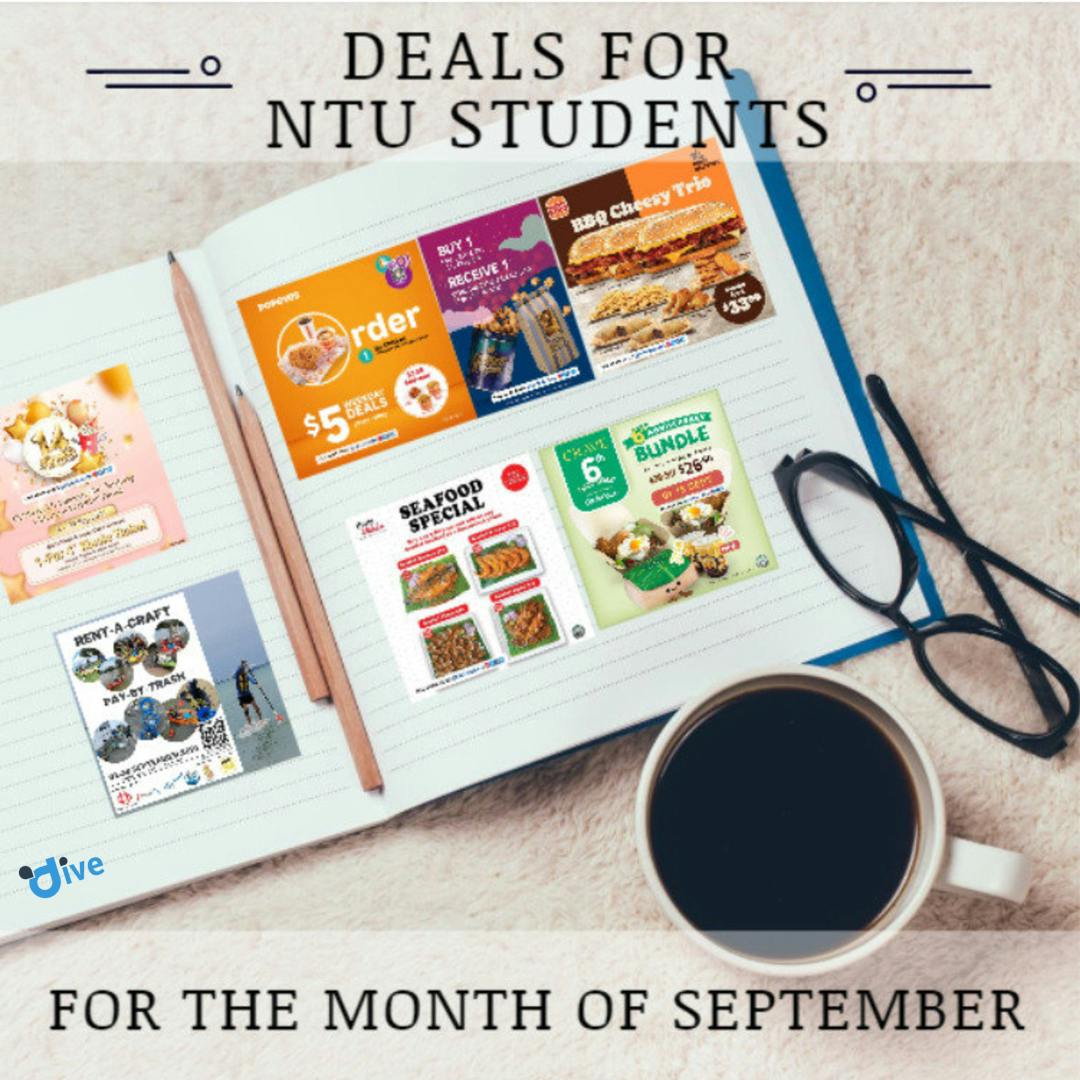 Follow us on Telegram for the best updates: https://t.me/sgdivedeals
New school term has started. NTU students have the chance to set themselves up for success and build positive momentum that can stay with them throughout the term.
However, being a student is never easy. It requires a lot of hard work, smart work, courage and patience. And excelling in school deserves a reward, right?

We have curated a list of deals and activities for NTU students to enjoy for the month of September, so read along!
Catch these attractive Popeyes deals for NTU students! $5 Weekday Deals are here at Popeyes in Jurong Point (unit #03-48). 3 set meals to choose from.
This month, Popeyes have also introduced some truffle fries and truffle mashed potatoes to their menu! And yes, it is also available at $5 for double serving of it! Available from Mondays to Fridays, 11am -5pm. Don't miss these great offers specially tailored for you.
For full details, click here.
Promo Ends: No end date specified
Finding something to munch while you complete those tutorials and assignments? Why not stock some popcorn?
Purchase 1 Mid-Autumn Festival petite tin and choose any recipe you want and get 1 free small bag of Signature Recipe popcorn!!! (Note: Limited to 2 sets per customer). Grab this limited time offer this month at the nearest outlet at Jurong Point Shopping Centre, JP2, #01-K6!
For full details, click here.
Promo Ends: 30 Sep 2021
Looking for delicious, value-for-money Indian cuisine near NTU campus? Gratify your appetite with Prata Wala's bountiful Biryani which will surely satiate your taste buds.
Have your NTU friend tag along and enjoy up to a 38% discount on their fresh ocean delights, topped off with the fiery sambal sauce (with every two Biryanis you order). Come with your friends to have after school lunch or dinner at Prata Wala outlet at Jurong Point (unit #01-71).
For full details, click here.
Promo Ends: No end date specified
Burger King popular comebacks! Want chocolatey or cheesy? All NTU students won't miss them this time! Whether its sweet or savoury dessert and snacks, Burger King got you covered!
The promotion includes Cheesy Trio Box ($5.50), New York Cheesecake Pic ($3.50), Belgian Choc Sundae ($2.50), Chocolate Pie ($1.80), Coco Float Coke ($2.90) and more. Check out the rest of Burger King's special offers available in-store or takeaway at the nearest Jurong Point (unit #B1-54/55).
For full details, click here.
Promo Ends: No end date specified
Here's a Malay traditional food deal near NTU you might not want to miss out on! Crave Nasi Lemak is introducing their 6th Anniversary Bundle which comes with the customer's fave: Including 2 Nasi Lemak with Chicken Wing, 2 Brown Sugar Boba that is specially curated for their anniversary and the limited edition crave box plushie.
Only 5000 pieces of Crave Box plushie are available. So hurry grab yours today at the nearest Crave Nasi Lemak outlet, located at Jurong Point (unit #B1-03).
For full details, click here.
Promo Ends: 15 Sep 2021
This is for all the Early Birds and Night Owls! If you are looking for something to unwind from all the studies, why not catch a movie with your friends or hall-mates? Enjoy 1-for-1 Movie Ticket before 12pm and after 12am starting this Wednesday, 8 Sept!
Remember to sign up as a member first to enjoy this deal. Fret not, membership is free! Don't wait too long as it is limited to first 500 redemption!
Can't make it at these time slots? Go on a Thursday, redeem a gift free with every 2 tickets purchased instead!
For full details, click here.
Promo Ends: 29 Sep 2021
Let's kayak (or stand-up paddleboard) this September!! Enjoy the fun for free while you do your part for the environment.
The Annual International Coastal Cleanup campaign is here, so gather your friends and book your slots at the nearest PAssion Wave outlet (Jurong Lake Garden — 6970 4262) and #paybytrash, literally!
For full details, click here.
Promo Ends: 30 Sep 2021
BONUS!!! Freebies just for you!
This is a bonus to all NTU students! These retailers are giving out free ice cream and coffee to you! Save the date and remember to go redeem it!
NTU Union together with Negative 21 degrees have teamed up to bring to you FREE ICE CREAM! Yes, all you need to do is to repost the Instagram post and stand a chance to win! There are 30 cups each day to be won! Watch out for their announcement after 8pm for the winner list.
Promo Ends: 10 Sep 2021
Flash Coffee is offering a free Americano or a Long Black via Flash Coffee's mobile app where fans can claim their free cup when they visit any of the stores island-wide.
Head down to the nearest store at #01-K3 Jurong Point to redeem this deal! (It's applicable at all Flash Coffee outlet) Spread the word and save the date! It is a one-day offer only so don't miss out!
For full details, click here.
Promo Ends: 7 Sep 2021
With all these great deals, what's not to love about school?
Wishing all of you students and staff a safe and wonderful start back at school!
For more deals, check out our website, Facebook, Instagram or join our Telegram Channel.