Best Halal Buffets & Restaurants in Singapore 2023 (Updated July 2023)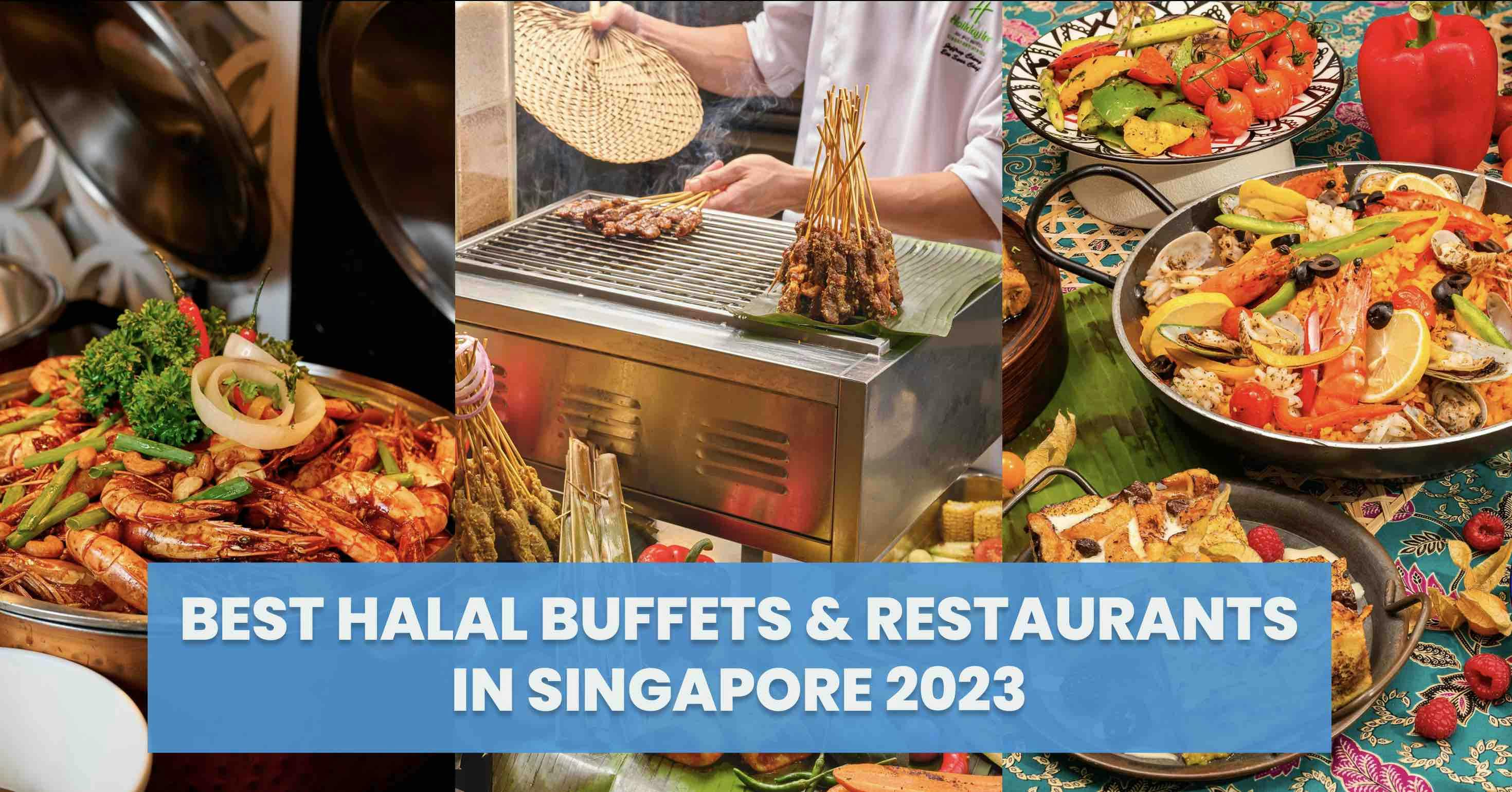 Follow us on Telegram for the best updates: https://t.me/sgdivedeals
Welcome to Singapore's vibrant culinary scene, where a harmonious blend of flavors and cultures awaits your exploration.
In this article, we present the finest selection of halal buffets and restaurants that have been captivating food enthusiasts. If you're on the lookout for delectable yet pocket-friendly halal buffets and restaurants, look no further.
You can expect remarkable value for your dining experience and savor unforgettable meals for all ocassions without breaking the bank. Find out more about all the ongoing 1-for-1 buffets and other buffet deals as well!
1. Carousel
Location: 25 Scotts Rd, Royal Plaza, Singapore 228220
Indulge in a gourmet experience at Carousel buffet restaurant. With an extensive array of cuisines spanning Mediterranean, Asian, Japanese, and a lavish seafood spread, along with a tempting French Rotisserie and delightful desserts, diners will be spoilt for choice.
Carousel is the reigning champ of Best Buffet Restaurant in Singapore for seven years running, awarded at the esteemed AsiaOne People's Choice Awards and earning its place in the Hall of Fame.
For lunch, savor the culinary delights with prices starting from $71++ for adults and $38++ for children. Dinner is available with adult prices starting from $88++ and children at $48++.
For an extra special mid-week treat, don't miss out on Lobster & Crab Night every Wednesday until July 26, 2023, priced at $108++ for adults and $48++ for children.
As an added bonus, DBS/POSB or UOB cardholders can relish a delightful 15% discount on their food bill, making this dining experience even more satisfying.
2. J65
Location: 1A Cuscaden Rd, Singapore 249716
Indulge in the rich culinary heritage of Singapore at J65, the winner of the 'Best Buffet' category of the Halal Award 2022. Discover the diverse flavors of Singapore's culinary heritage, with a focus on seafood and international cuisine through a variety of exquisite buffet options.
You're in for a treat with J65's weekday International Lunch Buffet. Diners can pay for two adults at $59++ and two children at $29.50++.
Get rid of your mid-week slump with a Lobster Rock & Roll Dinner Buffet on Wednesdays, priced at $118++ for adults and $59++ for children. On Fridays and Saturdays, immerse yourself in the Seafood Mania Dinner Buffet at $98++ for adults and $49++ for children.
Check out these other brands
Savor the International Seafood Dinner Buffet on Mondays, Tuesdays, and Thursdays, priced at $88++ for adults and $44++ for children.
On Sundays, enjoy your family day with Rehooked on Ah Hoi's Kitchen Dinner Buffet priced at $88++ for adults and $44++ for children.
3. 21 on Rajah
Location: 1 Jln Rajah, Singapore 329133
21 on Rajah is a vibrant restaurant nestled within Days Hotel Singapore. This dining gem offers an enticing blend of Mediterranean flavors, local favorites, and South East Asian delicacies.
Indulge in a delightful weekday lunch buffet experience from Monday to Thursday. Prices are set at $48++ per adult and $24++ per child. For an unforgettable dinner, savor the delectable spread at $58++ per adult and $29++ per child.
On weekends, treat yourself to a sumptuous brunch buffet from Friday to Sunday, priced at $58++ per adult and $29++ per child. The weekend dinner buffet is available at $68++ per adult and $34++ per child. Experience a feast for the senses, where delectable flavors and warm hospitality await.
4. Peppermint
Location: 6 Raffles Blvd, Singapore 039594
Discover the culinary gem that is Peppermint, formerly known as AquaMarine and featured in The Tatler Dining Guide 2022.
At Peppermint, you can indulge in a diverse array of Asian and International favorites. With a focus on conscious eating, the restaurant offers plant-based options and locally sourced ingredients, ensuring a wholesome dining experience.
Lunch prices start from $68++ per adult and $34++ per child, while dinner adult prices start from $98++ and $49++ for children.
Experience the excitement of ever-changing menus at Peppermint. This month, indulge in the delectable 'Seoul Good Korean Buffet' featuring an array of mouthwatering delights such as banchan and seogogi beef, alongside other seasonal specialties.
5. Atrium
Location: 317 Outram Rd, Singapore 169075
Indulge your senses at the Atrium Restaurant which offers a diverse menu of international flavors and favored Singaporean dishes, including Beef Rendang, Roti Prata, and Hainanese Chicken Rice.
Brace yourself for a feast! Renowned chefs Chua Yew Hock and Chef Siti Mastura present five signature Malay dishes for diners to indulge in, including Cucur Udang and Lamb Rendang, for a limited time only.
Lunch prices start from $92++ while dinner prices start from $110++. Child prices are fixed at $25++ for lunch and $30++ for dinner.
6. Asian Market Cafe
Location: 80 Bras Basah Rd, Singapore 189560
Indulge in a delightful feast of local favorites and contemporary regional delicacies at Asian Market Café. Experience the vibrant flavors of Southeast Asian cuisine with an array of mouthwatering dishes.
Enjoy the buffet with lunch dining prices starting from $84++ per adult and $42++ per child. Dinner prices start from $90++ per adult and $45++ per child. Immerse yourself in a culinary journey that showcases the best of Asian cuisine and create a memorable dining experience.
OCBC, DBS/POSB, and UOB cardholders are in for a treat. Avail yourself of a fantastic 30% discount on buffet prices for up to 8 adults from now until 30 June 2023. Make the most of this exclusive offer and embark on a culinary adventure while enjoying remarkable savings.
7. The Buffet
Location: 81 Anson Rd, Singapore 079908
Introducing the first Halal Chinese-style Steamboat Buffet Restaurant in the heart of the city center, The Buffet. Experience the best of Chinese steamboat cuisine infused with Singapore's multicultural influences.
Delight in a wide array of fresh seafood, premium meats, live prawn station, handmade pastes, MSG-free soup bases and more. Don't miss the seasonal 'Jom Dim Sum' menu featuring delectable items like Chicken Siew Mai and Signature Laksa.
Indulge in a delightful buffet lunch every Thursday to Sunday priced at $38++ for adults and $19++ for children. Groups of 4 or more enjoy an additional 10% off their food bill.
8. Tiffany Cafe & Restaurant
Location: 60 Eu Tong Sen St, Singapore 059804
Experience the culinary delights of Tiffany Cafe & Restaurant. Indulge in a feast of hot savories, delectable seafood and sashimi, and a delightful selection of Western and Asian favorites. Feast on their must-try dishes ranging from Roasted Beef Ribeye, Ayam Masak Merah, to the signature Tiffany Laksa.
The ultimate Tiffany's Buffet Feast has 4 different menus for diners to choose from.
It is available for lunch at $42++ and for dinner at $48++ per adult daily. Children aged 6 to 12 enjoy a fantastic 40% discounted rate, while seniors aged 60 and above receive 30% off their buffet experience.
9. Captain Kim Korean BBQ & Hotpot
Location:
1 Woodlands Rd, #01-24 Junction 10, Singapore 677899
3151 Commonwealth Ave W, #02-05 Grantral Mall, Singapore 129581
300 Tampines Ave 5, #01-06 NTUC Income Tampines Junction, Singapore 529653
Craving a delectable yet affordable buffet? Look no further than Captain Kim! Captain Kim is a MUIS Halal-Certified restaurant that offers the perfect blend of Korean BBQ and Hotpot, and is a go-to choice for any occasion.
With an impressive selection of over 60 top-quality buffet ingredients and marinated meats, delight in a mouthwatering Korean BBQ feast while enjoying unlimited refreshing beverages.
With prices starting from $18.90++ for adults and $9.90++ for children, you can relish the freshest culinary offerings without straining your wallet. Students and senior citizens can also enjoy special rates, starting from $15.90++.
Indulge in an exceptional dining experience at Captain Kim, where great food meets great value.
10. Ginger
Location: 7500 Beach Rd, PARKROYAL, Singapore 199591
Ginger takes the spotlight at the esteemed Restaurant & Bar Design Awards 2021, triumphing in the Alfresco & Biophilic (Asia) category. Delight in an irresistible and budget-friendly á la carte buffet brimming with authentic local flavors.
Engage your senses at Ginger's live food stations, offering a diverse range of culinary delights. With a rotating menu, each visit promises a fresh and exciting experience. Indulge in Singapore Satay, Dim Sum, Japanese Ramen, and an array of other delectable dishes.
Embark on a gastronomic adventure with buffet prices starting from $52 per adult and $26 per child.
There you go! Singapore's halal food scene is thriving, and these exceptional restaurants are at the forefront of this delectable revolution. Feast away at one of these halal-friendly restaurants with your loved ones.
Whether you're in the mood for a cozy dinner with your loved ones, a sumptuous buffet feast, or a laid-back meal with pals, Singapore's finest halal restaurants are all set to satisfy your culinary cravings.
Keep this article in view as we update the latest deals frequently! Discover the latest credit card sign up promotions to find the credit card that perfectly complements your spending habits.
For more amazing deals, head to divedeals.sg to find the latest deals.
Editor's Note: This post was originally published on 25 May, 2023 and was updated on 3 July, 2023 for accuracy.