Essential Guide to Dumpling Deals!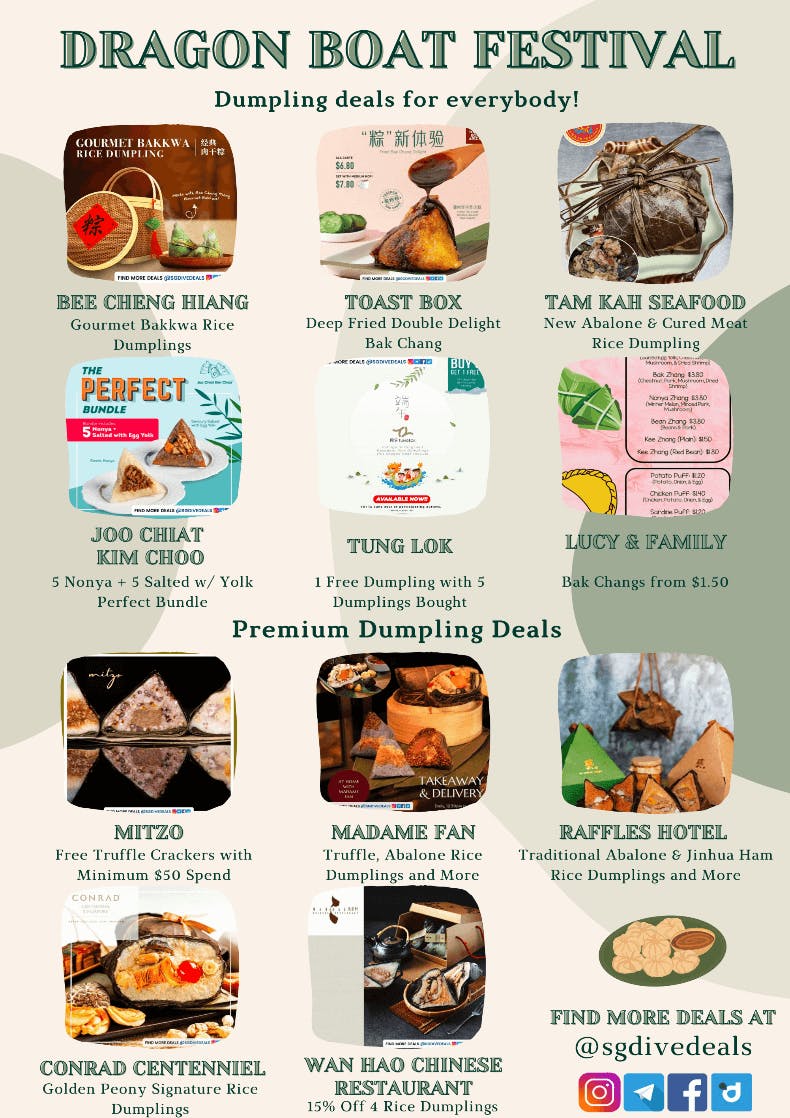 Follow us on Telegram for the best updates: https://t.me/sgdivedeals
Dragon Boat Festival is this coming Monday! Singapore is so blessed to have so many varieties to choose from! From gourmet ones like abalone and truffle to innovative ones like "bakkwa" and deep-fried dumplings, plant-based dumplings to our traditional yet nostalgic tasting ones! With choices comes decisions. Haha, here's how we come in to help you sort things out!
It doesn't have to be CNY to be indulging in your favourite bak kwa! Bee Cheng Hiang has given us a reason this Dragon Boat season by inserting some of our favourite snack into our dumplings! What's more, they have also top it up with a generous amount shiitake mushroom and chestnut! Click on our image link to find out more!
Another invention that has taken the internet by storm is the deep-fried dumpling by Toast Box! If you love your png-kueh pan-fried, this is the dumpling for you! It is exactly what it suggests — a double delight! It is also served with sweet spicy dark sauce (just like how you eat your png-kueh) and a side of pickled cucumbers to ensure that you maximize the utility of every bite into this gorgeous looking dumpling!
Fancy some seafood dumpling? Other than their traditional 'Hong Kong' Style Dumpling, Golden Peony's Executive Chef Ku crafted this star-studded combination of Singapore black pepper chili crab with succulent prawns and Bedford scallops — all in one dumpling! This combination is totally worth the money you are paying for such awesome ingredients used! They have other innovative dumpling as well, take for instance their Crispy Smoked Duck dumpling and meatless option of Egg Custard Sweeties dumpling.
Love traditional "kee chang" ? I remember dipping mine in sugar! Raffles Hotel is selling its very own Traditional Kee Chang with Raffles Kaya Jam! What a wonderful pairing! There are other skilfully handcrafted savoury rice dumplings by 藝 yì by Jereme Leung such as its Abalone & Jinhua Ham Dumpling using 12-head abalone, Japanese dried scallops and roast duck!
This is a dedication to all spicy food lover! This time round, we don't have to pair our dumpling with our sambal or chili, its infused inside the dumpling!!! Again, Chef Jereme Leung deserves a second mentioned here by coming out with a sambal version of dumpling marrying Malay and Japanese ingredients into a Chinese delicacy— Spiced Pork Belly dumpling with tender pork belly and Japanese dried scallops, accentuated with sambal and Sakura shrimps!
Next, is our favourite Mala !!! Wan Hao Chinese Restaurant handcrafted this Mala-inspired dumpling made out of Sichuan pepper chicken with lotus root, fungus, peanut and mushrooms.
Mitzo has done all our plant-based diet folks a favour this year by introducing #PlantForward Truffle Multigrain dumpling! This truffle multigrain dumpling consists of 5-Grains (五谷粽) namely brown rice, oat, pearly barley, red wheat and buckwheat. If you face issues like indigestion eating the traditional glutinous rice dumpling, this maybe the perfect dumpling for you too!
Mitzo has also detailed down the reheating and serving instructions to ensure you taste it just like how they would like you to — perfectness! Purchase above $50 and get a free pack of Truffle Shrimp Crackers!
Premium versus price. We are always torn in between! This year, we see very much value for money deals! Be it Madame Fan's Abalone dumpling for $40 (serves 2-3 person) or Tam Kah Seafood's version of Abalone dumpling for $13! We have listed the ingredients used for easy comparison.
Madame Fan's Abalone Rice Dumpling $40
Ingredients: Abalone, Pork, Chinese Cured Ham, Black Eye Peas, Scallop, Shiitake Mushroom, Salted Egg Yolk, Chestnuts, Goji Berry, Glutinous Rice
Tam Kah Seafood's Abalone & Cured Meat Rice Dumpling $13
Ingredients: Abalone, Pork Belly, Cured Meat, Shrimp, Peanut Glutinous Rice, Sesame, Seasonings.
Good Deals for Dumplings!
Last but not least, our good lobang for dumplings! We have our economical bak zhang dumpling for $3.80 to spend $20 on dumplings and stand a chance to win Mercedes-Benz A-Class Hatchback! That's right! Eat a dumpling and stand a chance to drive a car back!!!
Other great deals are listed here too:
Lucy & Family: Bak Zhangs from $1.50 | bit.ly/3gfG1fi
Eastern Rice Dumpling: Dong Yuan Bak Chang | bit.ly/35oMWfX
Joo Chiat Kim Choo: Perfect Bundle (5 Nonya + 5 Salted w Yolk) | bit.ly/358nSt9
Toast Box: 2 Bak Chang + 2 Kopi/Teh at $14.30 | bit.ly/3wj5dXy
TungLok: Get 5 rice dumplings and receive 1 free! | bit.ly/2RKKrBb
Takashimaya: Bak Chang and tea pairings | bit.ly/3pKBtAz
Stay connected with us as we celebrate festivities together with deals and promotions!
For more deals, check out our website, Facebook, Instagram and Telegram Channel.