Orchard Grocery Store Deals To Usher In The Festivities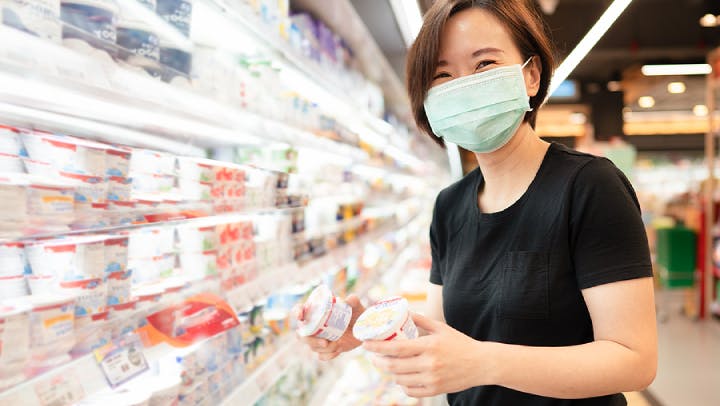 Follow us on Telegram for the best updates: https://t.me/sgdivedeals
We're almost done with the year, and the festive season is fast approaching. 🎉 There's no better way to round up 2021 and celebrate the much-awaited festivities than with good food, amazing company, and attractive supermarket deals! 🛍️ Trust us, the newest promotions to hit the stores this month are sure to catch your fancy. 
Because this upcoming joyful season is all about giving and sharing, we've curated a list of Orchard grocery store deals that are serving up some of the best value-for-money promotions to spoil yourself with! 🤑 So, do hurry down and make a beeline for these supermarkets before their discounts are over. 🐝
There's nothing better to beat the sweltering heat than the New Bubblegum Slurpee from 7-Eleven! For just $2.20 for a giant cup, this blue fizzy treat is the ultimate thirst quencher that will undoubtedly make all your Monday Blues go away. 😆
Not exclusive to their Orchard branch, you can enjoy this promo at the majority of their outlets. So, do head on over to the outlet ASAP to get a taste of this mind-blowing and brain-freezing drink! 🙈
Check out these other brands
And with a new year comes a ton of new deals to look forward to, such as this one by NTUC FairPrice! 🔥 How can we ever say no to savings? 💰 If you are a huge fan of Abalone,  you no longer have to wait for Chinese New Year just to enjoy this delicacy, or worry about having to break the bank – bag the $0.90 Half Shell Abalone (U.P. $2.50) whilst stocks last!
Psst, you aren't limited to any purchase quantity, so snap up as much or as little as you want! 🛒
Don't want to have to travel out just to buy your groceries? 🛍️ Fret not – Little Farms, known for offering a wide range of organic seasonal foods is now offering new customers 20% off your first online order! 🥬
Simply use the code "WELCOME20" to have some air-flown fresh produce, pantry essentials and other wholesome staples brought straight to your doorstep. 🚪 You can't go wrong with starting the new year on the right note than healthy groceries!
Missing the heavenly flavours of authentic Japanese cuisine? 🇯🇵 Even though the travel restrictions are still in place, you can still have a taste of what the Land of the Rising Sun has to offer in Singapore! 
Hailing from Japan, Don Don Donki is a one-stop-shop for bona fide Japanese household products. It's undoubtedly one of the top grocery stores on the island that Singaporeans gravitate to when preparing a traditional Washoku meal! 🍲
But if you're not down to get your hands busy while cooking up a feast for your loved ones this Christmas, how about preordering a couple of exclusive Osechi sets instead? In light of the upcoming festive celebrations, Don Don Donki is offering tiered Jonetsu Kakaku Osechi sets at early-bird prices! 🍢
Here's a sneak peek of what to expect: a three-tiered bento filled to the brim with 43 different dishes at only $258 (U.P. $288) that's perfect for sharing, and a one-tier set of 20 items for a pax to indulge in at home. 😋 However, note that this Orchard grocery store deal will run until 26 December 2021, but the early-bird discounts are only applicable until 30 November 2021.
'Tis the season of gifting, and that also means the time to indulge in a massive feast with the fam! 👪 7-Eleven never disappoints us with the steady stream of promotions they offer oh-so-often – and this launch is no exception either. 
One of the top Orchard grocery store deals that's up on our list is 7-Eleven's delicious pre-orders. ✨  From now until 19 December 2021, pre-order an assortment of delectable goodies for the Christmas table including the 👨‍🍳 chef's recommendation: Roast Chicken with Homemade Gravy at just $23! 🍗
Pst, other items on the menu include the Classic Beef Lasagne ($16), Baked Mac & Cheese ($13) and Black Truffle Mashed Potato ($10). We say it doesn't get any better than this! 😍
Are you planning to go big or go home this Christmas? 🎅🏻 Then, the best way to spread the festive spirit is by showing up to a party with The Cocoa Trees' Christmas Sitewide Sale! You can take our word for it: one look at the grand gift you've prepared for your buddies, and they'll undoubtedly be a chocolate convert. 
From now till 31 December 2021, get your hands on the classics – think Ritter Sports, Whittaker's and Hershey's at discounted prices to get you merry ready for Christmas! 🍫 All you have to do is hop on over to their online store and spend a minimum of $48 to start saving! 👩‍💻
With a range of Christmas hampers and gift sets available, 🎁 this is your chance to impress your colleagues, bosses and loved ones with some high-end chocolate from big-name brands like GODIVA and Valrhona. 👍
With a myriad of Orchard supermarket deals to spoil yourself this new year, this is just the tip of the iceberg to the deals you can expect in the upcoming year! To keep up with what's new in town, be sure to keep up with our Dive Deals Telegram Channel to instantly gain access to plenty of other promotion deals in Singapore! 📢