Top choices for lesser known telegram channels in Singapore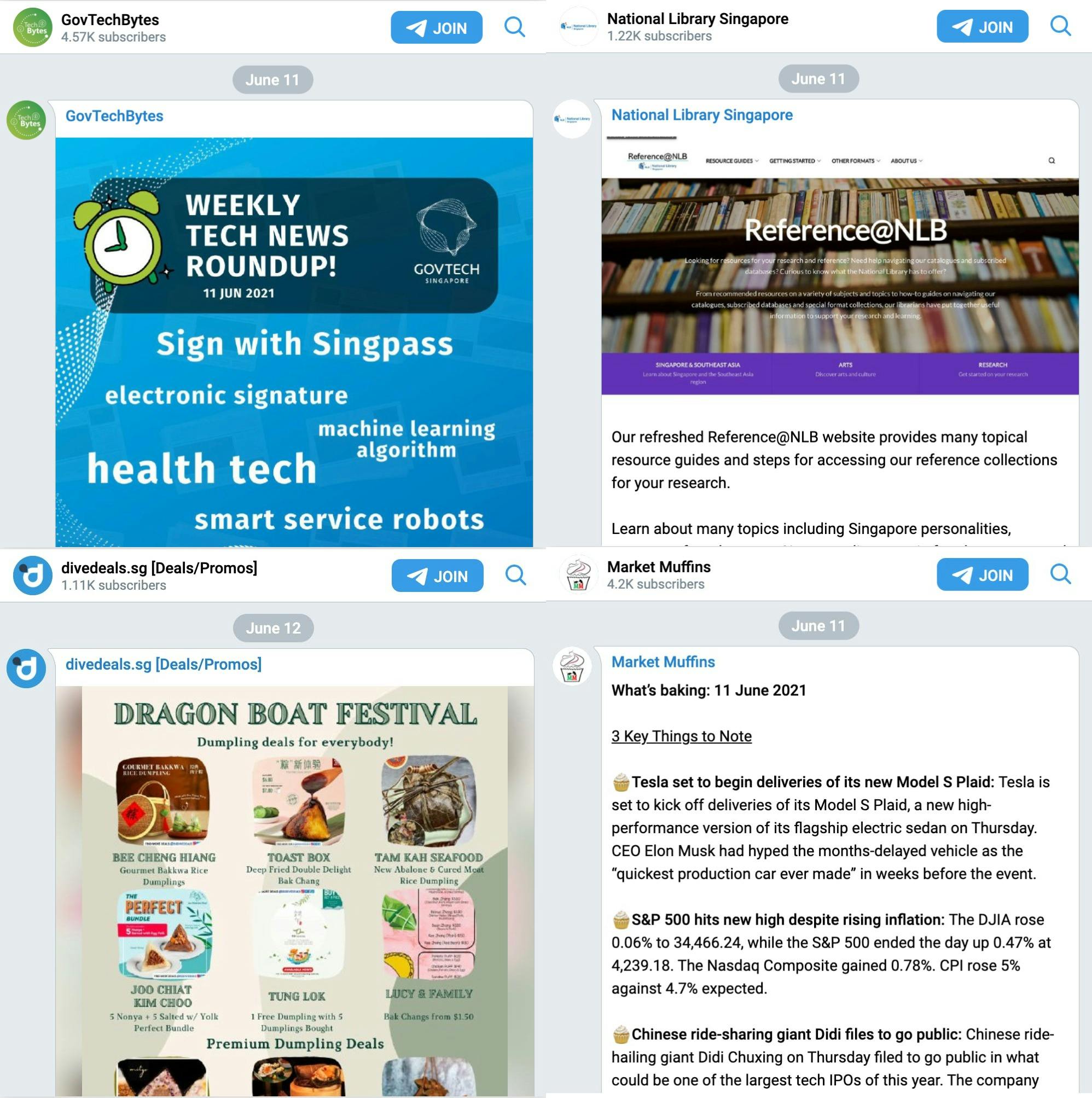 Follow us on Telegram for the best updates: https://t.me/sgdivedeals
Our favourite lesser-known telegram channels in Singapore
For those who aren't too aware, telegram is an amazing chat messaging platform, which encompasses of many features apart from the layman texting.
We love stickers, useful telegram channels and of course - keeping up to date with the latest news. Also, we hate spam, advertisements and annoying notifications. However, with more telegram channels emerging, our personal experience is that we see many telegram channels are getting more spammy, pushing out more advertisements (not so organic ones as they started) and noisy. We understand how that feels.
Hence, here are our top 10 compilations of lesser-known telegram channels in Singapore. Don't expect the mainstream boring ones that you already follow. We've helped you to dig out the gems of these channels existing in Singapore that you probably haven't heard of - and of course smaller ones that are really helpful should deserve our support.
1. National Library Singapore
Ha, bet you haven't heard of this one before! National Library Singapore is one of the must-join for fresh news and updates about interesting reads, history and sometimes events. This is especially for bookworms who wants to discover some of the latest and freshest reads in Singapore, this is a must-have for resources of all kinds directly from NLB themselves.
Join this channel for your daily dose of reads, online resources, blogs and events.
Check out these other brands
Nope, this isn't the gov.sg telegram channel that you're already in. GovTechBytes is a channel that brings you byte-sized (haha, techy-joke) stories, events, job alerts and more! Having personally joined the channel, you can expect summarized news about the tech space in Singapore, such as research, events and latest robots or devices that are being installed near your homes (Hmmmmm).
Curious to know what they are? Join the channel here for more exciting technological innovations and updates now!
3. Divedeals.sg - daily deals update, comprehensive summaries and more
YES, we know - there's way too many deal telegram channels out there. And it gets tiresome to start following every single one of them and receive many many notifications. Also, we've noticed loads of these big channels are pushing our strong advertisements and are difficult to find deals that you actually love.
That's our experience too. That's why at Divedeals, we've decided to aim to become the most comprehensive deal aggregator across websites, channels and apps (of course, work in progress), so that you only ever need to follow one channel. Try this channel out, you won't be disappointed!
Join Divedeals
Bonus: We don't spam on telegram, because our main platform is at divedeals.sg. Join tens of thousands of Singaporean deal hunters in discovering deals of all types, ranging from food, apparel, grocery, shopping and evening experience! It's growing insanely fast, and our deals are super comprehensive and updated so that everyday your page looks different 😎
4. Market Muffins - bite-sized finance news and updates, easily readable for all sorts of people
Here's another gem you probably haven't heard of. Market Muffins - I assume they're making big market news small like muffins. Market muffins is my personal go to for my daily dose of news on the market, so I don't have to download more apps like CNBC, Bloomberg, MarketWatch etc (Yeah, we're pretty lazy).
In fact, Market Muffins have been recognized by NUS as one of their key sources of finance news to help students keep up with the latest finance news across the world and better prepare themselves for their interview. Students, this is a must-join to equip yourselves daily with the most important market reads of the day/week.
Join Market Muffins
5. Primary School Parents SG - for daily resources, tutors and help
A shoutout to some SG parents looking for relevant channels and communities! Primary School Parents SG is a small growing one which offers help and some advice to new parents looking for some help with questions, schoolwork or even generic questions. The community right now is rather small but growing, so do feel free to chip in and help other fellow (kiasu) Singaporean parents with some of your best advice and resources!
Join Primary School Parents SG
6. NParks Buzz - Quizzes, Resources and events about parks and all things green!
Do you enjoy Botanic Gardens, our nature reserves in Singapore and enjoy following our environmental efforts? NParks Buzz is a must-join for all the green-lovers (and every other person, of course) to get your daily-dose of news, quizzes and events that are happening around our beautiful environment in Singapore.
Our favourite part is the new flowers and wildlife updates that NParks Buzz features once awhile, they're really cool to learn and exciting to know about!
Join NParks Buzz
7. Singapore HDB - HDB updates, resources and FAQs
Looking for a HDB or have many questions regarding BTO, resale or HDB flats in general? This channel is for you - Singapore HDB is the official Singapore channel under SIngapore's public housing and authority and a statutory board under the Ministry of National Development.
Expect answered questions on construction, resources on getting a BTO, and even prices to watch for flats
Join Singapore HDB
8. SG Musicians Market - platform for music lovers and enthusiasts
Are you a music lover in Singapore, and looking for a community to share this passion? SG Musicians Market is one small but growing platform that lets you find your next music projects, buy/sell music equipment and promote your music events! Look no further for Singapore's music community telegram channel.
Join SG Musicians Market
9. HawkerHeroes - reaching out and campaigns for hawkers
In this period of covid, one of the communities struggling most is our Hawkers. In fact we've made a recently compilation for our hawkers here to support our hawkers. Hawkerheroes are running several campaigns and are pushing for more revenue to fall onto fellow hawkers (such as keeping delivery low).
Join Hawkerheroes
10. Spirited Singapore - sharing the latest wine and spirits-related news and events
Finally for our wine and spirit lovers! Spirited Singapore is a small channel that pushes out wine news and updates regularly so you can keep up with the drinks! Their latest posts include some of the best wine to buy for Father's Day, and the best whisky around the world.
Join Spirited Singapore