Ultimate Comfort Food Guide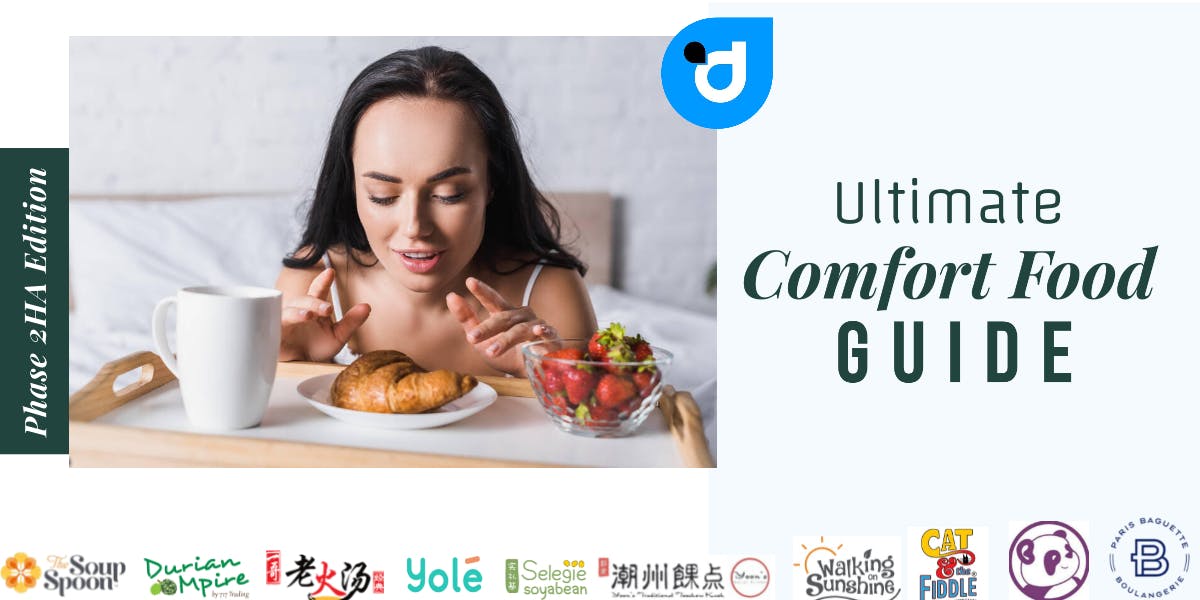 Follow us on Telegram for the best updates: https://t.me/sgdivedeals
We have entered week 2 of Phase 2HA, are you better prepared this time around? Have you got all the tools you need to get through this phase? (Check out our blog post here: 12 apps and websites you need to navigate through phase 2)
Sometimes, we need to admit this: even after we have carefully planned out our work, meals, duties, and chores — the reality is ... there's bound to be changes! And I believe, we are no stranger to that by now. We do need a comforting bowl of soup or the sweetness of chocolate to give us a boast to pull ourselves together and then whisper that little encouragement to ourselves to try again!
This leads us to hand-picking some deals to bring you today's edition of the COMFORT FOOD series!
"Food is a lot of people's therapy — when we say comfort food, we really mean that. It's releasing dopamine and serotonin in your brain that makes you feel good" — Brett Hoebel
What is more comforting than sipping into that bowl of soup where the essence is slowly extracted over hours of cooking. We may not have the time to spend those hours concocting that perfect brew, but we definitely have the time to place an order!
Take your pick! Be it a traditional Herbal Black Chicken Soup, Lotus Root Soup, Grandpa's Hainanese Beef Stew, or Nanny's Javanese Opor Ayam (chicken stew), we are sure this soupy selection will satiate your palate while nourishing your body!
Don't fancy hot food? Let's go for some frozen yogurt! Yolé is having a superb promotion of 3 tubs of 100ml going for $11! Yogurt has probiotics in them which are known to be beneficial to your gut and improve your perceived level of stress. While it is true that frozen yogurt doesn't have as much probiotic as your regular Greek yogurt, it is still a great time to declare a (half) cheat day while benefiting from such a cool treat!
Next, is a well-known secret about cocoa! Not only can we shake off bad moods, but chocolate is also rich in antioxidants and can improve brain function! However, do remember to watch the portion — a square or 2 a day is enough to work wonders!
Asian goodness — Durian and Coconut! These local delights are a wonderful must have for this stay home period! Having these treats stock up in your fridge are great rewards for your child or yourself to end your day of work on a sweet note.
Comforting food is food that brings about nostalgic or sentimental value to us. Waking up to a bowl of warm soya beancurd or sinking your tooth into this delicious teochew kueh can immediately transport us to our carefree, childhood days. Our parents are sure to appreciate these deals together with us while the little ones can explore these traditional snacks!
Not impressed? Try these innovative kroffles (croissant x waffles = kroffles) now; 2 for the price of 1! You have 8 flavors to choose from: Bacon Mash Potatoes, Lime Avocado, Garlic-Cream Cheese, Honey Mustard-Cream Cheese, Cinnamon, Chocolate, Mix-Berry, and Corn Cheese!!!
Order an entire cheesecake, store it in your fridge, and eat it on demand! Use the promocode: CHEATCAT and enjoy 15% off. Share the deal, refer a friend and receive $2 Cat Dollars!
Last but not least, our nation's favourite! Bubble Tea!!! LiHo Tea is offering you 5% off total bill if you show them your badge that represents you upon ordering! It could be in a form of keychains, brooches, stickers or you can even make your own.
We hope you found some deals that bring about the comfort that you need while staying home for the next week. While we respond to our call to stay home and do our part for the nation, let us remember we can also sacrifice our $$$ to help out our F&B industry! For more of such deals, follow us @sgdivedeals via Facebook, Telegram, and Instagram.