Best Food Places in Tampines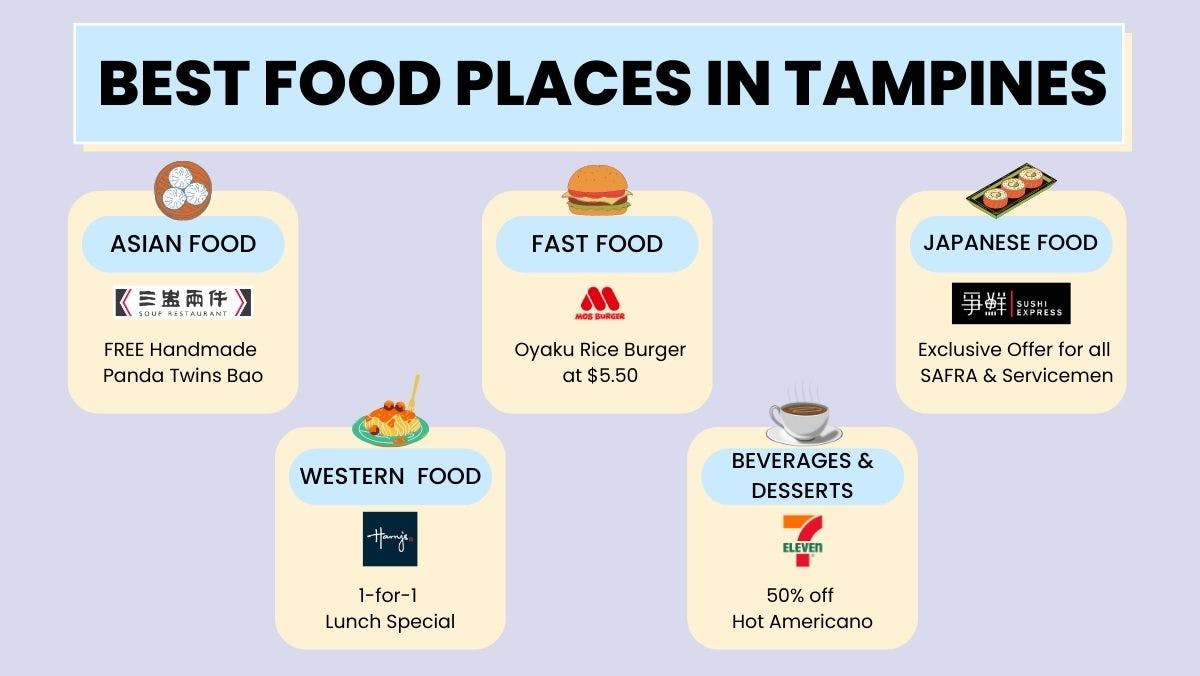 Follow us on Telegram for the best updates: https://t.me/sgdivedeals
We love to share good deals and are a believer in good reviews, especially when it comes to food. This time we have collated a list of the best-reviewed food places that you can find in Tampines, a vibrant district in east Singapore. Read on to also find out the deals and promotions these food places have to offer 😉
1. Soup Restaurant
One of the best authentic Chinese restaurants with their well-known signature Samsui Ginger Chicken dish that must not be missed whether you are dining in or ordering delivery. Soup Restaurant is also known for its excellent customer service to ensure a pleasant dining experience for the customers. This is definitely a great place for families to gather for a celebration or to enjoy a nice weekend meal together.
By the way, did you know that they are currently giving FREE Handmade Panda Twins Bao? Each fluffy bun consists of sweet Red Bean paste that is bound to delight even the pickiest of eaters. To get your hands on these sweet Baos, spend a minimum of $160 and order for self-pickup!
2. Tsui Wah
For an authentic Hong Kong Style Tea Cafe experience, Tsui Wah is the place to go for a quick meal. One of their must-order dishes is definitely the signature Pork Chop Bun as the savory and juicy pork chop will leave you wanting for more. Another highly recommended dish is the Signature Crispy Bun with Condensed Milk, a classic Hong Kong snack that is crispy on the outside and soft inside. Of course, not forgetting the classic Hong Kong Milk Tea to complement your meal!
If you are also looking to try other dishes, you can consider their recently refreshed Weekday Set Lunch, suitable for 2 pax. The set lunch includes 2 main dishes - Baked Spaghetti with Bolognese and newly added Sliced Beef in Mala Soup with Instant Noodle, 1 side dish and 2 drinks for just $28!
Check out these other brands
3. MOS Burger
A Japanese fast food chain that does not make you feel too guilty having their burgers as it is always packed with lots of fresh vegetables and quality patty. We particularly love the fish burger and of course, their rice burgers are a must-try as it is something unique to Mos Burger. Also, if you are a Mos Burger fan, you should never leave out their milk tea!
Speaking of rice burgers, did you know that the Oyako Rice Burger is back? Due to popular demand, MOS Burger has brought it back in the store, and you do not want to miss it! It is not only an all-time favourite at the restaurant but also at any Japanese home. Just a bite of it will definitely give you comfort and warmth!
4. Texas Chicken
For crunchy and juicy fried chicken, Texas Chicken is the place to go. Another one of our favourites is the Mexican Wrap, the perfect replacement on days that you prefer something different.
If you are looking to satisfy your fried chicken cravings, order their snack boxes! But don't be fooled by the words "snack boxes". For as low as $8.80, you can get yourself the Snack Box A which includes 2pcs of chicken wings, 3pcs of nuggets and popcorn chicken. That is a full-on chicken party right there!
5. McDonald's
Here is everyone's favourite fast food chain, Mcdonald's. Mcdonald's is probably the only fast food restaurant that has the best breakfast and value meals. Everything from the burgers to the fries and garlic chilli sauce is perfect!
Also, did you know that you can get 6pc Chicken McNuggets for just $1 during your birthday month? Well, now you do! So don't be shy to let them know that it is your birthday and enjoy your $1 nuggets for the whole month!
6. Sushi Express
If you are looking for quality and affordable sushi, then Sushi Express is for you. From $1.50++ per plate, you can choose from a variety of Nigri, Sashimi, Maki and more! The most recommended sushis include the Jumbo Salmon, Caramelised Salmon and Shrimp with Sea urchin!
By the way, did you know that they are having an exclusive offer for all the SAFRA members and servicemen? From 1 July 2022 onwards, simply flash your SAFRA Card or 11B to enjoy $2.50 off with every 20 plates of sushi! Time to gather your whole platoon for a sushi feast!
7. Suki-Ya
We love Suki-Ya for its authentic and affordable shabu-shabu buffet experience! Not only do they have a wide selection of fresh vegetables and meats, but also a great selection of soup bases such as Sukiyaki (highly recommended), Kimuchi, Butaniku (pork-based soup) and more!
Speaking of affordable pricing, where are all the students at? If you are studying around Tampines, you need to head to Suki-Ya for their student lunch promotion and enjoy their shabu-shabu buffet at only $17.90 during their lunch hour!
8. Fish & Co
Fish & Co serves one of the best crispy and tender fish and chips out there. We are definitely a big fan of the New York Fish & Chips, and if you are there with your friends and family, the broth pots and seafood platter is highly recommended for sharing as well!
If you are looking to have a quick lunch meal, they also serve value lunch sets from $9.90! Whether you are working or studying, having a good lunch break is a great source of energy to get through the rest of the day! With Fish & Co's value lunch, you can choose over 20 choices of mains, guaranteed to give you a full belly and get on with your day!
9. Nandos
When you think of Peri-Peri Chicken, you think of Nandos. The Peri-Peri Chicken is absolutely juicy, and tender and the selection of different flavours such as the Mango & Lime gives a unique taste which makes every bite very enjoyable! Not forgetting that the portion is pretty huge, hence value for money!
Also, here is another great deal for all the soldiers out there! Enjoy 25% off all day, every day, at Nandos simply by flashing your 11B/SAF identity card! What's more, this deal also applies to Home Team Heroes and Healthcare workers!
10. Harry's Singapore
Harry's Singapore is a great place to hang with your friends and colleagues after a long day of work. They have a wide selection of sharing dishes such as the Harry's Signature Wings (highly recommended), Beef and Pepperoni Flatbread and The Harry's 7 Platter. Perfect to pair them with a refreshing iced cold beer, cocktail or a glass of wine to complete your meal.
Oh, did you know that they are currently having a 1-for-1 lunch special? If you are craving for quality western food and a quick drink during lunch hour, Harry's Singapore got you covered!
11. 7-Eleven
I must say convenience store food is probably one of the best choices when we are having a hectic day or are just looking for a quick meal break. The highly raved Butter Chicken Biryani is probably one of our top choices at 7-Eleven. And if you are having cup noodles, you should never forget to pair them with the Hanjuku Eggs!
Also, if you are craving an affordable cup of coffee, you can now get 50% off Hot Americano every Monday at 7-Eleven! What a great way to chase those Monday Blues away!
12. The Coffee Bean & Tea Leaf
We love going to Coffee Bean for their ice blended series, especially the Caramel Ice Blended or if you are not a fan of caffeine, the pure double chocolate is a fantastic choice! Also, the Pandan Gula Melaka cake is one of our favourites and highly recommended! Although, it is pretty sweet but the pandan flavour and the crunchy coconut go very well together!
Not forgetting to mention that they serve really decent breakfast sets as well! If you are one who likes to enjoy a nice cup of coffee with breakfast, they are currently offering a Sandwich & Latte Breakfast Set for 2! The set includes Chicken Brioche Sandwich and Sea Salt Caramel Latte at only $10.90, available on weekdays till 11am!
13. Dunkin' Donuts
Doughnuts are the perfect snacks on the go and one of our favourite doughnut places is none other than Dunkin' Donuts! The Cookies & cream, Salted Caramel Choc and Bavarian doughnuts are definitely in our top 3, and we highly recommend them!
What's more, they are currently offering 12 doughnuts and 2 coca-cola at $23 which you can share with your friends and family! Or you can also get the 6 classic powder sugared doughnuts and 2 coca-cola at $13.50 to share with your bestie!
14. Burger King
If you are craving good beef burgers, Burger King has got you covered! The Whopper is one of our favourites as we love that it is packed with greens, a thick patty that can fill up our belly!
Of course, getting ice creams as desserts after a satisfying meal is a must! You can now indulge in their Belgian Chocolate Ice Cream as a cone at $1.90 or get the Sundae for $2.90.
This article may not be updated, but you can always refer to divedeals.sg for all deals and promotions! 😉