4 Bubble Tea Deals In Yishun To Satisfy Your Sweet Cravings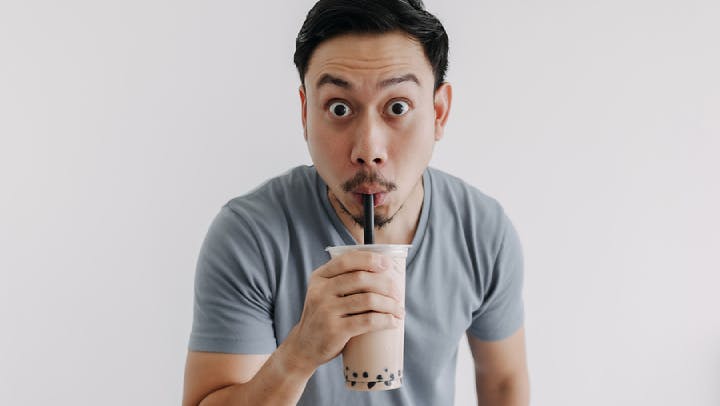 Follow us on Telegram for the best updates: https://t.me/sgdivedeals
Let's be honest: Singapore's hot and humid weather is incredibly annoying. 😮‍💨 Since not all of us can afford a compact-sized air conditioner, the next best thing to beating the sweltering heat is with a cold cup of BBT! 🧋
A beloved food fad that has withstood the test of time, there is no shortage of bubble tea outlets dotting our sunny island. Pop by the nearest shopping mall, and you can indulge in your boba fix (and quench your thirst, no less!) anytime, anywhere. 
Hands up if you reside in the heartlands of Yishun, for we've got some sweet lobangs in store for you! Drum roll, please 🥁 – we've curated a list of bubble tea deals in Yishun to rope your friends in and enjoy a tea-riffic time!
Should you fancy yourself a bubble tea connoisseur who is highly particular about the taste and texture of the pearls in your tea, then you must check out Tiger Sugar! 😎 This Taiwanese boba tea brand specialises in indulgent brown sugar milk tea beverages that evoke the nostalgic flavours of traditional Taiwanese desserts. They've also mastered the recipe behind crafting tapioca pearls, creating chewy toppings well-cooked to smoky, caramelised perfection. 💯
Plus, did we also mention that their drinks are Instagram-worthy? 🤳 Each beverage boasts iconic "tiger stripes" of brown sugar syrup trailing down the sides of the cup, making for a perfect trademark of their brand.
If you haven't already checked them out, now is an excellent time to do so, for Tiger Sugar is currently offering FREE coffee jelly toppings across their signature drinks and milk tea options! Enjoy this boba goodness available at any of Tiger Sugar's outlets – be sure to order their drinks before it's too late! ⏰
Check out these other brands
For those of you on the hunt for a range of refreshing drinks, Playmade has brought back their highly raved Grape Yakult series and bobas 🍇 to quench your thirst in Singapore's heat. This premium selection of Yakult-based drinks was once limited edition, so now's the perfect chance to get your hands on a cup before they're gone again! 
Some of the exciting flavours you can look forward to this time around are their Grape Boba, Honey Yakult Green Tea, and Yakult Green Milk Tea. 👀 Select your preferred Yakult series, pick your choice of tea, and expect to sip on a beverage infused with the familiar taste of your childhood. 
What we love most about this line-up is that it features gummy pearls reminiscent of grape-flavoured Hi-Chew candy, spinning a nostalgic twist to the drinks. 😋 Unfortunately, the drinks are while stocks last, so do snag a cup before they run out!
Can you call yourself a true-blue Singaporean if you've never scoured the internet for the best birthday deals and perks in town? We think not. 🙈 Fortunately, we've shortlisted one of the best bubble tea deals in Yishun that you can spoil yourself with on your birthday! 🥳
From now till 31st December 2021, KOI Thé Singapore is offering two free medium-sized beverages across any of their outlets for KOIThélicious members to redeem on their birthday month! Both cups have to be redeemed in one transaction, so do grab a friend to partake in this promotion with you. 
If you haven't registered as a KOIThélicious member, why not seize this opportunity to do so? Beyond an entitlement to a marvellous birthday reward, you get to reap other benefits such as exclusive invites to members-only events and the latest bubble deals at Koi outlets islandwide. 👏
Japanese is the ultimate tourist destination for many Singaporeans, but we haven't been able to visit the country since the pandemic struck. To help soothe your wanderlust for the Land of the Rising Sun 🇯🇵, Xing Fu Tang is now offering 2 cups of Calpis soda at $8.50, available at all their outlets!
There is a trio of Calpis Soda beverages in this new line-up, where you can choose from refreshing flavours such as Yuzu, Peach, and Grape. 🤩 We dare say they're lovely thirst quenchers, for they boast a fizzy base of soda and creamy Calpis concentrate. Furthermore, the beverages come complete with handmade grape-flavoured jelly for additional texture! 👅
Available for a limited time only, don't wait any longer to get your hands on a cup – for we're sure this series is one that many will make a beeline for. 🐝
These fantastic bubble tea deals in Yishun are bound to satisfy your sweet cravings. With various boba tea brands constantly launching new promotions, it seems that Singaporeans aren't about to get over this bubble tea craze anytime soon.
Want to be kept in the loop of the hottest deals in our city? 🇸🇬 Then, stay tuned to Dive Deals for the latest promotions on food, shopping, groceries, and more! ✅