25 Father's Day Promotions & Deals 2022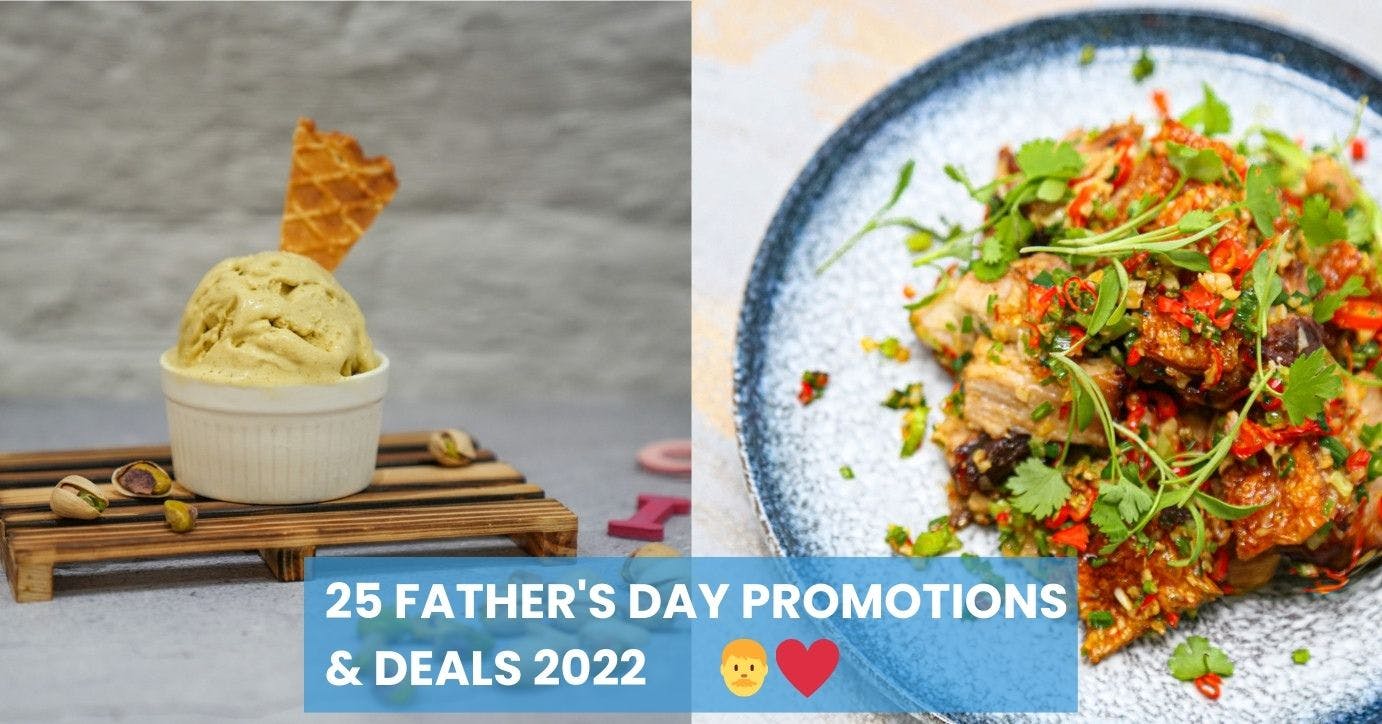 Follow us on Telegram for the best updates: https://t.me/sgdivedeals
Fathers may not be as expressive as Mothers, but they are the superheroes behind the scenes, and they deserve special recognition on Father's Day 👨❤️ We have compiled these 25 promotions and deals ranging from scrumptious Wagyu Beef, Seafood to Gelato and Snacks that will fill your king's belly 😋
If you want to show your appreciation even more, this list also includes gift ideas that will definitely put a smile on his face 😊
Let's start the list with a feast of different cuisines that will suit the palates of every king on this special day.
Japanese & Korean Cuisines
1. Syohachi Yakiniku
What is a feast without buffets? Treat your dad to a mouth-watering all-you-can-eat Japanese Wagyu Beef BBQ buffet (applicable for both lunch and dinner) and get 50% off for your dad when you order four adult menu. This promotion is only available from 6 June to 19 June 2022. Don't forget to make your reservation quickly as seats are filling up fast!
2. Yaki Yaki Bo
Celebrate Father's Day with a heart-warming meal at Yaki Yaki Bo with their exclusive "H.EA.R.T of Teppanyaki" dine-in menu. You can choose between the set of Salmon Mentai & Teppan Meat at $45.90 or the Seafood & Pork Tomahawk at $50.90. The sets also include vegetables, chawanmushi, garlic rice and 2 scoops of complimentary ice cream for desserts. This special menu will be available till 19 June 2022.
Check out these other brands
3. Sakae Sushi
Attention to all meat lover dads🍗, you do not want to miss this specially curated Father's Day Meat Platter by Sakae Sushi! The meat platter includes Chicken Steak, Beef Steak with Fries and Katsu Chicken that will satisfy your dad's love for meat. You can also top up $5 to enjoy a can of Kirin beer for that perfect pairing. This promotion is available for dine-in, takeaway and delivery from 14 to 24 June 2022.
4. Ichiban Sushi
Looking for a balanced meal for your dad? Ichiban Sushi is offering a Father's Day Special Set Meal that includes savory Beef Steak in Green Chilli Miso Sauce, Pork & Vegetables Miso Soup, freshly Seared Salmon & Tuna Sashimi, Chawanmushi, Rice and Fruits. Top up $5 to enjoy a can of beer with every Father's Day Set Meal. This promotion is available from 14 to 19 June 2022.
5. OMMA Korean Charcoal BBQ
Celebrate this special day at OMMA Korean Charcoal BBQ with sizzling Japanese A4 Ribeye and Iberico Pork Jowl that will satisfy the appetite of meat lovers. Complement the meat with sharing dishes such as the Spicy Soft Tofu Stew and Army Stew to warm both your stomach and heart. What's more, OMMA is offering a Free Flow Beer promotion to enjoy along with your meal! Perfect for fathers who love alcohol 🍻 This promotion is limited to 90 minutes dining time with a minimum spend of $150++ at Bukit Timah Outlet only.
Chinese & other Asian Cuisines
6. Lao Beijing
Craving for authentic classic Chinese delicacies? Lao Beijing is offering Father's Day Set Menu for up to 10 pax which includes one of their top signature dishes, The Mermaid, a freshly grilled Australian Barramundi submerged in nourishing collagen broth. Not only that, all dads also get to enjoy a complimentary glass of Tiger Beer to celebrate this special day. This promotion is only available on 19 June 2022, so hurry and make your reservations!
7. Tianfang Pavilion Chaoshan Hotpot
Treat your hero to a heart-warming authentic Chaoshan hotpot at Tianfang Pavilion Chaoshan Hotpot and get two free fresh crabs (worth $60) 🦀 A hidden gem located in the heart of Chinatown offers Premium Beef cuts, Black Pork Slices, Sashimi platter and more. If you are looking for extra privacy, check out their private and KTV rooms available for booking. This promotion is available till 30 June 2022.
8. Orchid Live Seafood
Calling all seafood lover dads, you will not want to miss this Father's Day special at Orchid Live Seafood. They are famous for their fresh and high-quality seafood, so you can be sure that it is worth every penny! This Father's Day, you can enjoy 20% off Braised New Zealand Black Gold Abalone at $20/piece (U.P. $25/piece), 40% off Garlic Steamed Bamboo Clams with Vermicelli at $16.80 for 2 pieces (U.P. $33.60/2 pieces) and Alaskan King Crab at a promotion price of $198/kg (U.P $288/kg). This Father's Day special is available from 1 to 30 June 2022.
9. Tsui Wah
Bring your dad for a trip to Hong Kong by dining at Tsui Wah for authentic Hong Kong food! Enjoy their Father's Day Special Set which includes delicious Striploin with Stir-fried Spaghetti on a hot plate, Borscht soup and a cup of Hong Kong style beverage at only $22.80! Promotion is available till 19 June 2022.
10. HUE
Time to treat your king to a royal feast with a modern Thai dining experience at HUE. This Father's Day special menu is available for 4-5 pax at $218 and 7-9 pax at $355. The set includes their signature dishes such as HUE's original Not a Tom Yum, a hot and spicy soup with the aroma of spices and smokiness from the charred seafood; the Three Little Pigs, an oven roasted crispy pork belly infused with aromatic Thai herbs; the Garlilicious Prawn, a fine dish with grilled tiger prawns drizzled with fragrant truffle garlic sauce; and Tearamisu, a classic dessert with a twist.
You may also add on a wine pairing at a promotional price of $55 per bottle to celebrate this special day 🥂 This promotion is only available for a limited time from 17 to 19 June 2022.
11. The Capitol Kempinski Hotel Singapore
Give your dad a well-deserved break by treating him to a fancy 6-course brunch buffet at The Capitol Kempinski Hotel's Signature restaurant 15 Stamford by Alvin Leung this Father's Day. This extravagant Father's Day Flying Brunch buffet is only available on 19 June 2022, from 12pm to 3pm (last order 2:30pm). It is priced at $138++ per adult and $68++ per child for food only; $178++ per adult for food and free-flow cocktails, house pour spirits, beers and wine.
12. Furama City Centre
When can you ever get a free meal? For all the fathers out there, you are in luck! Furama City Centre is offering a multi-cuisine buffet feast from 17 to 19 June and dads get to dine in for FREE with every three paying adults! Or if you would like to have a more intimate celebration in the comfort of your own home, you can enjoy a specially curated 8-course meat-lovers set meal and more! Each set meal also comes with a complimentary drink and dessert. This promotion is available for pre-order from now till 19 June 2022.
13. Penang Culture
Not really into anything fancy? Treat your dad to authentic Penang hawker dishes in a comfortable and nostalgic environment at Penang Culture. The Father's Day feast is available for 4 pax at up to 50% off which includes mouth-watering dishes such as a Deep Fried Seabass in Sweet and Sour Sauce, Honey Lemon Chicken, Seafood Claypot Tofu, Salted Egg Bittergourd, Sambal Mussels, and Fragrant Steamed Rice. This promotion will be available from 11 - 30 June 2022.
14. Jack's Place
This Father's Day, fill your dad's tummy with a 3-course meal at Jack's Place with their Father's Day Set Menu from $33. The set meal includes tasty Prawn & Melon Cocktail, Seafood Chowder, choice of NZ Tenderloin Steak with Blueberry Butter, Slipper Lobster with Crispy Garlic Crumbs & Garlic Glazed Chicken or Grilled Half-shell Scallop & Barramundi with Citrus Marmalade for the main course, and complete the meal with Chocolate Cupcake for desserts. This promotion is available from 18 June (dinner only) to 19 June 2022 (lunch & dinner).
15. Rocky Master
Express your cheesy love for your dad with Rocky Master's flavourful Cheesy Double Beef Burger 🍔 A perfect meal for both cheese and meat lovers and definitely not to be missed. Dads can enjoy a 20% off by simply flashing a photo of you and your kid! This promotion will be available till 30 June 2022.
16. Kith Cafe
Kith Cafe is known for their good coffee and great ambience for friends and family to enjoy a meal together. On this special day, they are offering a Buy 1 Get 1 Free beer promotion from 13-19 June 2022 at all outlets except Robertson Quay, Isetan Orchard and Gardens by the Bay.
17. GelatiAmo
There is always room for desserts! Enjoy authentic Italian Gelatos at GelatiAmo and get your 2nd cup at 50% off when you purchase a cup of gelato (single/double scoop) from 18 to 19 June 2022 🍨 Choose from a wide variety of classic flavours such as Chocolate, Earl Grey, Salted Caramel and premium flavours such as Melted Chocolate Coffee, Pistachio, and Burrata Butter Sage. Exclusive seasonal flavours are also available on rotations like Champaign Grapefruit, Kaya & Toast and more.
18. Joy Luck Teahouse
Show your appreciation for your dad's sacrifices with Joy Luck Teahouse's Perfect Gift of Joy! The box of 6 comes with two new flavours: Ugly coconut and Pandan Egg Tart. Available for a limited time only from 3 to 30 June 2022, the Father's Day Gift Box of 6 Joyful Surprises ($13.80, UP $15.40) includes: Ugly Coconut Egg Tart, Pandan Egg Tart, Lychee Popping Joy Egg Tart, Dark Chocolate Egg Tart, & Joy Luck Teahouse Hong Kong Style Egg Tarts - puff pastry and butter cookie
19. Shihlin Taiwan Street Snacks
This Father's Day, spend some quality time with your dad while snacking on Shihlin Taiwan Street Snacks' Parent's Day Bundle, available till 30 June 2022. This bundle includes 2 Large Sweet Plum Potato Fries and 2 Freshmade Drinks at $11.50. Exclusively at NEX and AMK Hub, you can get the bundle consisting of 2 Large Sweet Plum Potato Fries and 2 Elysian Ionized Water at only $10.50. You can also top up for some refreshing Aiyu Jelly for a special purchase-with-purchase price of $2.50.
20. Milksha
Pair your snacks and treat you and your dad to a refreshing drink with Milksha's Summer Frappe Series. Purchase any 2 Summer Frappe drinks at $9.90 (U.P. $12) and can also top up $2.10 for a limited edition Milksha tumbler (worth $19.90). The Summer Frappe Series includes 3 different flavours: Lychee Frappe with Green Tea Jelly, Valrhona Cocoa Frappe with Earl Grey Jelly and Japanese Matcha Frappe. This promotion is available till 16 July 2022.
21. Huiji
With all the years of working hard to provide for the family, show your appreciation by taking care of your dad's health. If your dad often complains about body aches, especially on the waist and knees, it is time for you to purchase Huiji Waist Tonic. Benefits include alleviating backache, nourishing vital energy, invigorating the liver and kidneys, overcoming fatigue, darkening hair, promoting blood circulation, and strengthening the waist. Not only that, but to help combat fatigue and boosts cellular health, the Huiji Canadian Ginseng Tea is also perfect as a gift.
The Father's Day Bundle includes:
- Huiji Waist Tonic + Ginseng Tea at $49.80 (U.P. $66.70)
- Huiji Waist Tonic x 2 + Ginseng Tea x 1 + Feibule x 1 + Ginlite x 1 + Herbalmint Lozenges Mint Plus x 1 at $99.60 (U.P. $128.60)

Huiji Father's Day bundle deals are available on Huiji's official Website, Shopee ,Lazada and Qoo10 stores.
22. Capitol Singapore
Pamper your dad at Singapore's first Barber shop, TRS Groomers, with up to 20% off a range of services such as haircut, beard shave, head massage and more. Furthermore, the services are offered within spacious private rooms with a homely atmosphere. Additionally, you can also enjoy 10% off men's grooming products. Simply flash their Facebook post to enjoy the promotion that is valid till 30 June 2022.
23. ToTT
Need more options in deciding on gifts? Then you should definitely head to ToTT to hunt for a gift this Father's Day. They are offering a special sale of up to 40% off where you can purchase gifts for dads who love to be in the kitchen to dads who are a wine enthusiast 🍷 With more options, you can definitely find the perfect gift for your dad! This promotion will be available till 19 June 2022.
24. BHG
Looking to style your dad on Father's Day? BHG is offering up to 70% off on items such as Bradfort pants, Kenzo Fragrance and even Ted Baker's watch! Show your dad some love with a quick wardrobe change and don't forget to take some selfies for the occassion 💙📸
25. Times Bookstores
If you are looking for more practical gifts, get a new book from an author that your dad enjoys reading, a handy mug or a well-made pen at Times Bookstores with up to 34% off.
With this list of F&B and gift deals ideas, we are sure there is something for every Dad out there!