5 FREE admission Mid-Autumn Festival Displays in Singapore & 5 non-mainstream mooncakes to try before the festival is over!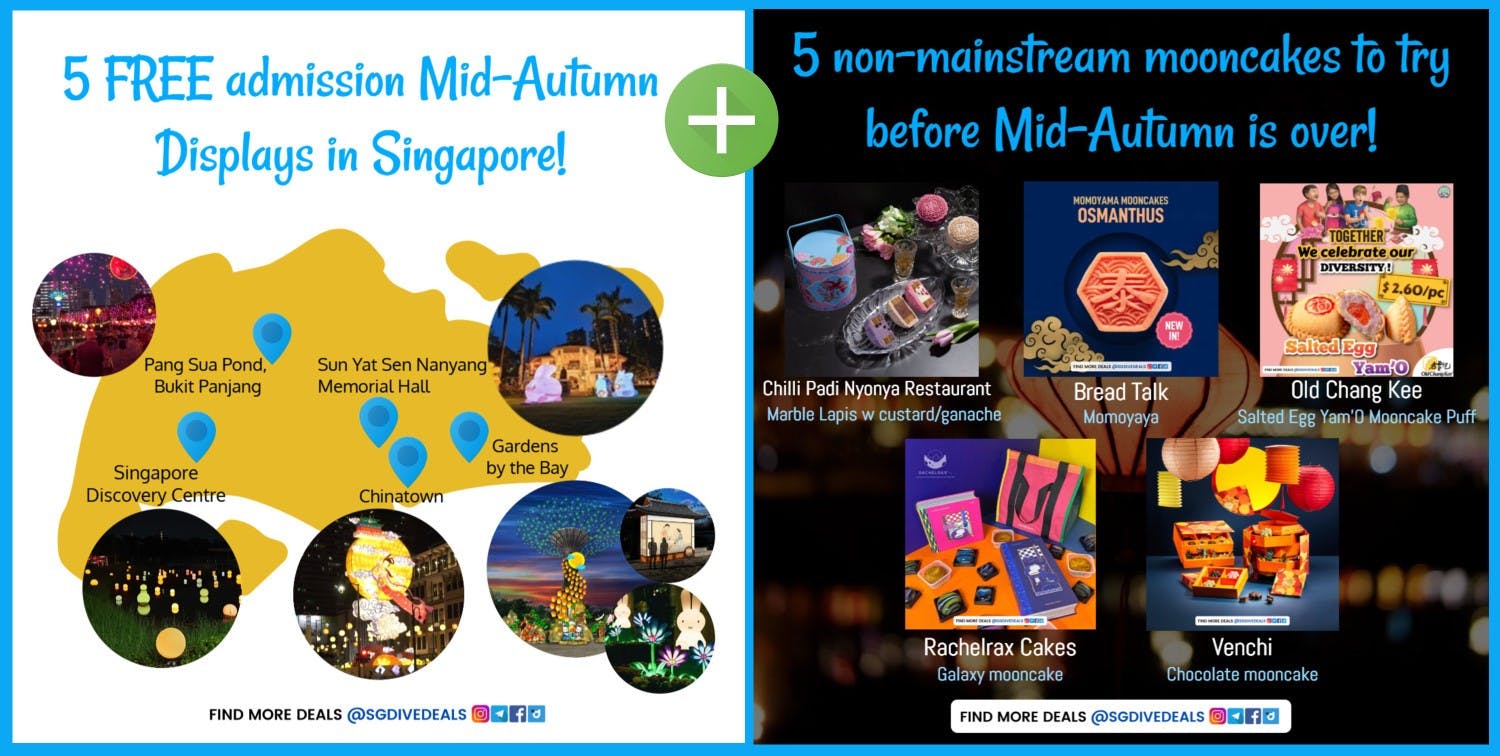 Follow us on Telegram for the best updates: https://t.me/sgdivedeals
Planning to bring your kids for a lantern walk or immerse yourself in the Mid-Autumn festive mood with a friend? It is always enjoyable to engage in leisure walks with your loved ones, especially with the cool night breeze! Read on as we bring to you 5 Mid-Autumn Festival displays in Singapore PLUS a bonus write up on 5 non-mainstream mooncake deals at the end of it! Here we go!
1. Singapore Discovery Centre
Ever since the beginning of September, Singapore Discovery Centre has been loaded with lots of Mid-Autumn Festival related activities!
Reach there by 1pm, and you can try your hand at making your own Rabbit Lantern or start your Moonwalk Trail activity! At 5pm, head to the concourse and try solving some traditional lantern riddles!
When the sun begins to set, be sure you are at Discovery Lake to watch the lights up for the floating light installation named "Moon Mirror".
Continue to hang around there at Banstand @ Discovery Lake if you are keen to learn all about rabbit, Chang'e and Wu Gang through the Storytelling Lantern Walk.
🎫 Moon Mirrors: Floating light installation
🕒 All day, 6 pm onwards
📍 Discovery Lake
There are other paid activities which might interest you and all the details can be found here!
Check out these other brands
A display in the hope of bringing good blessings! That's basically one sentence to summarize the Mid-Autumn display at Gardens by the Bay this year.
Featuring sky lanterns (carrying the character 福 ("fu"), which means "prosperity") floating up the iconic Supertree and animals specially chosen to symbolize good health and longevity.
Another free admission highlight would be AirMesh. It is an architectural structure made of 3D printed components in stainless steel that looks like a tilted box. According to AirLab, it is a reinterpretation of the traditional lantern. Definitely an IG-worthy location!
In partnership with the Embassy of the Republic of Korea and Korea Tourism Organization, are some artistic and historically rich paintings of Korean everyday life in the olden days by artist Kim Hongdo (b. 1745) and Kim Jun-geun (unknown, est. late 19th – early 20th century).
These artist painting are set against brightly lit lantern frames that are shaped in traditional Korean houses, making art appreciation in the dark night easy as well as adding flavour to it.
🎫 Sky Lanterns
🕒 Prebook visit date and time
📍 Golden Garden
There are other paid activities which might interest you and all the details can be found here!
Scale of Mid-Autumn Festival in Chinatown has been greatly reduced this year in Chinatown due to Covid situation. Despite that, the long stretch of display and beautiful interpretation of Chang'e is sufficient to 'warm the cockles of your heart' especially it's all about carrying on the tradition to our next generation.
Be there around 7pm when the sun starts to set to fully enjoy the beauty of it. The authorities remind everyone to wear a mask and not gather more than 5 people in a group while enjoying the spectacular display.
🎫 Celebration of Tradition Mid-Autumn Chinatown display
🕒 7pm – 12mn (Daily)
📍 Along New Bridge Road, Eu Tong Sen Street and South Bridge Road
There are other online activities which might interest you and all the details can be found here!
4. Sun Yat Sen Nanyang Memorial Hall
Wondering why there are 4 large lanterns? Thai artist Boonyavee Boonsakda (Ngaew Ngaew) wishes to present the moment Jade Rabbit (Moon Rabbit) keeps goddess Chang'e company, just like how Moon Rabbit keeps its friends company while they enjoy their mooncakes.
It also has a deeper meaning as it represents our desire to get together and reunite with our loved ones, be it locally or overseas. May we have friends and family like Moon Rabbit who will keep us company this Mid-Autumn festival!
🎫 Lantern Installation: Those Moonlit Moments
🕒 10.00am – 9.00pm (Daily)
📍 Sun Yat Sen Nanyang Memorial Hall
There are other online activities which might interest you and all the details can be found here!
5. Pang Sua Pond, Bukit Panjang
The entire broadwalk around Pang Sua Pond is lit by colourful fairy lights, creating a spectacular sight to behold! Though Chang'e is not here in Bukit Panjang, we have the Jade Rabbit lantern installation to selfie with!
Upload your photos on social media when you visit and tag #BPTMAF2021. Cashew Community wishes you to continue spreading the joyous festive spirit within the community!
🎫 Mid-Autumn Festival Light Up @ Pang Sua Pond
🕒 7pm – 10pm (Daily)
📍 101 Bukit Panjang Ring Road
There are other neighborhood activities organized by onePA which might interest you and all the details can be found here!
BONUS: 5 Non-mainstream mooncake deals!
What is Mid-Autumn without mooncakes? Or are you growing a little weary of those traditional ones? Fret not, we are here to bring you some "Out of the world Galaxy mooncakes" as well as some new creation mooncakes!
1. Chilli Padi Nonya Restaurant: Marble Lapis with custard or ganache
It is mooncakes either in a 2 or 4-tier tingkat! Chilli Padi Nonya Restaurant has created a marble lapis mooncake with luscious core of custard or ganache that is speckled with bits of fruit or nuts, giving the look of marble! There are 4 flavours to choose from:
Lychee Kisses: Fresh lychee flesh swirled in a mixture of smooth white chocolate and hand-whipped cream. The sensuously sweet core serves as the perfect match for the delicate kueh lapis.
Cranberry Dreams : Mascarpone cream speckled with bright pink cranberries. The velvety smooth core has a touch of tartness, which melds together with the spiced fragrance of the kueh lapis.
Autumn Blues: A luscious core of sweet white chocolate and creamy mascarpone, studded with blueberries. 
Hazelnut Nights: Hazelnut praline and dark chocolate ganache flecked with feuilletine (sweetened crepes). The rich flavours and crisp textures pair perfectly with the hints of cinnamon, cloves, and cardamon in the kueh lapis. 
Mooncake: Set E (Marble Lapis Mooncake Set - 4 pcs) and Set F (Build-Your-Own Marble Lapis Mooncake Set -2 pcs)
Discount(s): Set E: $73.80 (U.P. $86.80); Set F $50.00 (U.P. $58.80) now till 21 Sep or while stocks last
For more details, click here.
2. Bread Talk: Momoyama mooncakes
Bread Talk introduced a variety of unique mooncakes through the brand Thye Moh Chan this year and one of them is the Momoyama mooncake collection. The mooncake skin is made of white kidney beans that is lower in sugar and fat compared to traditional ones.
There are 3 flavours, 2 each in each set sold.
Cudweed Momoyama – Inspired by Chi Kak Kueh – a traditional Teochew kueh, the mooncake skin is made of "Chi Kak Cao", which gives it an herbaceous flavour filled with white lotus paste and Olive Vegetable.
Dan Feng Tea Momoyama – Smooth white lotus paste infused with Dan Feng Tea, exudes a light tea fragrance that is perfect for tea lovers.
Osmanthus Momoyama – White lotus paste infused with Osmanthus, making it a sweet and fragrant treat.
Mooncake: Momoyama 6pcs(Sweet Blossom)
Discount(s): $25.80 (U.P. $40.80) now till 21 Sep or while stocks last
For more details, click here.
3. Old Chang Kee: Salted Egg Yam'O Mooncake Puff Special
This is one "mooncake" that can be enjoyed by all Singaporeans! Shaped into a full moon is this OCK creation of Special Mooncake Puff. It even bears the word 福 ("fu"), which means "prosperity") which is usually seen in traditional looking Teochew mooncake!
Filled with luscious yam fillings and golden salted egg yolk, get yours at only $2.60/pcs!
Mooncake: Salted Egg Yam'O Mooncake Puff
Discount(s): $2.60 per pc now till 21 Sep or while stocks last
For more details, click here.
4. Rachelrax Cakes: Galaxy Mooncakes!
This gorgeous looking Galaxy Mooncake actually has a mousse-like filling and is finished off with a mirror glaze with a unique color combination to differentiate the unique flavours:
Lotus with Salted Egg
Honey Purple Sweet Potato Lotus with Taro
Yuzu Lotus with Lemon Curd
Black Sesame Lotus with White Sesame Peanut
100% Pure MSW Durian Filling
Good news is Rachelrax Cakes will be open this coming Mon & Tues (20 & 21 Sep), an exception to their normal retail hours to cater for Mooncake collection only (No walk-ins purchases). So hurry, order yours online!
Mooncake: Assorted Galaxy Mooncake (4 pcs), Assorted Galaxy Mini Mooncake (8 pcs) and more!
Discount(s): Standard $78 for 4; Mini $82 for 8 now till 21 Sep or while stocks last. (4 BOXES AND ABOVE, USE PROMO CODE to enjoy $10 OFF per box! (Save $40 and UP!)
For more details, click here.
5. Venchi: Limited Edition Chocolate Mooncake
Celebrate your Mid-Autumn with Venchi's limited edition mooncakes that are gluten-free! These delicate looking mooncakes are made out of flavoured chocolate shell and comes in 2 flavours:
Fruity Mooncake: Fruity chocolate shell with a 56% dark chocolate base filled with soft coconut cream with crunchy raspberry grains.
Matcha Mooncake: The matcha recipe is surprising in taste which balances matcha, cocoa nibs, and sweetness.
Venchi mooncake box comes in square (4 pcs mooncake), rectangle (4 pcs mooncake + assorted chocolate) or double layer box (6 pcs mooncake + assorted chocolate) for you to choose from.
Mooncake: Chocolate Mooncake Square Gift Box, Rectangle Gift Box and Double-Layer Gift Box
Discount(s): Square $78 for 4, Rectangle $98, Double-Layer $138 now till 21 Sep or while stocks last. (Free delivery with min. spend of $80)
For more details, click here.
Thank you for staying with us throughout the months for mooncake deals! The team at Dive Deals would like to wish all of you a Happy Mid-Autumn Festival and have a blessed reunion time with your family and friends!
For a full listing of the mooncake deals, click here.
Meanwhile, check out our website, Facebook, Instagram or join our Telegram Channel and make sure you stop missing out on good deals!
🏮 Blessed Mid-Autumn! 🏮