Which Steakhouse Does it Best in Singapore?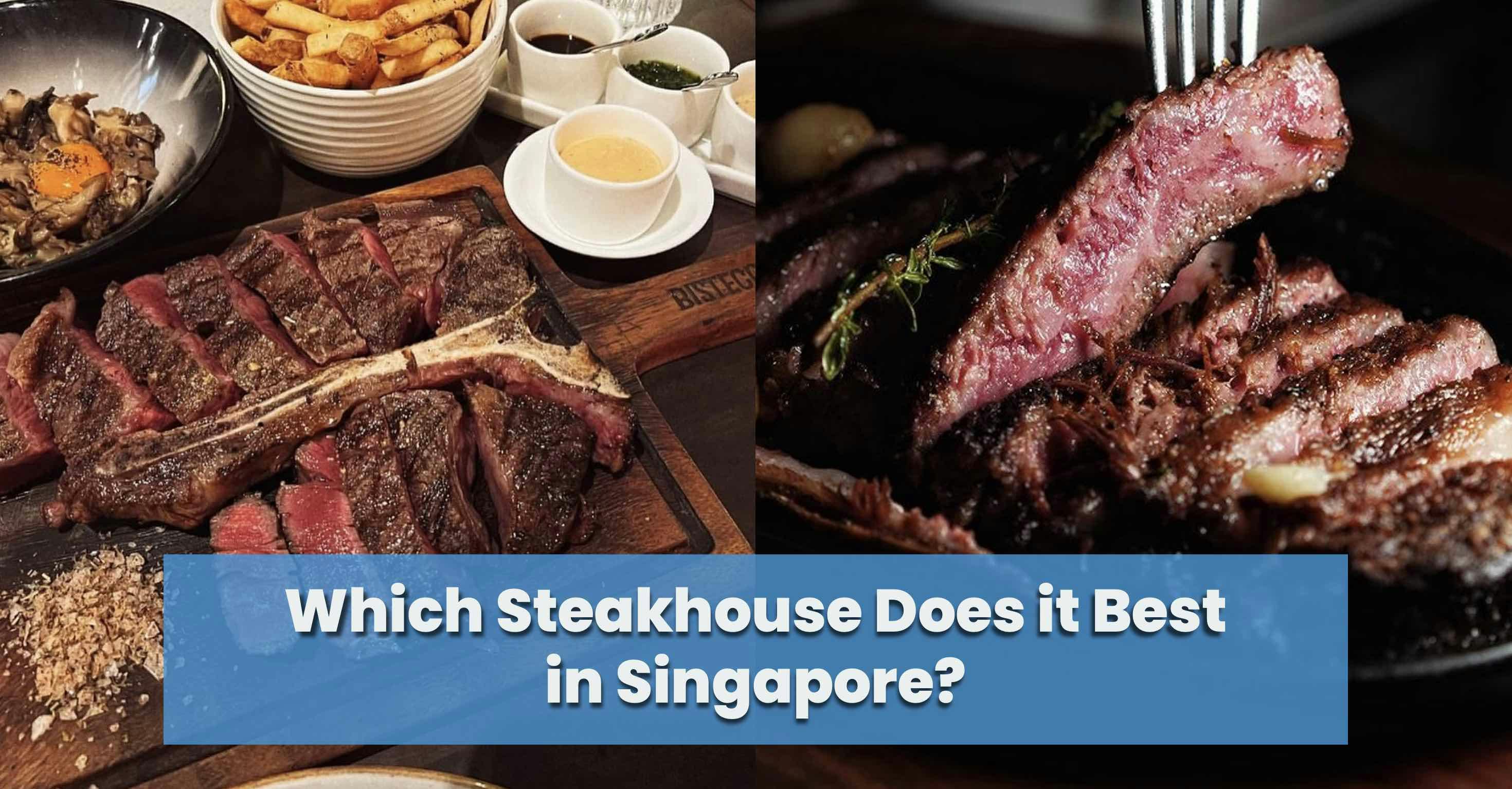 Follow us on Telegram for the best updates: https://t.me/sgdivedeals
Nothing beats a perfectly cooked steak, and for many carnivores, a night out at a steakhouse is the ultimate dining experience. But with so many options to choose from, how do you know which restaurant will provide the best beefy goodness?
In this article, we'll take a closer look at some of the top steakhouse options out there, and help you choose the perfect spot to satisfy your steak cravings. From classic cuts to new twists on old favorites, we've got you covered.
So get ready to beef up your night out and discover the best steakhouse for your next dinner plans. To check out more amazing deals, head to divedeals.sg to find the latest deals.
1. Burnt Ends
Address: Full list of locations
Opening hours:
Thursday to Saturday: 12 pm - 2.30 pm (Lunch)
Tuesday to Saturday: 6 pm - 11 pm (Dinner)
When it comes to finding the perfect steakhouse in Singapore, there are plenty of options to choose from. If you're a meat lover looking for the best of the best, Burnt Ends is a must-visit spot.
Serving Australian style barbaqueue, Burnt Ends has been highly praised for their great food, having earned one Michelin star and being ranked in the San Pellegrino World's 50 Best Restaurants List.
If you're looking for a unique dining experience, head to Burnt Ends and see what all the fuss is about!
You can expect a mouth-watering menu including their steak frites which consists of the perfect combination of flavors and textures with wagyu steak tartare, caviar, and smoked beef fat potato.
Check out these other brands
Envision the sizzling grill cooking up succulent slices of Blackmore Beef!
2. CUT by Wolfgang Puck
Address: Full list of locations
Opening hours: 5 - 10 pm
CUT by Wolfgang Puck brings a fresh take on the classic steakhouse experience to Singapore. With an elegant dining room and mouthwatering menu of steaks, poultry, seafood, and homemade sauces, you'll have an unforgettable meal.
Top it off with their extensive selection of over 500 international wines and you'll understand why they earned a One Star rating in the Michelin Guide!
For an all-around excellent dining experience, CUT is hard to beat. With a lovely ambiance and a fantastic wine menu to match, CUT is the perfect place to indulge in high-quality meats.
Prepare to be wow-ed by succulent cuts of premium meat, cooked to perfection.
Indulge in an immersive culinary experience with every juicy bite of their Prime Sirloin "Steak Tartare", a tantalising starter to begin your meal!
3. Bistecca Tuscan Steakhouse
Address: Full list of locations
Opening hours: 12 - 2.30 pm, 5.30 - 10 pm
Did you know that "Bistecca" is Italian for steak?
Indulge in the ultimate Italian steak experience at Bistecca with their signature Bistecca alla Fiorentina. This delectable dish features a thick cut, char-grilled T-bone steak to be shared between two or more people, crafted with traditional Tuscan style and cooked to perfection over a high-temperature wood-fired grill.
For an exquisite steak dinner, you can trust Bistecca to provide only the best organic produce wherever possible. Dig into the best Italian steak you've ever tasted at their restaurant!
For a truly special dining experience, Bistecca is perfect for sharing with friends or family.
Lunch has never looked better with set lunch menus for 2 pax ($49++) and 3 pax ($59++), inclusive of a main dish 150g David Blackmore Wagyu Rump Steak, and 4 complimentary sauces.
4. Wooloomooloo
Address: Full list of locations
Opening hours: 12 - 3 pm, 6 - 10 pm
The restaurant that started it all – Wooloomooloo Steakhouse is the flagship brand of Wooloomooloo Group, that offers premium steaks sizzled and served in a vibrant and relaxed atmosphere.
if you're on a budget, Wooloomooloo is a great option that won't break the bank!
The Wagyu Tomahawk is a fan favourite - with its melt-in-mouth goodness. It's a must have if you're planning to catch up with friends over a good meal.
Check out their 4 Courses set dinner at $128 per pax. Enjoy an assortment of delights including crab cakes, Wagyu Carpaccio, King Salmon, and Illinois 300 day grain fed USDA Prime Ribeye.
5. The Armoury
Address: Full list of locations
Opening hours: 11.30 am - 10.30 pm
Does a steak buffet at $33 per pax sound good to you? Well, you're in luck! Enjoy an excellent combination of good beer and good steak, all at affordable prices.
The Armoury is offering a daily lunch steak buffet at $33. Dinner buffet is also available on Tuesday, and on weekends.

Looking for a steakhouse with good beer can be a challenge, so a group of beer and steak enthusiasts decided to open their own - The Armoury.
They serve a selection of 15 craft beers on tap, including their own in-house recipe brewed by partner breweries in Singapore. The secret to their fresh craft beer is in the complete cold chain, which ensures that the beer is kept cold from the brewery to the store.
The steakhouse also offers affordable, high-quality prime and premium steak cuts, such as the USDA Prime and Australia Wagyu Ribeye. These cuts are butchered to perfect thickness. For larger groups, the USDA Prime and Australia Wagyu Tomahawk is highly recommended.
There you have it, the ultimate guide to finding the perfect steakhouse for your night out.
Whether you're a fan of classic cuts or want to try something new, there's a steakhouse out there that's perfect for you. By considering factors like quality of meat, sides, atmosphere, and price, you can ensure that your next steak dinner will be one to remember.
So what are you waiting for? Go out and beef up your night with the best steakhouse experience possible! To check out more amazing deals, head to divedeals.sg to find the latest deals.