Top 12 Food Deals in the South!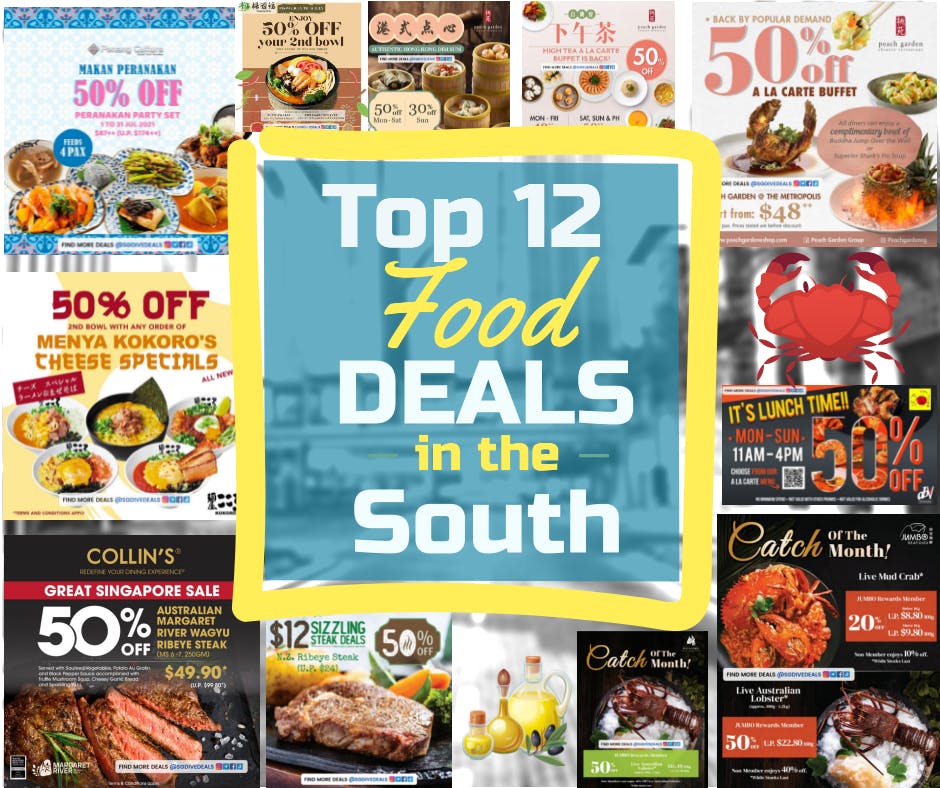 Follow us on Telegram for the best updates: https://t.me/sgdivedeals
July 12 is approaching and soon, we can dine in 5!!! We have curated a list of Top 10 Deals in the South and CBD area! As Singapore move from Covid-19 pandemic to endemic, we look forward to the day when we can return to offices to work daily, or even dine and chill after work! Hence, let's do our part to preserve these F&B establishments as they need our support and patronizing now!
Seafood lovers — here are some great deals for you! Jumbo Seafood and Chinatown Seafood Restaurant are both offering 20-50% deals for all to enjoy! For Jumbo Seafood, it is their selected crab and lobster that is on offer while Chinatown Seafood Restaurant is offering a 50% off all *food item! (Check stores for more details).
Jumbo Seafood together with Zui Yu Xuan Teochew Cuisine and Chui Huay Lim Teochew Cuisine is offering 50% off Live Australian Lobster deal for Jumbo member! Non-member still gets to enjoy a 40% discount! If you are a fan of crab instead, grab yourself this live mud crab that is also on 20% discount for Jumbo member while non-member enjoys 10% discount.
Jumbo Seafood
Islandwide. Click here and use our nearby function to find an outlet nearest to you!
Zui Yu Xuan Teochew Cuisine
130/131 Amoy St, Far East Square, Singapore 049959. Full details here.
Chui Huay Lim Teochew Cuisine
190 Keng Lee Rd, #01-02 Chui Huay Lim Club, Singapore 308409. Full details here.
Chinatown Seafood Restaurant
51 Pagoda St, Singapore 059212. Full details here.
How do you like your steak done?
Not a fan to seafood? Allergy to seafood? Not to worry! Here are 2 deals that every meat-lover should seize!
Collin's is offering a premium Australian Margaret River Wagyu Rib eye Steak with a marbling score of 6-7 at half its usual price! (In case you are wondering, the highest in Australian Wagyu Grade is MS9). That's really a steal! This dish is also paired with Truffle Mushroom Soup, Cheesy Garlic Bread and Sparkling Yuzu — promising an absolute treat! Grab this deal before it's gone!
On the other hand, Jack's Place is offering an amazing $12 steak deal! Jack's Place beef are shipped directly from New Zealand's Silver Fern Farms offering you quality and nutritious farm-to-table steak!
COLLIN'S®
Islandwide. Click here and use our nearby function to find an outlet nearest to you!
Jack's Place
BLK 231 Bain St, #01-01, Singapore 180231. Click here for rest of participating outlet.
I think Asian food wins hands down when it comes to diverse food offering and you can tell it easily from our curated deals here — from Peranakan party to dim sum party! Take your pick!
If you prefer local flavours with a twist, head down to Penang Culture for its Peranakan Party Set that is huge enough to feed 4-5 people! There are 8 dishes in total; Nonya Kuih Pie Tee, Nonya Curry Chicken, Stir-Fried French Bean Hae Bee Hiam, Nonya Ayam Masak Merah, Pan Fried Prawns with Nonya Sweet Sour Sauce, Pan Fried Salmon with Caramelised Sauce, Lotus Root Soup with Black Beans and Bubur Hitam.
Penang Culture
#B2-23E, Vivo City, 1 HarbourFront Walk, Singapore 098585. Click here for rest of participating outlet.
______________________
Peach Garden Group is offering huge discount this GSS and the best part is that we get to enjoy 50% at any time of the day!
Start your breakfast with its HK Dim Sum offering at Metropolis.
Stay on for lunch at Peach Garden Metropolis or move to Hotel Miramar to enjoy it's a la carte buffet at 50%, paying only $24++ per pax (Mon-Thu)!!! On top of that, every diner get to enjoy a complimentary bowl of Buddha Jump Over the Wall or Superior Shark's Fin Soup!
That's not it, Peach Garden Chinatown Point is offering 50% off too for it High Tea a la carte buffet at $24++ (Mon-Fri)! Do note that weekday and weekend prices do vary so plan your visit accordingly!
Peach Garden: Hong Kong Dim Sum with up to 50% OFF
9 North Buona Vista Drive #02-02, 1 The Metropolis Tower, Singapore 138588. Full details here.
Peach Garden: 50% off a la carte buffet
401 Havelock Rd, Level 3 Hotel Miramar, Singapore 169631. Full details here.
Peach Garden: 50% Off High Tea ala carte buffet
133, #02-36 New Bridge Rd, Chinatown Point, Singapore 059413. Full details here.
_______________________
Fancy soupy stuff? How about a mix-and-match spicy mala tang bowl? Or a bowl of tonkotus soup top up with melting cheese and tender beef! Grab a fellow foodie and devour these creations together and enjoy 50% off the second bowl!
Menya Kokoro
100 Tras St, #02-10 100AM mall, Singapore 079027. Click here for rest of participating outlet.
Yang Guo Fu Mala Tang
90 Bras Basah Rd, #B1-27 Esplanade MRT Station, Singapore 189562. Click here for rest of participating outlet.
We believe good deals are still coming in and doesn't quite end here! Follow us as we bring to you more feature from the North, East and West of Singapore! Meanwhile, check out our website, Facebook, Instagram or join our Telegram Channel and make sure you stop missing out on good deals!
Enjoy the deals! 💙