14 Best National Day Food Deals to enjoy till end of August 2022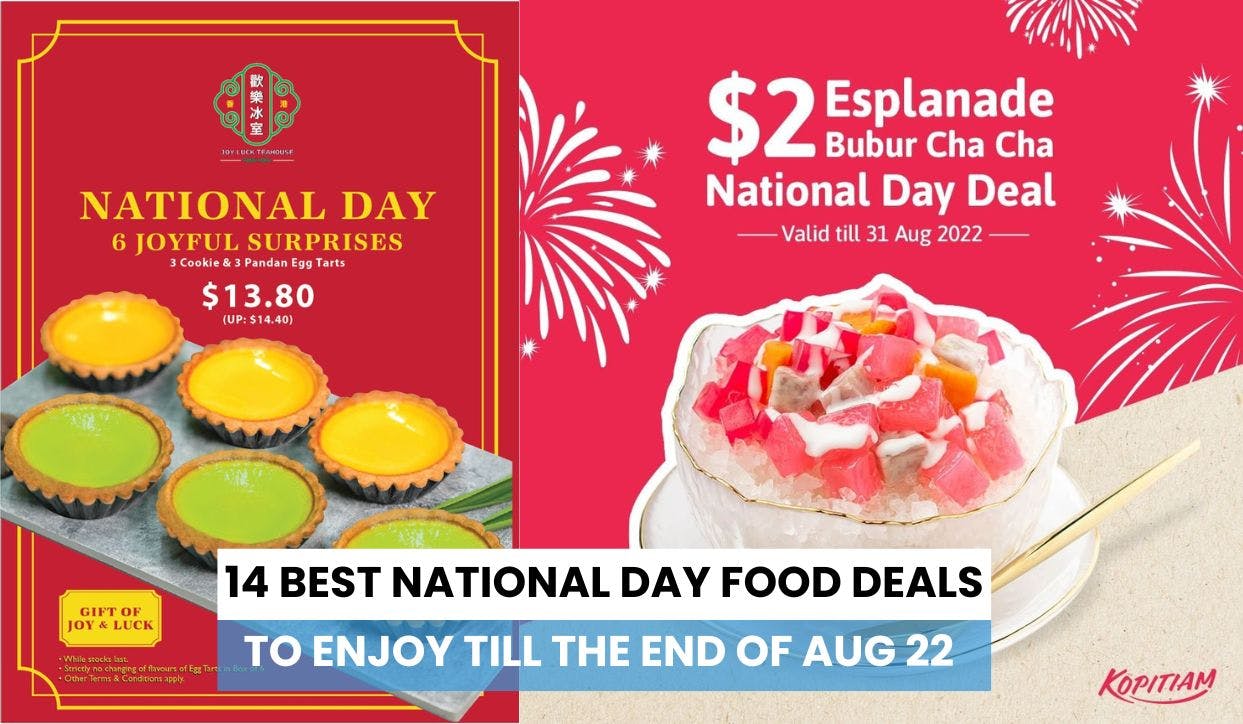 Follow us on Telegram for the best updates: https://t.me/sgdivedeals
It was a heartwarming day for all Singaporeans! Some of us were at the National Day Parade, some were out spending quality time with our family and friends, while some celebrate the occasion in the comfort of their own homes. Although National Day may be over, there are still ongoing National Day deals and promotions for you to enjoy till the end of August 2022!
Also, take a look at some of the Best National Day Deals and Discounts E-Coupons that you can redeem! Some of these deals expire in September 2022 and even till 2023!
1. PizzaExpress - National Day Pizza Bundle at $57
Pizzas are the best food to share and enjoy with your family and friends during celebrations like National Day! But with every festive season, special flavours are a must! At PizzaExpress, you can enjoy an exclusive Singaporean Laksa flavoured pizza à la carte for only $28!
You can also get the bundle (4 - 5 pax) for sharing which also includes 8pcs Dough Balls, Garlic Bread Mozza, a 2nd choice of pizza: Hawaii-Not, Margherita, Pollo Forza, American or Spicy Seafood; and 4 soft drinks for only $57! This promotion is here to stay till 31 August 2022!
2. O'Coffee Club - National Day Bundle Exclusively at $57
Another great National Day Bundle to share till 31 August 2022! This exclusive bundle includes a specially created dish Craw Fish Mac & Cheese, homegrown local flavour Chilli Crab Pizza, 2 seasonal beverages and to top it all off, a Belgian Waffle with 1 Scoop of Ice Cream for desserts!
3. Rocky Master - Sealebrate Singapore's 57th; $7.20 National Day Themed Beverage
One of Singapore's National dishes is definitely Chilli Crab but have you tried Chilli Soft Shell Crab? At Rocky Master, you can enjoy their Chilli Soft Shell Crab Burger for only $16.80! Get ready to bite into crispy soft shell crab, topped with delicious chilli crab sauce, nestled in between fluffy burger buns!
What's more, you can also complement your burger with their National Day Themed Beverage that gives a refreshing taste of watermelon and strawberries, with a hint of rose for $7.20.
Check out these other brands
4. Peach Garden - 50% off Dim Sum
Dim Sum is one of the cuisines enjoyed by many Singaporeans, whether is it for breakfast, lunch or even supper. Dim Sums are the best to share with your family and friends as you get to enjoy more delicious dumplings and paus! From now till 30 September 2022, Peach Garden is offering a 50% off promotion when you dine with senior citizens! Time to go and jio your ah gong, ah ma, aunties and uncles for a family reunion!
5. Penang Culture - 8 items at $5.70++ each
Singaporeans love travelling to Malaysia every chance they get to enjoy good food, but sometimes the queues at the customs can be pretty long these days. Not to worry, you can indulge in authentic Malaysian cuisine at Penang Culture and till the end of August 2022, they are offering 8 local favourite dishes at only $5.70++ each! If you are ordering delivery, you can also enjoy it at a bundle price of $57++.
6. YAYOI - Deluxe Toji Kaminabe Zen at just $32.90
For our Japanese cuisine lovers, here is something for you! YAYOI is offering an upgraded version of their famous Kaminabe Zen to celebrate the Nation's birthday! This deluxe set includes an assortment of their signature items such as Hotate, Unagi with Egg in Kaminabe Rice on top of your favourite soup base at only $32.90! So hurry down before this promotion ends on 31 August 2022!
7. Tunglok - Complimentary Crispy Fish Skin
Singaporeans favourite way of bonding through a meal is definitely the tze char style, where everyone shares the food together and sometimes leaves "paiseh" pieces on every dish. Seafood dishes are also a must-order and at Tunglok, you can indulge in great Singapore-style seafood! Bring your family to enjoy their signature Tunglok Chilli Crab, the iconic Deep Fried Prawn with Wasabi-mayo and crowd-favourite Tunglok Curry Fish Head!
What's more, till the end of August 2022, you can also enjoy a complimentary Crispy Fish Skin with Salted Egg Yolk when you order any à la carte food items or a regular set menu. Do note that this promotion is only available at the Orchard Central and PLQ Mall!
8. Soup Restaurant - 57% off Personal Set
Dreading to get back to work after a well-deserved break? Perk yourself up with Soup Restaurant's Personal Set which includes a hot piping soup and fragrant Hometown Fried Rice with Dried Shrimp and premium Chinese Sausages! Till the end of August, enjoy it at 57% off when you order on Deliveroo!
9. HEY! I AM YOGOST (我是酸奶君) - $5.70 Dragon Fruit Yogurt/Yo Tea
We all had Dragon fruits before but have you tried Dragon Fruit Yogurt? Till 28 August 2022, get a chance to redeem a cup of Dragon Fruit Yogurt or Yo Tea at only $5.70 with minimum spending at City Square Mall!
10. Kopitiam - $2 Bubur Cha Cha
Bubur Cha Cha is one of the desserts loved by many Singaporeans! To celebrate Singapore's birthday, you can now enjoy this sweet and colourful dessert for only $2 at Kopitiam Esplanade!
11. Do Qoo Singapore 豆趣 - 2 Festive Bowls for $5.70
To beat the heat in sunny Singapore, we are always up for desserts! Bring your bestie along to enjoy 2 refreshing watermelon bowls for only $5.70 from now till the end of August!
12. Old Chang Kee - $4 Chilli Crab Sauce with Fried Mantou
The best way to enjoy Chilli Crab is definitely dipping fried mantou into the sauce! Now you can enjoy this goodness without having to order a whole Chilli Crab dish at a restaurant! Till end of August 2022, enjoy dipping your fried mantous into Old Chang Kee's in-house special Chilli Crab sauce that is sweet, savory and with a hint of spiciness!
13. Joy Luck Teahouse - 6 Joyful Surprises at $13.80
To celebrate National Day, Joy Luck Teahouse launched a special National Day box of 6, which features 3 Cookie Egg Tarts and 3 Pandan Egg Tarts! You can buy this special box for your family and friends to share or even as a gift for your loved ones! Grab it before the promotion ends on 31 August 2022!
14. Shihlin Taiwan Street Snacks - $5.50 Crispy Oyi-Shi Mushroom
This National Day, Shihlin is bringing back their Crispy Oyi-Shi Mushroom for a limited period of time! This highly addictive snack includes a delightful combination of fresh oyster and shiitake mushrooms coated in a light crunchy batter! Enjoy it as à la carte for $5.50 or get the value set for $12.80 that comes with Homemade Oyster Mee Sua and fresh-made drinks. This promotion is till 30 September 2022!
Grab all these awesome deals before they end! For every day deals, general offers and promotions, do remember to check out divedeals.sg