The Best Deals in Your Neighbourhood: North-siders Edition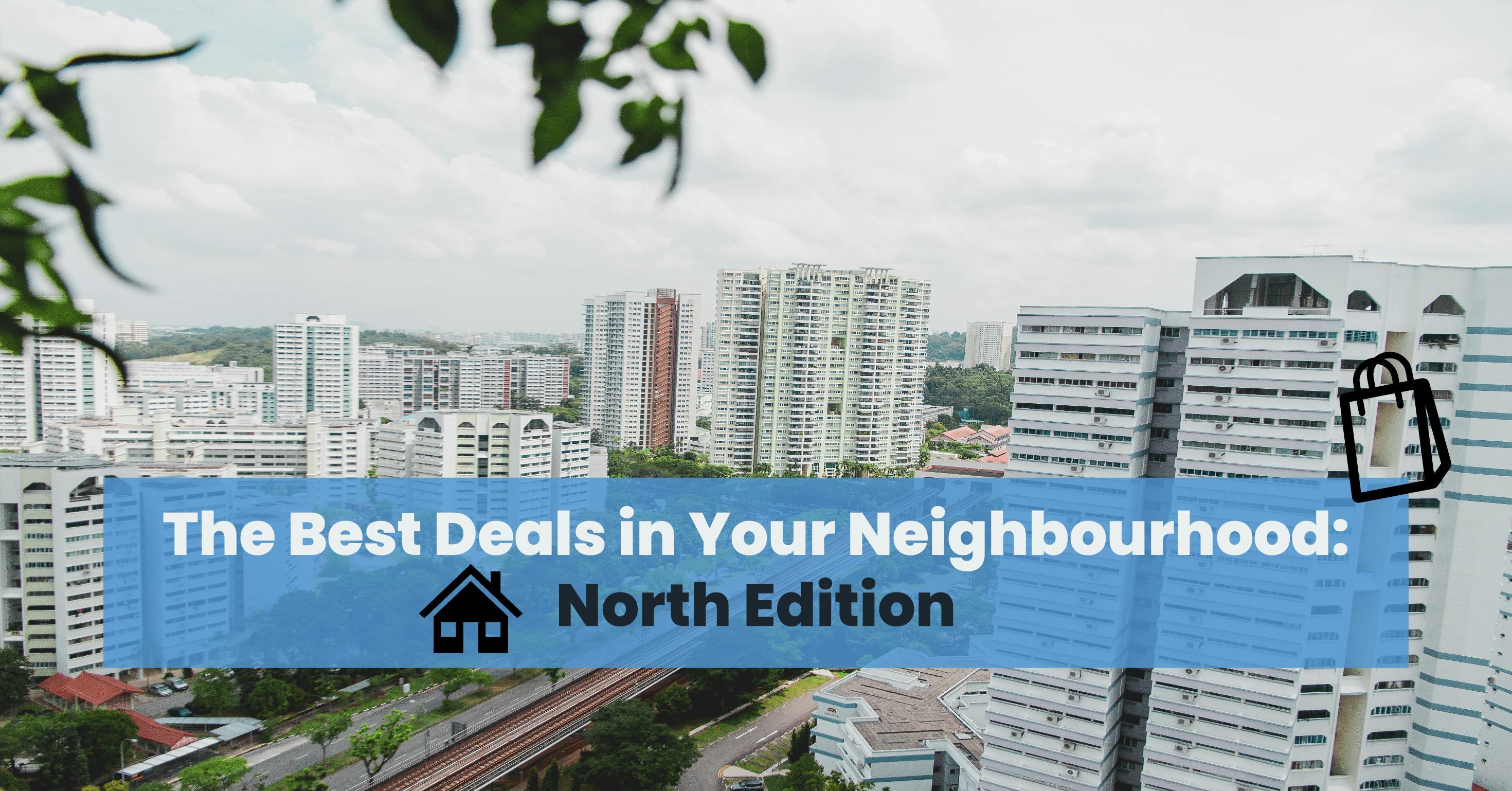 Follow us on Telegram for the best updates: https://t.me/sgdivedeals
Are you living on the North side of Singapore (Woodlands, Sembawang, Yishun)? Looking for the best deals and promotions in your neighborhood? Look no further! We have compiled a comprehensive list of exclusive offers that will help you save money while enjoying the best of what the North side has to offer. From grocery shopping to dining out, you'll be sure to find something that suits your needs and budget. So don't wait any longer, start exploring our list of deals and promotions based on your neighbourhood today!
1. The Coffee Bean & Tea Leaf: 2 Sets of Sandwich & Latte Breakfast Set
Start your mornings with a delicious and satisfying breakfast! The Coffee Bean & Tea Leaf's Weekdays Breakfast Set features a tender Chicken Brioche Sandwich and a velvety Sea Salt Caramel Latte.
Enjoy it at your nearest Coffee Bean & Tea store for a special price of 2 sets at $10.90, 1 set at $8.90 - only available from Mon to Fri, till 11am (while stocks last). Treat yourself to something special while saving time and money!
2. Flash Coffee: Student Special - Bundle Up from $4
Need a fast, affordable, and delicious way to energize your day? Look no further than Flash Coffee and their Student Special!
Show your student card and get a small-sized Latte and Butter Croissant/Pain au Chocolat for just $4. Enjoy it at the store or take it to go with 2 sets for $10.90 or 1 set for $8.90.
Get your caffeine fix without breaking the bank!
3. Rocky Master: Get Tangerine Chicken Rice at just $16.80
Tired of the same old boring dishes? Unlock a whole new level of deliciousness with Rocky Master's Prosperity Tangerine Chicken Rice.
Their limited-time seasonal main is guaranteed to tantalize your taste buds with its juicy grilled chicken, chef's special in-house made tangerine sauce, and fluffy fragrant rice. Get ready for an unforgettable culinary experience!
4. Texas Chicken: Tex Supreme Burger Deal $6.90 (U.P. $12.40)
Craving for a hearty meal? Look no further! Texas Chicken's Supreme Burger Deal lets you enjoy all the deliciousness at an unbeatable price of $6.90!
Get your hands on a Tex Supreme Burger, a side of Small Mashed Potato and Reg Sjora - all for the value of one. Stop drooling and get your deal today!
5. Texas Chicken: 2pc Chicken Deal $7.90 Set (U.P. $13.60)
Looking for a delicious and wallet-friendly meal? Look no further than Texas Chicken's 2pc Chicken Deal $7.90 Set!
Get two juicy pieces of chicken, one tender, and one Reg Sjora for only $7.90 - that's 40% off the regular price of $13.60! Get your hands on this tasty offer now and enjoy restaurant-quality fried chicken at home.
6. Pezzo: $20 For Classic Pizza Pan (U.P. $24.90)
Everyday can be Pizza Day at Pezzo! Enjoy a classic pizza pan at $20 at your nearest Pezzo outlet!
7. Pezzo: $3 For Cheesy Cheese Slice (U.P. $4.90)
Get your cheesy cheese fix for less with Pezzo's delicious one-slice pizza! You don't have to break the bank to enjoy great-tasting pizza - just $3 for a slice of our cheesy, flavourful pizza. Get more bang for your buck with Pezzo today!
8. Délifrance: Sliced Cake and a cup of tea/ coffee at $8.90
Get ready for a sweet treat! For a limited time only, enjoy Delifrance's Sliced Cakes (Berries & Hibiscus, Coconut Citrus, Valrhona Chocolate) plus a cup of coffee or tea for just $8.90.
Enjoy the festive mood and indulge in this delightful combination that will make your day. Hurry and grab it now at all Delifrance outlets, before stocks run out!
9. Pastamania: Combo Deals Under $10
Ready to satisfy your pasta cravings? Get your fill of delicious Italian-style pastas with our exclusive deal - Pastamania. From Feb 1 onwards, get your pasta+ soft drink combo at just $9.90 and choose from a selection of 10 of our popular pasta delights!
From Cheesy Crumble Chicken Ham to Spicy Chicken, you'll be spoiled for choice. So what are you waiting for? Grab your Pastamania combo now!
10. Domino's Pizza: Regular Pizza at only $7.00
Make Monday and Tuesday your heavenly days with Domino's! Get a Regular Pizza at only $7 and enjoy the delicious taste of heaven.
With their Click & Collect promo, you can use code SHVNR to order online and collect your pizzas at any of Domino's outlets. So what are you waiting for? Make heavenly days a routine today!
11. Tuk Tuk Cha: Buy main menus, get a drink free
Craving for something Thai? Come check out Tuk Tuk Cha's new mains and get a free cup of delicious Thai Milk Tea or Green Milk Tea with every purchase!
Their mouth-watering dishes consist of Pineapple Fried Rice with Gaiyang, Tom Yum Fried Rice with Lemongrass Otah, Tom Yum Fried Rice with Chicken Gai Ping and Yellow Curry Chicken with Rice.
For just a limited time, enjoy the best of both worlds: indulgence and savings!
12. Cat & the Fiddle Cakes: Get sliced cheesecakes for only $5.20
Make your special moments extra special with Cat & Fiddle's delicious cheesecakes! Their savory and sweet slices have the perfect blend of creamy cheese and light sweetness, without being too overpowering.
Plus, it comes in a convenient bundle so you can share the love with a loved one. Get yours now for just $5.20 per slice - you won't regret it!
1. AtTea 署茗職茶: Student Deal: $2.50 Any M Size Tea w Toppings
Attention all students! Get your caffeine kick with the best deal in town - AtTea. For just $2.50, you get any M-sized beverage of your choice and your favorite topping, plus an extra $1 to upsize it!
No need to worry about breaking the bank or finding a student discount - just show up in school uniform or present a valid student card and you're good to go. Don't miss out on this amazing promotion and visit your nearest AtTea outlet today!
2. Kimage Hair Studio: 15% off all regular priced hair services
Get ready to flaunt your luscious locks with Kimage Hair Studio's special 15% off offer! Their experienced professionals use only the best products & techniques to give you a look that you'll love. From haircuts to highlights, they have it all!
Get your dream look today and save 15% on regular priced services before this offer runs out.
1. Boost Juice Bar: Buy 2 Ori Crushes for only $9
Beat the heat with Boost Juice Bar's tropical crushes! Refresh your day with the perfect combination of pineapple, coconut and mango - now Buy 2 Ori for only $9!
Their amazing promo is only available in selected stores, so don't miss out and be sure to satisfy your thirst!
Dive Deals will keep updating you on the latest deals, so watch out for the upcoming deals in your neighborhood! We will be sharing more deals applicable to the other neighborhoods of Singapore. Stay tuned!